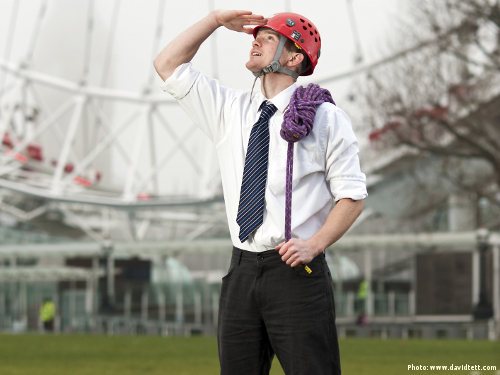 London Explorers is a bi-monthly gathering of like-minded people who meet to discuss adventures, exchange advice and generally get fired-up expeditions.
It is open to absolutely everyone whether you have soloed the Eiger or never slept in a tent. We get new people coming along every time so don't be shy.
At each event, we have a short talk from a guest speaker and the rest of the evening is given over to mingling, meeting new people and planning big trips.
I organise it with desert man Sam McConnell as well as Belinda Kirk who runs the umbrella organisation, Explorers Connect. They also have gatherings in other cities around the UK.
London Explorers Event Info
Time: 6.30pm doors open, 7.30pm talk starts
Venue: The Fox Club, 46 Clarges Street, W1J 7ER (Tube: Green Park)
Cost: £5 including a free drink
Dates: See below
Upcoming Events
Snorkelling Around Britain with Andy Torbet
March 1st 2012
Last summer Andy Torbet left the mountain of trimix, rebreather, cave and stunt diving kit at home and decided to get back to basics right here in the UK, to prove that adventure and exploration can be found on your doorstep. He decided to explore the vast diversity of underwater habitats in the UK; lakes, loch, river, piers, shipwrecks, seashores, mountain pool, waterfalls, flooded mines, underwater caves, whirlpools, quarries, rapids… armed only with a snorkel.  And, if there is time, he'll speak about the World's First (if arguably unsuccessful) Blowhole Dive
River-Boarding the Sun Kosi with Huw Miles
April 12th 2012
Talk by Huw Miles about riverboarding the Sun Kosi river in Nepal. A world first: expect wild video footage
Remote Jungles with John Sullivan
May 10th 2012
A former Royal Marines Commando of nine years experience, John has operated in some of the world's most challenging Jungle, Desert and Arctic environments. He became an invaluable adviser to countless expeditions and was selected by the BBC to make all in-country arrangements for their programmes 'Last Man Standing' and 'Extreme Dreams', and by Channel 5 for their programme 'Unbreakables'. More recently John set up from scratch the documentary 'Eating with Cannibals' for the National Geographic Channel filmed in Papua New Guinea.
Polar Events and Expeditions with Phil Hayday Brown
June 14th 2012
Talk by Phil Hayday Brown about more than a decade of polar events and expeditions including overseeing Ben Fogle and James Cracknell's attempt to the South Pole
Thomson Reuters South Pole Expedition with Jason de Carteret
July 12th 2012
Jason de Carteret will talk about his new world record at the south pole
Jason led the Thomson Reuters Expedition to the South Pole and set a new world record for the fastest overland journey to the South Pole in 1 day 15hrs 54mins.
Check for latest event information on the blog
Check for latest event information at Explorers Connect
Explorers Connect
Explorers Connect is a growing community of adventurers and independent travellers. Anyone with a desire for adventure, challenge or exploration is welcome to join. As part of the community you can find out about the latest adventure industry news, jobs, opportunities and events, advertise your projects and services, find help and browse resources. You can also join a group near you to meet like-minded people, share advice and get inspired. Explorers Connect is all about making adventurous plans happen. Membership is free.
Bristol Explorers – Belinda Kirk
Plymouth Explorers – Antony Jinman
Cardiff Explorers – Maria Leijerstam, Sarah Mayer and Tori James
Kendal Explorers – Dominic Hall
Guildford Explorers – Alistair Cole
London Explorers – Sam McConnell, Belinda Kirk and Tim Moss