Article Archive
A collection of my best articles from a decade in expeditions.
'How To' Guides | 10 Top Tips | Opinion | Motivation | Guest Blogs | Stories
---
About Tim
How I Make a Living as an Adventurer (Hint: I don't)
Why I Quit Being an Adventurer to Become an Accountant
Adventure, Cycling and Depression
---
'How To' Guides
Detailed 'How To' articles and Beginner's Guides.
–
–
The above articles are short extracts from my book: 'How to Get to the North Pole: and Other Iconic Adventures'.
Check for latest 'How To' articles…
---
10 Tips
Expert adventurers share their top ten tips.
–
–
Got some top tips of your own to share? Get in touch.
–Check for latest Top Tips articles…
---
Opinion
Arguments on topics of adventure.
If You Aim to Motivate then Stop Exaggerating
Don't Cycle Lands End to John O'Groats
In Defence of Celebrity Expeditions
Great Expeditions Don't Make Great People
If an Expedition Happens in the Forest and No One Blogs About it…
Expeditions Are No Better Than Offices
Prove Yourself with an Expedition!
–
---
Motivation
Articles encouraging you to grab a hold of life and live a little more adventurously.
How to Have an Adventure Every Day
One Small Piece of Advice (Start Running)
Cross the Street and Walk on the Other Side
18 Great Things that Happened on my Cycle to Work this Morning
Freedom (Or: Why cycling to work will solve all of your problems)
–
Browse all Motivation articles…
---
Guest Authors
Articles written by other people for The Next Challenge.
Angry Young Man – Julian Sayarer
Swimming: The Next Step in Adventure – Dan Martin (ABC)
Adventure from the Front Door – James Bowthorpe
Asi Es La Vida – Andy Ruck (excerpt from the book)
Do It For Yourself (but not on your own) – Julie Abrams-Humphries
Long Summer Days – Rob Cousins
Life in the Fast Lane – Alastair Humphreys
How to Have an Adventure Every Day – Laura Tomlinson
Frequently Used Excuse: I Have No Money – Lee Hughes
A New Year's Message From – Dave Cornthwaite (ABC)
Planning a River Expedition – Mark Kalch (ABC)
Something a Little Unknown – Francis Charlesworth
My Next Challenge: Walking to Work – Ewan Laurie
The Land of the Midnight Sun – Lucy Bound
A Little Adventure – Ben Wade
–
You can find more Guest Blogs under the '10 Tips' Articles above.
–
---
Stories
Tales of adventure from my expeditions. Includes some of  my proudest pieces*.
–
Personal Favourites
–
–
Accounts from my Adventures
–
---
–
More Resources…
Check out my  Resources page for collections on specific topics
(e.g.  polar travel, sponsorship or equipment).

–
---
–
Enjoy those articles?
Join my newsletter to get the latest ones emailed directly to your inbox.
–
---
–
How to Get to the North Pole:
and Other Iconic Adventures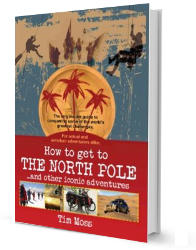 Top 10 Best Seller on Amazon's Discory & Exploration
"Highly recommended" – Adventure Travel Magazine
Foreword by Sir Ranulph Fiennes
Endorsed by Bear Grylls
100% five-star reader rating
Seven classic expeditions:
Row an ocean, cycle the world, unclimbed mountains and more…