A large collection of resources, articles and advice for anyone considering an expedition, adventure or challenge.
–
OVERVIEW
–
–
RESOURCES BY EXPEDITION

–
More expedition resources:
Paddling Expeditions | Sea Kayaking | Hitch-Hiking | Walking Expeditions | Scientific Field Research  | Skate Boarding
–
–
The largest cycle touring data set in the world.
A record of every bicycle tour over 10,000km (6,000 miles). That's the LDCJ's aim.
–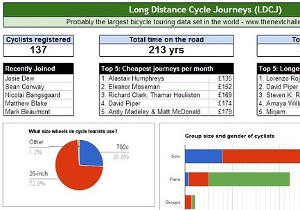 Longest journeys – 4 months to 16 years.
Fastest cyclists – 5,000km a month to 200km.
Cheapest trips – £840 total and 3 pence per mile.
Demographics – nationalities, men vs women, groups vs solo.
Equipment used – wheel size, brake types, tourers vs mountain bikes.
And more from over 175 cyclists, 250 years on the road and 3 million kilometres travelled.
–
–
How to Live More Adventurously
–
A collection of articles I've written to help you get inspired and live a little more adventurously.
 –
For more articles, visit the Article Archive ➜

–
Ask Tim
Can't find what you're looking for? Want help with something?
Get in touch and I'll see if I can help.
–
Find those useful?
Join my newsletter to get the latest resources emailed directly to your inbox.
–
–