Review of over 100 bikepacking bags and accessories
Detailed information on over 100 pieces of bikepacking luggage including handlebar bags, saddle bags, custom frame bags, stem bags, top tube bags, fork bags and extendable bottle cages.
Jump to: Overview | Handlebar Bags | Saddle Bags | Frame Bags | Accessories | Manufacturers | Spreadsheet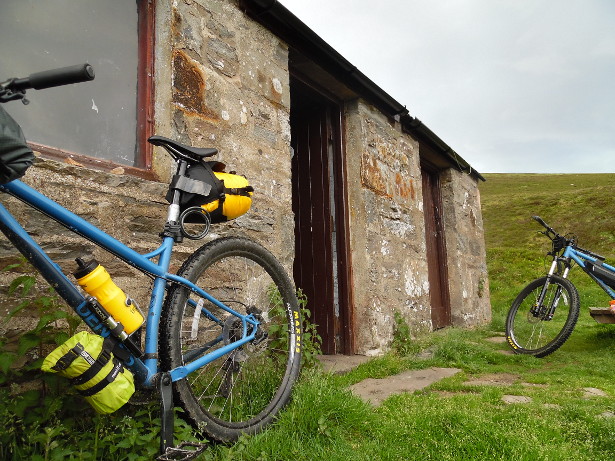 Quick guide
Best designs: Apidura
Apidura's bikepacking bags are excellent. Well designed and really easy to use.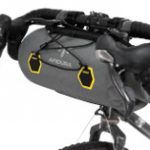 Best budget: Alpkit
Alpkit's equipment is always good value but their bikepacking luggage is really good quality.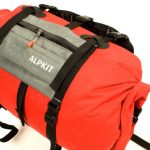 Best harnesses: Wildcat
Easily attach and quick-release your own dry bags with Wildcat's clever harnesses.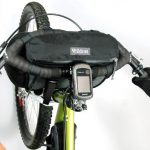 Best waterproof: Ortlieb
The industry standard for panniers, Ortlieb's bikepacking bags are tough and waterproof.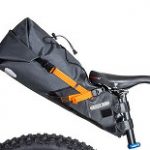 What is bikepacking?
Bikepacking is cycle touring off-road using small bags attached to the frame of your bike.
Traditionally, cycle touring has relied on panniers which are great for carrying lots of stuff but they make your bike unwieldy, require heavy racks and rattle all over the place if you take them off-road. Bikepacking relies on much smaller bags that attach directly to your bike. They're lighter than panniers and have less impact on the control of your bike.
The rise in popularity of bikepacking has coincided with an explosion in luggage designed specifically for bikepacking. Hence I've written this article.
Bikepacking bags can just as well be used for road cycling and on road bikes. As well as their obvious uses for mountain biking, they're also popular for lightweight touring and long distance racing.
What's in this article?
This article is a review of bikepacking bags. I've compiled a huge spreadsheet with data on over 100 bikepacking bags which I've presented below in a series of tables. You can sort the tables to find the biggest, lightest or cheapest bags, or filter only those that are waterproof or use harnesses. Details on each of the manufacturers are at the end.
Table guide
The table headings are mostly self explanatory but here are notes on some that aren't:
Type (bag or harness) – some handlebar and saddle storage is just an empty 'Harness' into which you can put your own dry bag (or whatever you want). Most, however, are all inclusive 'Bags'.
L W H (length, width, height) – for simplicity and consistency, I've just put the longest measurement as Length and the shortest as Height.
Waterproof – 'Yes' if it's 100% waterproof. 'Partial' if it uses 100% waterproof material but does not have one or more of taped seams, roll top enclosure or waterproof zips. 'No' for anything else.
Cost – Usually RRP. Usually available for less.
Price checker – links to two different websites to check for the best price (usually one specialist cycling shop and Amazon)
Additional info on the spreadsheet
All the tables below are generated from a huge spreadsheet that I've compiled with detailed information on all the bikepacking bags listed.
I can't fit all of the information on this pagee without it getting messy though. Some of the extra stuff that's on the original spreadsheet includes:
Metric vs Imperial – the tables below display litres, centimetres and grams but all measurements are also available in ounces, inches and cubic inches on the spreadsheet.
Dimensons – length, width and height are only listed below for frame bags but I've included them for all bags on the spreadsheet.
Litres/100g – how much storage do you get for the weight? This is my own calculation. The higher the better. As a guide, 1's low, 4's high.
Notes – I've added more details for many of the bags that there wasn't for on this page.
Multiple retailers – quick links for searching Amazon, Ebay and other shops to find the best price.
Click here to view the full bikepacking bag spreadsheet on Google Sheets
(Feel free to copy/paste into Excel or email me if you want a copy to manipulate the data yourself. Just share anything interesting you find!)
1. Bikepacking Luggage Overview
The main types of bikepacking bags are:
handlebar bags
saddle bags
frame bags
Other accessories include top tube bars, stem bags, fork bags and bottle cages.
| | | | | | |
| --- | --- | --- | --- | --- | --- |
| Location | Average size | Max size | Average litres/100g | Max litres/100g | Average cost |
| Handlebar Bags | 14 litres | 22 litres | 4.5 | 7.4 (Apidura) | £72 |
| Saddle Bags | 13 litres | 23 litres | 3.2 | 4.8 (Blackburn) | £96 |
| Frame Bags | 7 litres | 14 litres | 3.0 | 3.8 | £78 |
| Other Accessories | 1 litre | 4 litres | 1.7 | 5.7 (FreeParable) | £34 |
Handlebars and saddles offer by far the largest capacity for storage. Handlebar bags tend to offer the best volume for their weight (notably Apidura).
The size of the frame bag available to you is largely determined by what bike you have. Some can be quite capacious. Their main advantage is keeping weight in the centre of your bike thus minimising the impact on your riding.
Most accessories are very small (1 litre) but Free Parable's Gorilla Cages are larger (4 litres) and offer excellent capacity for their weight.
2. Handlebar bags
Bags that hang off your handlebars. They offer the best volume for weight and are some of the largest bags. The type of handlebars on your bike may restrict what's available with drop bars in particular not usually able to take the big bags. Heavy bags will make steering feel heavy.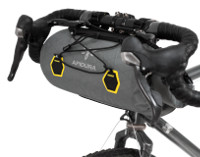 Volume: 9-22 litres (550-1,350 cubic inches)
Weight: 176-601 grams (6-21 ounces)
Cost: £15-104
Some handlebar bags also come with small pouches that attach to the front of them.
| Brand | Model | Type | Volume | Weight | Waterproof | Cost | Price checker |
| --- | --- | --- | --- | --- | --- | --- | --- |
| Alpamayo | Front Harness | Harness | 20l | 375g | Yes | £60 | Check price / #2 |
| Alpkit | Airlock Dual 20l | Bag | 20l | 206g | Yes | £18 | Check price / #2 |
| Alpkit | Airlock Dual 13l | Bag | 13l | 176g | Yes | £15 | Check price / #2 |
| Apidura | Handlebar Pack (Regular) | Bag | 20l | 270g | Partial | £88 | Check price / #2 |
| Apidura | Handlebar Pack Dry (14L) | Bag | 14l | 275g | Yes | £104 | Check price / #2 |
| Apidura | Handlebar Pack Dry (9L) | Bag | 9l | 250g | Yes | £96 | Check price / #2 |
| Apidura | Handlebar Pack (Compact) | Bag | 9l | 200g | Partial | £77 | Check price / #2 |
| Blackburn | Outpost Handlebar Roll & Dry Bag | Harness | 12l | 521g | Yes | £72 | Check price / #2 |
| Mack Workshop | Bar Bag | Bag | | | Partial | £30 | Check price |
| Mack Workshop | Bar Roll | Bag | | | Partial | £60 | Check price |
| Miss Grape | Tendril | Bag | 17l | | Yes | | Check price / #2 |
| Ortlieb | Handlebar Pack | Bag | 15l | 417g | Yes | £96 | Check price / #2 |
| Porcelain Rocket | MCA Handlebar System | Harness | 15l | | | £100 | Check price |
| Restrap | #CarryEverything Bar Bag | Harness | 13l | | | £85 | Check price |
| Revelate | Sweetroll (Large) | Bag | 18l | 394g | Yes | | Check price / #2 |
| Revelate | Harness + Saltyroll | Harness | 15l | 601g | Yes | | Check price / #2 |
| Revelate | Sweetroll (Medium) | Bag | 14l | 366g | Yes | | Check price / #2 |
| Revelate | Sweetroll (Small) | Bag | 10l | 292g | Yes | | Check price / #2 |
| Wildcat | Fat Lion | Harness | 22l | 369g | Yes | £100 | Check price |
| Wildcat | Lion | Harness | 13l | 208g | Yes | £83 | Check price |
3. Saddle bags
Large bags that clip underneath your saddle. Joint with handlebar bags for capacity and just behind them in 'volume for weight', saddle bags usually have less impact on your riding ability so would probably be the first place to look for bulk storage.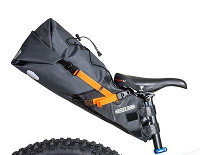 Volume: 3-23 litres (180-1,400 cubic inches)
Weight: 125-880 grams (4.4-31 ounces)
Cost: £21-190
4. Frame bags
Narrow bags that attach inside the triangular frame of your bike. They are not as big or as saddle and handlebar bag can be and you're restricted on the size of object you can put inside. However, they keep the weight in the centre of your bike which has has less affect on your bike's handling so they're the best place to carry small, heavy items.
The size and shape of your bike will determine what frame bag it can take. Many companies offer custom sized frame bags.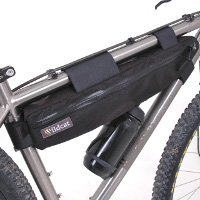 Volume: 3-14 litres (180-850 cubic inches)
Weight: 125-402 grams (4.4-14 ounces)
Cost: £40-142
5. Bikepacking Accessories
Stem bags
Small fabric pockets which hang off your stem on the inside of your handlebars. You can usually fit a water bottle or other small items to which you might want easy access while riding. Useful as a replacement for the bottle cage you had to remove to fit your frame bag. Can knock the knees of taller riders. Typically 1-litre. £25-40.
Top tube bags
Tiny pouches that attach to the top of your top tube and open with a zip. Good for cameras, mobiles and snacks. Rarely more than 1-litre. £28-55.
Fork bags
Harnesses that attach to the outside of your forks and into which you can fit a small dry bag. Good for lightweight, bulky items but they can affect steering and will get in the way on some technical riding.
Bottle cages
Extendable bottle cages into which you can fit larger bottles, small all-in-one stoves or a neatly wrapped bivvy bag.
6. Bikepacking Bag Manufacturers
There are dozens of companies making bike packing bags. I've tried to include any manufacturer whose products are stocked in the UK.
Alpamayo are a small company founded by two engineers who spent two years cycling through the Americas. They operate from a small workshop in the Peruvian Andes but all their stuff's sold in the UK, direct from their website.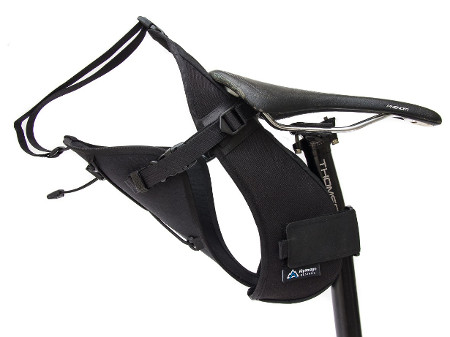 Used by the author
Alpkit make the cheapest bikepacking kit available. They stock a wide range of bags in a variety of different sizes and their frame bags are customisable. In particular, their simple Airlock handlebar bags are dirt cheap (£15-18) but work perfectly well.
I tested the Alpkit bags over a weekend's bikepacking in Northumberland. Like most Alpkit stuff, I expected their kit to be cheap and reasonable quality. But, in fact, I'd say Alpkit's bikepacking luggage is top quality. I was really impressed both with the designs – which are original and well thought-through – and the build quality.

Altura are a well known bike clothing and accessories brand who offer a waterproof frame bag and reasonably priced saddle bag.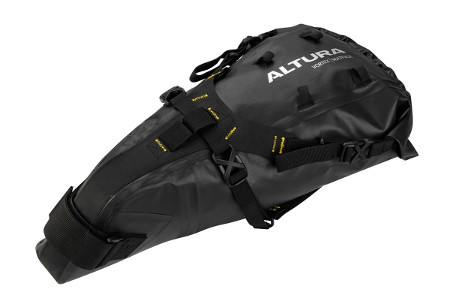 Used by the author
Apidura are one of the best known bikepacking manufacturers in the UK. Mark Beaumont used their bags to break the Cairo to Cape Town speed record and they boast several other high profile athletes as ambassadors, including Transcon winner and all round legend Emily Chappell.
I've been testing out their full range of kit and been really impressed. Intuitive to attach, well built and well designed with nice little touches like zip tags you can operate with one hand and interiors that are bright yellow so you can find stuff easily.

Arkel's saddle bags come with a tiny metal frame which means you don't get the wobbly "tail wag" you find with other bags. It also gives you a quick release for the bag (one of the downsides of most bikepacking bags is that they're really faffy to get on and off your bike). They're heavier as a of the frame result and expensive too but a convenient, classy option.
The guys at Ghyllside Cycles – possibly the only UK stockist – reckon they're the best.

Simple harness-style saddlebag and handlebar bag into which you can fit your own dry bags. Reasonably priced.

Carradice were making giant saddle bags long before 'bikepacking' was a word. They're a bit different from the rest with the bag running perpendicular to the saddle, sticking out either side rather than rising up behind the rider.
They're some of the heaviest bags on the market but the Super C is also the largest with capacity for a whopping great 23 litres under your saddle.

Free Parable make the Monkii and Gorilla Cages. The Monkii Cage replaces your regular bottle cage with one that uses velcro straps to attach larger objects. I used mine to carry a stove underneath the frame of my bike.
The Gorilla Cages attach to the outside of your forks and allow you to carry large, light objects in dry bags. I used them to carry camping mats and bivvy bags when I crossed the Cairngorms.
They're stocked in the UK by Cycle Miles who sent me some samples to test out.

Mack Workshop appears to be a very small operation which is run as a hobby on evenings and weekends. The bags are all handmadeand very reasonably priced.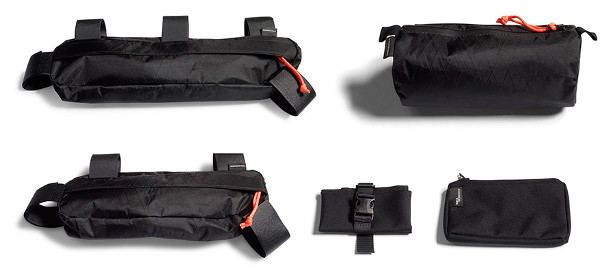 Miss Grape are an Italian manufacturer whose kit you can find on Amazon in the UK. They certainly makes some big bags: the 17-litre Tendril handlebar bag and a 20-litre Cluster saddlebag are the largest combination from any one company.

Tested by the author
Ortlieb dominate the pannier industry with their excellent range of luggage. We used their panniers to cycle around the world. They only recently entered the bikepacking bag market with a single handlebar bag and saddle bag. A frame bag's expected in the near future.
I tested their bags over a wet week of bikepacking in the Cairngorms and rate them highly. They're some of the heavier bags but then they're large (and the ratio's pretty good at 3.6-3.8 litres/100g) and really durable. The saddle bag has a valve which lets you squeeze the air out and reduce the bulk (like their compression bags). As you'd expect from 'Ortlieb Waterproof', there's no question of them leaking (ours went through rivers with down sleeping bags inside).

Well known and well respected American brand of bikepacking luggage offering both harnesses and traditional bags.

Restrap are a small family company based in Leeds (where I work). They make beautiful, hand stitched bikepacking luggage. They're sufficiently stylish that you'd probably feel bad attaching them to anything but a Brooks saddle.
Their #CarryEverything luggage uses harnesses into which you can fit your own dry bag (or the ones they sell). I've heard nothing but good things about their kit but they never replied to my email so I've not had a chance to check them out properly.

Revelate are one of the biggest bikepacking names in the US. They're the preferred brand of mountain biking legend Lee Craigie which is endorsement enough for me.

Tested by the author
Wildcat are a small company based in Brecon, Wales, whose handmade kit was awarded 'Best in Show' at the 2015 Bespoked Festival.
Their range includes front and back harnesses for storing your own dry bags (which you can buy from them in the appropriate sizes), top tube bags and a unique storage pocket for anyone that uses a Jones H-Bar. These guys were the first to offer custom frame bags in the UK, a service which they still offer now.
Laura and I tested out their Lion handlebar bag, Wayfayrer saddlebag and Ocelot framebag. One of the advantages of their harness system is the quick release – you can leave the harness attached to your bike and just whip out your dry bag when you're done for the day. We found all the straps quite fiddly but that was probably our fault for setting off without having read the instructions.
Their handlebar bags offer an excellent volume to weight ratio (over 6 litres per 100g) and, with the right dry bag, their Fat Lion bag can hold a massive 23-litres.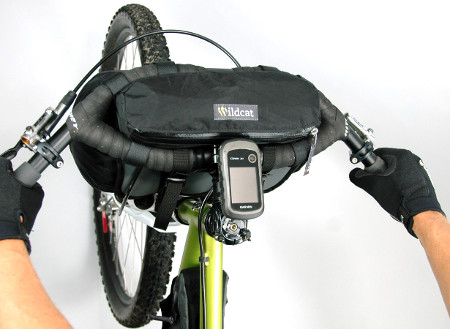 Other bikepacking bag manufacturers
There are many more manufacturers out there including: Akatanga, Andrew the Maker, Banjo Brothers, Bag4Bike, Becker Gear, Bedrock Bags, Bike Bag Dude, Boulder Bikepacking, Broad Fork Bags, Carousel, Carsick Designs,Conquer, Crater Packs, Defiant Pack, Elephants & Robots, Endless Trails, Fairweather, Fun Bags, Ghost, Giant, Green Guru, JPaks, No Logo, Nuclear Sunrise, Oveja Negra, Panthom Pack Systems, Rockgeist, Rogue Panda, Specialized, Spok Werks, Stealth, Switchback, Tanner Goods, Topeak, Vagabond and Wanderlust
For a full list, check out the excellent Complete List of BikePacking Manufacturers at CyclingAbout.com.
If you appreciated this article, you might like some of the others in my 'Comparison' series: Bivvy Bags, Camping Stoves, Multi-Fuel Stoves, Base Layer Materials and Camping Mats.