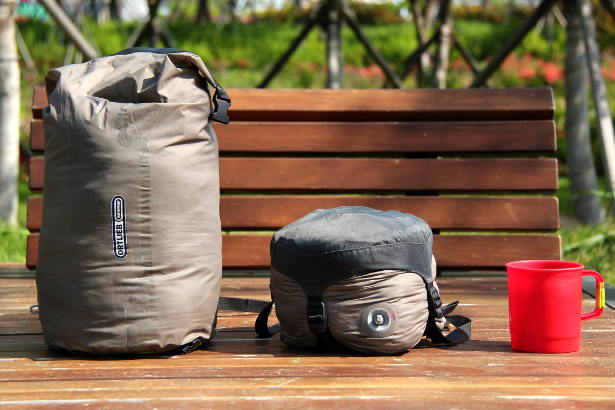 Your sleeping bag is often the largest item in your bag.
When it comes to packing it, you usually have one of two choices:
A compression bag – squeezes it down small but leaves it at risk of getting wet
A dry bag – keeps those precious feathers dry but leaves you with a big, bulky stuff sack
A third option is to combine the two above but then you're carrying two stuff sacks and you still can't get all of the air out of the dry bag.
Enter the catchily entitled: compression dry bag with valve…
What are Compression Dry Bags with Valves?
The principle is simple: like any other compression bag (sometimes called spider compression sacks because of their dangling straps/legs), you stuff your sleeping bag, clothing or whatever into the sack and close it. You then pull the straps tight to squeeze the air out and – hey presto – your package is as small as it's ever going to be.
Of course, if want your sleeping bag to stay dry then using a waterproof material with a watertight seal means the air can't escape so the compression doesn't work. However, those clever outdoor designers have added a tiny rubber valve to their compression dry bags which allow you to squeeze out all of the air whilst still keeping your sleeping kit dry.

STEP-BY-STEP: How the Ortlieb Compression Bag works
REVIEW: Ortlieb compression dry bag with valves and straps
My wife and I have been using 12-litre Ortlieb compression dry bags with valves and straps for 9 months of cycling, with two different types of sleeping bag – one down, one synthetic. The bag is also available in a smaller 7-litre version.
We unpack and re-pack them pretty much every day, certainly over 200 times so far.
The things I would want from such a bit of kit are as follows:
Waterproof
Smaller than a normal dry bag
Easy to use
1. Is it waterproof?
Yes. It's exactly the same as any other dry bag so no problems there. Perhaps if you put it under water for a period of time the valve might leak but I haven't tried that I don't anticipate that scenario occuring any time soon.
2. Does it work (i.e. make your sleeping bag smaller)?
Yes. The straps alone make the bag slightly smaller than a normal dry bag and the valve reduces the volume further still as you can see in the following photographs…
3. Is it easy to use?
Well, they do take more effort than a stuff sack because you have three stages: stuff, compress, squeeze air out. However, the air squeezing only takes a few seconds and, of course, if you can't be bothered that day then you don't have to do it. It will still work as well as any other dry bag.
Summary
The Ortlieb compression bag with straps and valves is excellent and what I will be using whenever I pack a sleeping bag from now on. It is waterproof, tough, compresses better than any other method and sufficiently lightweight to not be an extra burden. Highly recommended.
Buy Online
The Ortlieb compression dry bags are not that prolific online. You can often find them on Amazon or you can actually buy them directly from Ortlieb at a decent price.
Buy in the UK from Amazon.co.uk >>
Buy internationally from Amazon.com >>
Buy internationally from Ebay.com >>