Resources, articles and links for climbing and mountaineering expeditions.

How To Climb An Unclimbed Mountain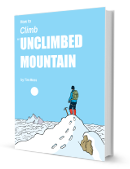 "An excellent book" – Sir Ranulph Fiennes
"The perfect resource" – Bear Grylls
Featured on the BBC.
Used by the British Mountaineering Council.
Tim's Expeditions
Kyrgyzstan – attempted first British ascents in the Kyrgyz Tian Shan mountains (2003).
Bolivia – first British ascents in the Quimsa-Cruz range of the Bolivian Andes (2004).
Russia – first ascents in the Altai range of Russian Siberia (2009).
Norway – leader on youth expedition to the Loppa Peninsula of Arctic Norway with British Exploring (2009). I cycled home from this trip.
Svalbard – ski touring in the mountains from Longyearbyen, Spitsbergen (2009).
Oman – a short trekking trip in the Dhofar mountains of southern Oman (2011).
Mountaineering Articles
How to Climb an Unclimbed Mountain – the original article, used by the British Mountaineering Council, BBC and several national magazines. Now an ebook.
How to Climb Mount Everest – a beginner's guide to climbing the world's highest mountain.
Climbing Terminology Explained – a guide to a lot of mountaineering jargon.
Mountaineering Boot & Crampon Ratings – clear and simple explanation of what all those B1s and C2s mean.
Advice for Climbing at Altitude – practical information for avoiding Altitude Mountain Sickness (AMS).
What's scrambling? – an explanation of the differences between climbing, mountaineering and scrambling.
7 Reasons to Visit Bhutan – home of some of the world's highest mountains.
Expeditions in Hokkaido – information for anyone considering a trip to Japan's northernmost major island.
Expeditions in the Russian Far East – information for anyone considering a trip to far eastern Siberia and the Khabarovsk area.
Expedition Travel Insurance – useful alternatives to the (excellent) BMC.
Websites
The American Alpine Journal – Good resource for researching past ascents, particularly in the Greater Ranges and Americas – www.americanalpineclub.org
The British Mountaineering Council (BMC) – Medical and equipment advice, insurance, grants and local climbing groups – www.thebmc.co.uk
International Mountaineering and Climbing Federation (UIAA) – Articles on equipment, technique and medical advice – www.theuiaa.org
Jonathan Conville Memorial Trust – Heavily subsidised Scottish and Alpine mountaineering courses – www.jcmt.org.uk
Royal Geographical Society Expedition Report Database – Thousands of expeditions reports covering most mountain ranges of the world – www.rgs.org/expeditionreports
The Alpine Club – Expedition report database, Himalayan Index of mountains and a library of mountaineering books and journals – www.alpine-club.org.uk
Summit Post – Large database of expedition reports and information on different mountains, routes and ranges including weather and permits – www.summitpost.org
Training Programs and Qualifications
Mountain Leader Training Association – www.mlta.co.uk
Association of Mountaineering Instructors – www.ami.org.uk
British Association of International Mountain Leaders – www.baiml.org
British Mountain Guides – www.bmg.org.uk
DOWNLOAD THE COMPLETE EBOOK NOW
How to Climb An Unclimbed Mountain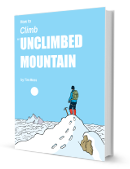 With contributions from legendary climbers:
Sir Chris Bonnington, Leo Holding, Simon Yates and Mick Fowler.
Featured on the BBC.
Used by the British Mountaineering Council.