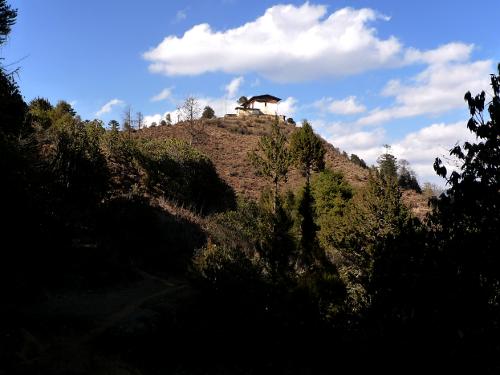 My wife, Laura, recently visited the Kingdom of Bhutan. Here is why she thinks you should too…
1) The yeti lives there.  It is the only country in the world with a dedicated yeti nature reserve and sightings are almost guaranteed.*
2) Television, the internet and mobile phones were only allowed in the country in 2000.  It remains a very traditional place, where planning and even dress codes are strictly enforced.
3) The national animal of Bhutan is the takin, an animal which defies classification.  It was apparently created when the 'Divine Madman', an infamous religious figure in Bhutan, was challenged to perform a miracle.  He ate an entire cow and an entire goat, and the takin was created when he put the goat's head on the cow's body after lunch and the resulting creation stood up and walked away.  Not a bad party trick.
4) It contains (arguably) the highest unclimbed mountain in the world, Gangkhar Puensum.  There are several other unclimbed peaks, but before you start planning your trip, access to most of them is prohibited out of respect for local spiritual beliefs.
5) The food is hearty and warming.  The national dish is chilli and cheese – an odd concept but it works.
6) Privilege.  High costs mean tourist numbers are low, with none of the crowds of neighbouring Nepal.
7) Peace.  The rural way of life prevails and life is relatively calm even in the main towns.  Traffic is quiet enough that even Thimphu, the capital, has no need for traffic lights.
And two reasons not to…
1) Cost.  Visitors pay a daily charge – currently $240 for a solo traveller – and this quickly mounts up.  However, this does cover absolutely everything, regardless of your activity.
2) Independence.  It is practically impossible to do a trip unaccompanied by at least one guide – but at least this is included in the daily charge and affords you an invaluable insight into the country.
* The Next Challenge accepts no liability for this guarantee.