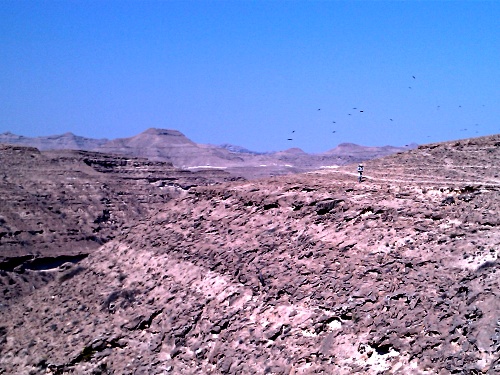 In November 2010, I spent a week exploring the Dhofar Mountains of Oman with my girlfriend Laura. We were primarily based in the al Qamar region, close to the Yemen border. We travelled by two-wheel-drive and walked carrying all of our food and water.
Basics
Location: Al Qamar range, Dhofar Mountains, Southern Oman
People: Laura Tomlinson and Tim Moss
Itinerary: Drove from Muscat, parked car, walked in
Duration: 10 days
Cost: Less than £100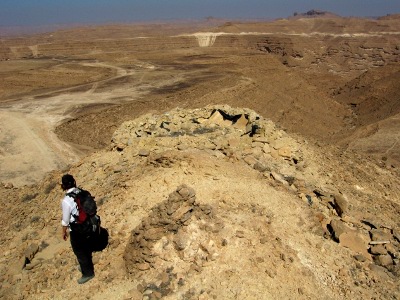 Background
Dhofar is the southernmost region of Oman and home to some beautiful mountains. It's capital is Salalah which may not be a big city but it's large enough to be sign-posted from the capital, Muscat, over 1000km away. You can get a flight there quite cheaply from Muscat.
The region is quite distinct from northern Oman and, comparatively, gets far fewer visitors. Fewer still, it appears, are those that venture into the mountains. We found no mentions of Dhofar in the RGS Database and Google only unearthed a scientific trip from the 1960s and an ongoing leopard survey. The otherwise useful book 'Adventure Trekking in Oman' also has no reference to any routes more than 200km south of Muscat. All of this got us excited.
There are three mountain ranges in the Dhofar region around Salalah: Samhan, al Qara and al Qamar. Samhan has roads and tracks running over it, a leopard sanctuary and several small towns nearby. We camped on top for an evening – the views out to sea are spectacular – but decided this wasn't the place to get remote. Instead we opted for the al Qamar range close to the Yemen border.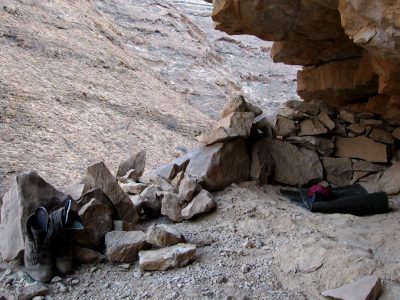 The Expedition
No decent maps are easily available for Oman so all we had to go on was a large scale road map that covered the entire country. We showed it to a member of the army down there and he couldn't even work out where his base was, let alone pick a route up a mountain, so we were largely on our own. With hindsight, printing off some Google Earth images would have helped.
We left our car by the side of the road outside what we later discovered was the village of Hamoot, 3.5km east-north-east of Khadrafi (GPS waypoints available on request). From there we spent a few days walking, with a base in a dusty cave at the bottom of a wadi (valley). We carried all our food and water.
We came across several fortifications and remnants of what we presume was the Dhofar Uprising. We also came up against military checkpoints at the Yemen border, unaware that we were quite so close given that we were operating without a map. Apparently the border was only manned because we were there during the Eid holiday so prudence would be advised for anyone returning there given the ongoing unrest. We didn't see anyone else during our walks except for vehicles kicking up dust in the distance.
The mountains we reached were never that high but it felt wonderfully wild and remote even just an hour's walk from the car. Returning with satellite images from Google, a GPS and, perhaps, a 4×4, there would be a lot of potential for exploration.
Read More
Tourists & Terrorists – An account of our encounter at the Yemen border
Planning an Expedition?
If you know anything about this area or are considering a trip there then please get in touch.