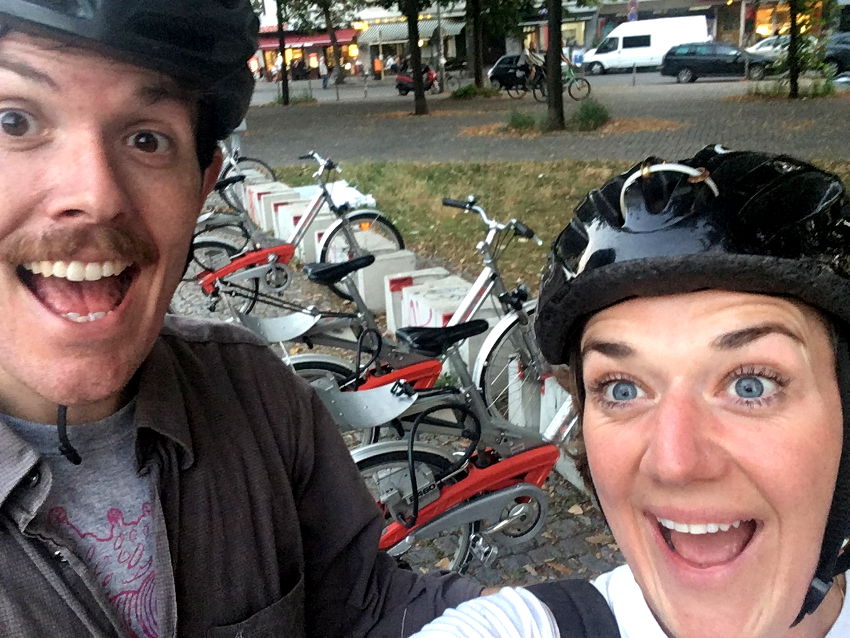 It barely seemed as if last year's grant winners had finished their adventures when this year's lot got under way.
Nick and Nell, in particular, did not hang around. They set off the very morning after winning the award.
Their challenge was to hire a pair of bikes and pedal them the length of the Berlin Wall. Here's how they get on…
Cycling the Berlin Wall in a day on a rented bike
by Nick Stanton
We all know the Berlin Wall. The Iron Curtain to its enemies in the West, the Anti-Fascist Protective Wall to its friends back East, the Berliner Mauer in German. It encircled West Berlin. Started as barbed wire, ended up 100 miles of concrete and armed guards. Ronald Reagan wanted to tear it down. David Hasselhoff had something to do with it. In the end it all fell apart in one night in 1989. If you're in Berlin it's an ever-present sight to see and bit of history to chat over.
Since 1989, the Wall's no man's land, East German border guards' routes and West German customs' paths have been turned into 170km of cycle paths and walking routes — the Mauerfall, fall of the wall, gave way to the Mauerweg, the wall way.  I moved to Berlin with my girlfriend, Nell, in July and we started hearing rumours about the Mauerweg from intrepid urban adventurers. When we saw a few signs at the end of our road, well, it was pretty clear what we had to do. Our Next Challenge application was for £65 to equip us with everything we needed to cycle the full Mauerweg in a single day. For a little under 20p per kilometre we were hoping to journey from deepest, trendiest Kreuzberg to the farthest edge of the city and back again. Lakes would need to be crossed, forests navigated and complicated German traffic systems tamed.
This was how, a few days after we got the good news that we were being funded, we woke up at 5.30am, picked up the Berlin city cycle hire bikes on a 24 hour rental, strapped our packed lunches into the child's seat and cycled off to pick up the Mauerweg at the Landwehr canal.
The sun is coming up later and later since August ended so we start our journey in the dark, grateful for the dynamos on our bikes, and get to see the sun coming up through the pillars of the Brandenburg Gate. Alone with a few street sweepers we pause at the Gate for a few photographs and I realise now that for most of this day's daylight we're going to be cycling these bikes. Suddenly, I'm paying my more attention to the noises it's making. Everything seems to be in good working order and we're alone on the street as we trundle off aware that the day has well and truly begun.
Sure, the Berlin Wall goes past the Brandenburg Gate, it goes behind the Reichstag too; sure, it's got some prime real estate. But what about the rest of it? If those are the greatest hits, what about the back catalogue? Well since 70 per cent of it runs along the border between Berlin and the neighbouring region of Brandenburg, it's more than a little suburban. Outside of central Berlin we're often cycling between the few houses at the edge of the city and the farms and fields of Brandenburg. In fact, we're often outside the city altogether, on our journey I spot 16 Welcome to Berlin signs. Travelling on the edge of the city means that when, going up a hill, my chain falls off (and, in solidarity, I fall off) the cows dozing under a tree get quite a fright. And when it falls off again 10 minutes later, swaying rows of corn help us relax while we make repairs and try not to think about not having kit to repair anything more serious nor the 50km between us and our nearest bike rental point.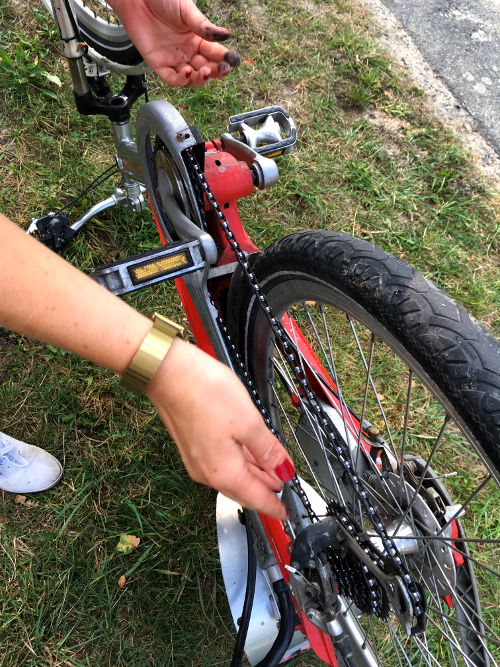 Berlin's cycle hire scheme, Call a Bike, is run by Deutsche Bahn and the solidly built bikes are pretty good. I ride a 1970s, single gear, back pedal braking bike in Berlin and my new bike – the beautifully named 3326. If you knew him you'd know that this name suits him so well – has eight whole gears, front wheel suspension, back wheel suspension and two (two!) brake levers. I was spoilt. I'm also not the most experienced cyclist, I didn't ride a bike back in London but I do in Berlin and I've gone on a few cycling holidays, so I'm glad to have the 7 extra gears helping me make it to the end. The Mauerweg's 170km is more than I've ever cycled in one day.
The route we're taking from our home goes anti-clockwise around the Mauerweg, from the Landwehr canal to the East Side Gallery, to Checkpoint Charlie and to the Brandenburg Gate. Then up through the centre of the city before going through Hennigsdorf in the North West and beginning to follow the Western edge of the Wall, past Spandau, to Kladow for the ferry to Wannsee. Once off the ferry at Wannsee it's a serpentine route along the southern edge to Schönefeld airport before the short cycle around Neukölln and back to the start.
The Berlin Wall had to cross the lakes and waterways in Berlin. The Mauerweg does that same and for the cost of a regular single ticket we can take our bikes on the ferry from Kladow to Wannsee, completing that section of the trip. We're about 10km from Kladow when we realise we have 35 minutes (or 1 hour and 35 minutes) until the next ferry. Hoping to catch it we step up the pace. We're tearing round the well-off suburb, around the retirees and through a group of German Scouts when, on the lake, we see a ferry. Judging by the angle it's probably going to dock in around 500m. Both of us start pedalling with everything we have. We can see the port and the boat hasn't yet docked! There aren't many other people around but we're taking off our helmets and checking that we have the fare. That's when we notice. This isn't a ferry. It's a guided tour of the lake. We got the ferry times wrong. We're not 1 minute early, we're 31 minutes early. We go and sit under a tree and eat a banana.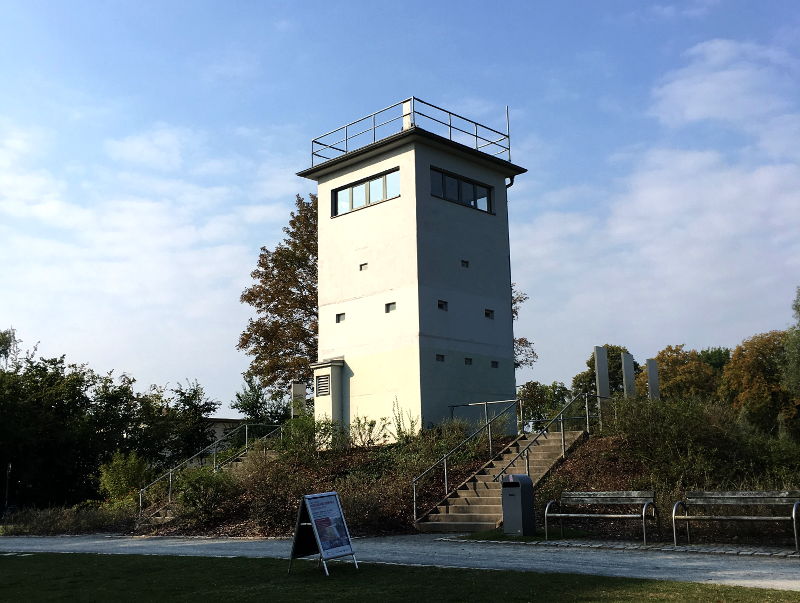 Once we covered bike rental and ferry tickets, our Next Challenge grant helped fuel our way around the Mauerweg. With a bag full of Pretzel rolls (saving valuable space compared with an inefficient regular pretzel), Ritter Sport and bananas we're rehydrating on Berlin and German standards like Club Mate, Apfelshorle, Milchkaffee, and (eventually) Sekt. At an imbiss at Wannsee ferry port we order two sweet, vaguely spicy and ketchup drenched Currywurst and sit opposite two demure German grandmas eating frankfurters – somehow they're managing even this demurely. And later as we got into the last leg of our journey we stopped off for a doner kebab. A balanced diet, you'll surely agree, but more importantly: both children on Berlin. With some Worcestershire Sauce borrowed from some occupying British soldiers the Currywurst was invented in Spandau in 1951. Twenty years later, a Turkish immigrant invented the doner kebab to sell to the burgeoning Turkish population.
After lunch at Wannsee, it's officially passed the halfway point and we've been on our bikes for seven hours, a good time for my chain to fall off again, I think. Nope we are the weak links from this point. A 30 minute wait for the ferry, a 20 minute ferry journey, 15 minutes being fed and watered have locked my legs stiff and given our bums the chance to let us know what a hard saddle and cobbled streets will do. At least we're lucky enough to be cycling through some of the most beautiful woods we've seen all day. The forests around the edges of Berlin have previously been used for storing ice so when we're cycling into the Düppeler Forest we experience one of the most familiar feelings of the Mauerweg as the temperature drops. Add to this the minty smell of pines, the long stretches of our journey that go through woods reinvigorate us like nothing else.
After crossing Autobahn 115 for the second time, we're skirting corn and wheat fields as the sun hangs low in the sky. Even for two people who only packed one pair or sunglasses the ride towards Schönefeld airport next to a low hanging sun is one of the better ways to end a long day. At this point we're approaching the city centre section again and we've seen most of what the Mauerweg has to offer. It's nearly over almost as soon as it's begun.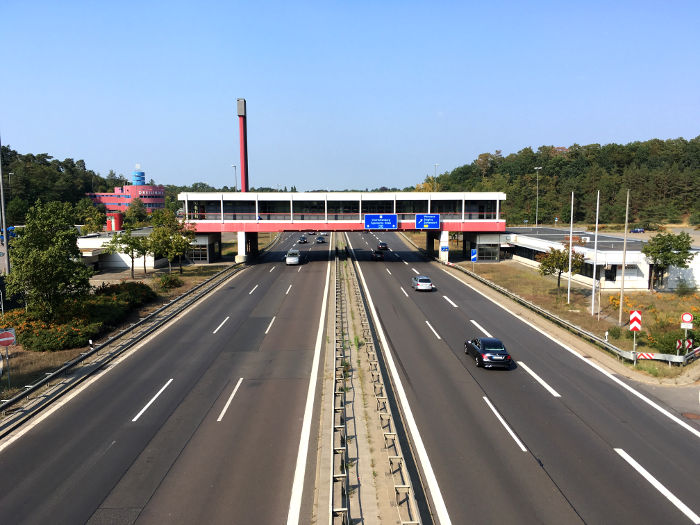 Fourteen hours after we rented our bikes, our finish line is in sight. With the canal back on our left shoulder we're freewheeling through dogs and early evening walkers 170kms are behind us. As we go under the disused railway bridge that is our finish line, there's no fanfare but we have managed to see a different side to a our new home city, found ourselves in forests and on riversides as picturesque as any chocolate box and, for me at least, cycled further than I've ever cycled in one day. If that's not what adventures are made of, I don't know what is.
The Next Challenge Grant offers small awards to anyone planning an adventure. It re-opens for applications in the new year.