Base layer materials explained, compared and reviewed.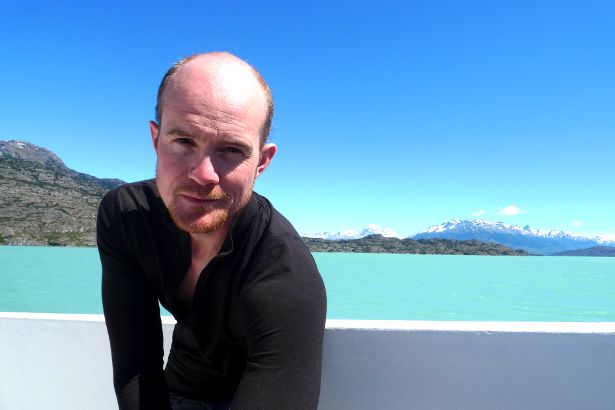 'Base layer' is the name given to an item of clothing worn next to the skin during sport or activity.
A variety of materials are used for such garments, each with different pros and cons. Below I have set out to review the basic advantages and disadvantages of the key materials and compare which is best for any given situation. They are as follows (click to jump straight to them):
It is typically the case, particularly in the UK, that you will want such a garment to quickly remove sweat (a process known as 'wicking') because if it doesn't then you get wet and that makes you cold. That's not always desirable though. If, for example, you're in a hot desert, then will you want the opposite.
I refer to "tops" throughout the article but the information applies to bottoms too.
This article was originally published in May 2012. In September 2014, I overhauled all of the content, updated it, added the comparison chart and generally made it better. I hope you like it.
Base Layer Materials – Comparison Chart
Scroll down for a detailed review of each base layer material but first, a summary table:
| | | | | |
| --- | --- | --- | --- | --- |
| Material | Performance | Durability | Smell Control | Buy Online |
| Synthetic (outdoors) | | | | Helly Hansen Lifa Wear >> |
| Synthetic (sports) | | | | Any cheap sports top |
| Merino Wool | | | | Icebreaker Merino Wool >> |
| Cotton Shirt | | | | Search Amazon for shirts >> |
| Bamboo (TrekMates) | | | | Search Amazon for bamboo >> |
| Bamboo (BAM) | | | | Any BAM clothing |
–
1. Synthetic Base Layers
The most common type of base layer is broad category of synthetic. These are comparatively cheap, hard wearing and give by far the best wicking performance (i.e. they retain the least sweat). Usually made using polyester mixed with another material like polypropylene.
I would categories them as two distinct types:
Base layers designed for the outdoors (i.e. made by outdoor equipment manufacturers)
Base layers designed for sports (i.e. made by sports brands)
Synthetic baselayers designed for sports can be very cheap (from £3 at Decathlon) and dry very quickly but they can also have really poor breathability leaving you sweaty and sticky. They also start smelling bad very quickly i.e. within an hour. They are fine for sport and short runs or cycles without anything over the top of them, but not good for longer outings or colder weather.
No doubt you can find expensive sports tops with excellent wicking and cheap outdoor tops that are rubbish but you get the idea.

Synthetic Baselayers

(Outdoors)

Performance: Excellent
Durability: Excellent
Smell Control: Poor
Cost: Average
Synthetic Baselayers

(Sports)

Performance: Poor
Durability: Excellent
Smell Control: Very Poor
Cost: Very Low
Toughness and durability of synthetic base layers

Both types of synthetic baselayers are much tougher and retain their shape much better than the natural options below which means you can get a tighter fit, resulting in better insulation and wicking.
The smell of synthetic base layers
The only real flaw with synthetic tops is the smell. As mentioned, the sports tops are terrible. The outdoor tops are much better than they used to be ("Smelly Helly" is an exaggeration) and I've not found them retaining any smell after washing. If you're on your own, in a remote area or just on a short trip then it's not worth thinking about. For longer expeditions or if you're spending a lot of time in pubs/cafes/public transport then the smell and the feel can be a little unpleasant.
The Best Synthetic Base Layers…
In truth, it's hard to go wrong with a synthetic baselayer. The safest bet is to go for a major brand like Berghaus, North Face or Mountain Equipment. Just avoid the cheapest knock-off ones and sports/running tops. There is a good range here. (If you do just want a cheap sports top then try Decathlon).
Personally, I've had several long sleeve Helly Hansen tops for over a decade and use them all the time for running, cycling and shorter trips in the hills. See below.
Recommended: Helly Hansen Lifa Wear

Helly Hansen's iconic striped sleeves are the sign of an excellent baselayer. I have honestly never found a base layer that performs better. They are tough, close fitting (which is good for wicking) and have a good long cut on the sleeves and body. One of my Helly's is over 10 years old and still as good as the day I bought it. Highly recommended.
>> Used by the author for over a decade– >> Best performance– >> Rating:
–
2. Merino Wool
A popular alternative to the synthetic option described above is to use merino wool. It's most notable for its incredibly odour eating ability. In contrast to the Smelly Helly, these can sometimes be worn for days or weeks at a time during activity and still smell passable in enclosed areas.
They have a softer feel than synthetic tops which makes them feel warmer when you first put them on. Some people prefer the feeling, others find them a bit scratchy.
They are notably more expensive than synthetic tops and not as tough (one of mine has holes in both wrists after two years).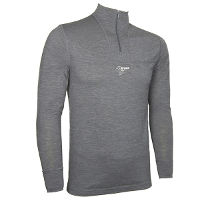 Merino Wool Base Layers



Performance: Average
Durability: Poor
Smell Control: Excellent
Cost: High
Even the thinnest types of wool tend to be warmer than synthetic tops so they are better suited to colder environments and less intense activity, particularly as they don't wick as well (better than cotton but not a patch on synthetic). Running on a cold UK winter's day, I found mine getting saturated with sweat and, similarly, my team mates skiing hard towing a pulk in Svalbard at -15C still preferred the more efficient wicking of their synthetic tops.
These tops really shine on longer trips. If you are travelling for several weeks or more, or undertaking a less strenuous activity like walking or cycle touring, then they are really good.
The Best Merino Wool Base Layers…
Icebreaker Merino Wool Baselayers: Probably the most popular brand, Icebreaker are a New Zealand company who make great quality tops. I've had one for about four years. They are quite expensive but they have a slightly cheaper Everyday range.
TrekMates: Good for cheap merino wool baselayers
Other brands include Smart Wool, Wool Power and Rab.
Browse Merino Wool Baselayers Online >>
Featured: Icebreaker 'Everyday' Merino Wool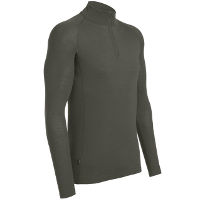 New Zealand's Icebreaker are the best known makers of merino wool garments and with good reason. Their range is excellent. Merino will never match polypropylene for performance but for a top that's softer against the skin, warmer, looks a bit more normal and will stay fresh for days, look no further than Icebreaker's Everyday range.
>> Used by the author– >> Stays fresh for days –
>> Rating:
–
3. Bamboo
In recent years, clothing using bamboo in conjunction with other materials such as cotton and lycra has started appearing. It gives a closer fit than merino wool, is much tougher and feels nicer against the skin without the itching feeling. Bamboo is similar to merino in other respects – it wicks reasonably well and can have impressive anti-bacterial properties – but the performance varies greatly.
TrekMates, for example, made a fantastic bamboo base layer. It wicked much better than merino and is easily my favourite ever top (I'm wearing one in the photo at the top of the page). However, it is no longer available. In contrast, BAM have a wide range of bamboo clothing which is very well made but performs poorly. Coming out of the washing machine it dries much slower than a cotton t-shirt.
If anyone can recommend a good bamboo range then I would love to hear from them. I've written to TrekMates but had nothing back. If you find one, snap it up.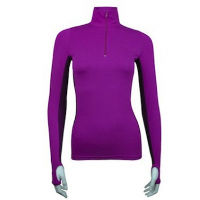 TrekMates Bamboo



Performance: Good
Durability: Good
Smell Control: Good
Cost: Average (N/A)
BAM Bamboo Baselayers
Performance: Poor
Durability: Good
Smell Control: Average
Cost: Average
Coconut base layers?
In some sort of exotic material one-upmanship, there are some base layers now available using coconut shells. They are even less common than bamboo and I've yet to try one out.
The Best Bamboo Base Layers…
Bamboo base layers can be a little tricky to get hold of…
TrekMates: Apparently no longer produced, the TrekMates bamboo base layers were superb (I'm wearing one in the picture above). Keep your eyes peeled for them on GO Outdoors, otherwise try Google shopping and eBay.
BAM: A British company who produce a whole range bamboo base layers and other bamboo clothing. The quality is good (and thus they are not the cheapest) but I've found them to be thick and heavy, meaning they are warm and take a very long time to dry so not great for outdoor usage.

Amazon: sadly, the esaiest place to find bamboo tops is probably just having a look on Amazon.
–
4. Cotton
Often treated like the devil's own weave in an outdoor environment, cotton is rubbish at wicking. It saturates quickly and can be slow to dry out. For cool or cold conditions, cotton is not very good. However, in warmer temperatures, it's great.
Because a cotton base layer retains a lot of moisture, it helps you keep cool and minimise water loss which are both useful properties in hot, dry places. In contrast, tight fitting, fast wicking tops will make you hotter and drain moisture from your body quicker.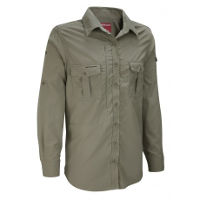 Cotton Base Layers



Performance: Poor
Durability: Average
Smell Control: Average
Cost: Very Low
When a cotton shirt is the best base layer
I've used a long sleeved cotton shirt I bought in a supermarket for several trips. Aside from a desert crossing and mountain walking in hot Oman, it was also infinitely preferable to my bamboo and merino tops whilst hiking in a Patagonian summer and whilst cycling around the world – cooler and better sun protection.
They also look like normal clothes which makes no difference on a mountainside but is good when travelling for long durations.
Cotton is cheap, tough, readily available and looks normal.
Summary
1. Synthetic
Best performance, longest lasting and good value for money. Best for high activity and shorter outings.
2. Merino
Great for longer trips and travelling where they look and smell better. Good for lower intensity activites.
3. Bamboo
At its best, a better performing and tougher version of merino. At its worst, no different from heavy cotton.
(or try BAM)
4. Cotton
Good for hot places, trekking and cycle touring in warmer environments and travelling. Cheap and prolific.
(or visit your nearest charity shop!)
Find this article useful? I also have comparison articles for Camping Mats, Bivvy Bags, Midlayers, Multi Fuel Stoves and more.

*NEW for June 2015* – Gas Canister Camping Stoves.