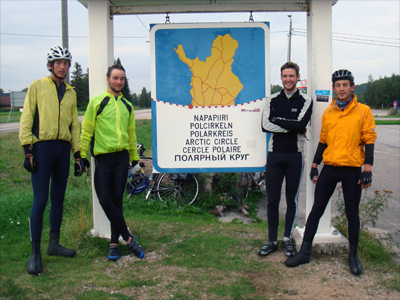 In the spirit of adventure we carried only what we would need to keep ourselves moving, clothed and covered at night. In the end, 32 days saw us complete the 6000km that exhausted, scorched, drenched and wind-battered us through eight countries.
Setting off from Gibraltar, our path unfurled into magnificent panoramas; mountains, rolling hills and plateaus were precious reward to the eyes and work for our legs as the changing landscape passed beneath our wheels. High spirited throughout our self-inflicted trial, we passed gradually from rocky, thirst inducing desert in the far south, to Arctic tundra in the north.
At either end we were engulfed by isolation as long, remote roads stretched out into bare surroundings, rising and falling over punishing ground. The kilometres in between were refreshingly green, blanketed hills and fertile fields cut now and again by great rivers, turning eventually to pine forest and crystal clear fjords, which heralded our approach to the north and progress towards the Arctic Circle
By far we faced our greatest test, fittingly, over the last two days of the expedition. We would have been disappointed to roll up easily to our much anticipated destination and certainly we were made to climb every foot of the way. Driving rain and tremendous wind were unrelenting on our last effort to make in good time, the most northerly destination one can reach in Europe.
Overjoyed and exhausted as we made the visitors centre that marked the spot, we congratulated one-another and were invited to sign our names in the book for people who reach the North Cape by bicycle.