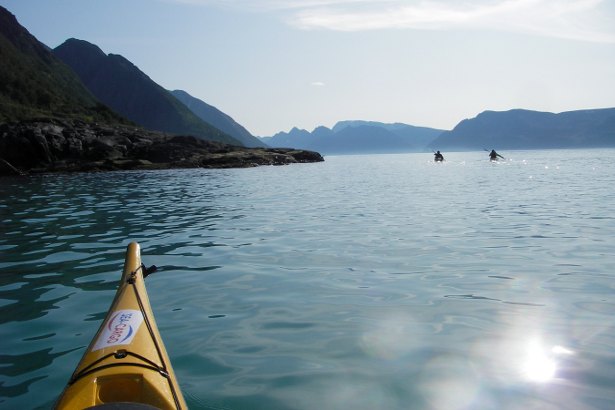 Today we are very lucky to have sea kayaking legend Justine Curgenven from Cackle TV offering advice for anyone considering an expedition by sea kayak. As well as having kayaked around Kamchatka, Tasmania, Tierra del Fuego and Wales (and across the English Channel with me vomiting from a nearby boat) amongst other places, Justine is the pre-eminent sea kayaking film-maker and the brains/camera behind the award-winning 'This Is The Sea' DVD series. Over to Justine…
10 Tips for your First Sea Kayaking Expedition
by Justine Curgenven
1. Start small and work your way up. If you've never been on a sea kayaking expedition, go for an overnight trip close to home. If you have forgotten a lighter to start your stove or some other vital piece of kit, it's not a disaster. Work up to going away for a few days and you'll learn what you need to take by trial and error.
2. Pack small. You can fit about 2 rucksacks full of kit into a typical expedition sea kayak. This might sound like a lot but the space soon disappears when you start packing. Try to only take what you need – put toiletries in small bottles, remove unnecessary food wrapping, consider taking small camping equipment – for example a thermarest or Exped matt rather than a bulky carrymat, & limit your clothing to the essentials. It's much easier to pack your things into lots of small drybags than to pack it in a few big drybags. Its also easier to find things if they are in smaller, colour coded bags. I carry a bag for my clothes, a bag for breakfast food, 1 for lunch food, 1 for dinner food, 1 for drinks, 1 for my sleeping bag, 1 for my Exped matt, 1 for my half of the tent etc.
3. Keep a set of warm clothes for land use only. Never wear these at sea, no matter how painful it is to put your wet, smelly thermals back on in the morning. When you land after a long damp day, you need to have some dry clothes to change into.
4. A barometer on your watch is very useful. When you stay at sea level then changes in the pressure can warn you about changes in the weather. As a general rule, a sudden change (down or up) usually means strong winds are coming. I have a Casio trekfinder watch which shows a graph of the pressure changes over the last 24 hours which I find really useful.
5. It's obvious but you'll need a kayak. It's possible – but expensive – to ship your own kayak anywhere in the world. If you don't want to spend a fortune then research places where you can hire or borrow kayaks, or chose somewhere you can drive to. If renting, check that the kayaks available have enough storage space, are in good condition & suitable for your needs.
6. If you are going abroad, find out how to get food, water & fuel for your stove. Some countries don't sell certain types of fuel – for example don't turn up in Italy with a jet boil stove as you may not find the gas canisters you need. Multi-fuel stoves like MSR stoves can run on petrol, which is available pretty much everywhere! Finding water is more of an issue in flat places or by farm land than in mountainous areas, & it may need treating where-ever you are. Research whether you need to take a water filter, tablets or iodine drops & whether you'll need extra bags to carry water. Are there shops on your kayaking route, or will you need to carry lots of food?
7. Food is vital on a sea kayaking trip as it feeds the engine! It's a very personal thing. One friend of mine only ever eats spaghetti and pesto for his evening meals. He fills a 1 litre nalgene bottle with pesto so he doesn't have to carry the glass jars. This is quick and efficient if you don't mind eating the same thing all the time. I prefer to eat a variety of food & always have spices, herbs, sun dried tomatoes & garlic to make things tastier. Treats like chocolate, biscuits & sweets have good calories & are great morale boosters. Pre-boiled eggs are a favourite on-the-water snack for me.
8. When planning how far to go on your expedition, consider how far you can comfortably paddle day after day & allow some days off for bad weather or sightseeing. Many people aim to paddle 15 miles a day (which will probably take about 5 hours) & assume that they will have to take 1 in 4 days off the water for bad weather. Obviously this depends on your group & on your location & time of year. Bear in mind, it can take up to 2 hours to break camp in the morning & set up camp at the end of the day.
9. Who you go with on a sea kayaking expedition will have the biggest effect on your trip. I would advise traveling with people who have similar goals & aspirations to you. If 1 person wants to paddle as far as they can every day but someone else wants to explore every cave & constantly take photos then one- or both- people will be really frustrated. Talk about what everyone wants from a trip before you go. A beautiful place can be ruined by bad group dynamics.
10. Match your destination with your skill and experience level. Don't go to a notoriously rough and windy place with limited landings if you have no experience of these conditions. In my opinion, good judgement is more useful than very good skills as you can then keep yourself out of trouble – although ideally you'll have some of both! Even 'calm' locations can be dangerous in certain conditions so always check the weather forecast, or learn how to predict the conditions yourself. Err on the side of caution.
11. Have fun! Explore some of this amazing natural beauty around us!
You can read more '10 Tips' articles here. To find out more about Justine and to buy her DVDs, visit CackleTV.com.