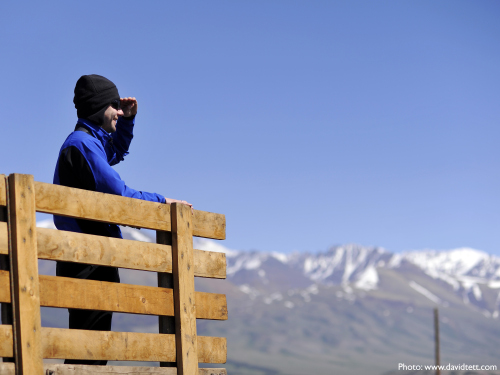 "50k?", shouts the skinny man running towards me in tiny shorts and a flourescent vest.
"50k!", I cry in return before wading into the river.
Well, it's more of a flooded field than a river but it certainly looks like the latter and, as it rises across my shins, over the knees and up my thighs, it feels like one too.
"We could just go round", offers Matt helpfully from the shore where he looks down at me with mild distaste. It's not clear whether this is from the thought of having to wade through waist deep water or because he's got to spend the next 30 miles with a running mate whose route finding takes him into a lake within the first 500 yards.
Getting out of the car had been the hardest part. Heaters on, stereo blaring and clothes dry, rolling out into the maelstrom of South East England took a lot of will power. Actually, it took a moment of shouting, "Go go go!" to the rest of the car and jumping out before my mind could convince me otherwise.
The next tricky step was committing to the full distance. We'd signed up and paid for the 50-kilometre route but, with darkness filling the sky as fast as our minds, it was all too tempting to downgrade to a 30k or even the 20k. Both of us felt it but neither of us was willing to admit it. So we did what all men do in such situations and skirted around the issue:
"How you feeling?"
"Yeah, alright. You?"
"Yeah, alright. It is pretty wet."
"Yeah, pretty wet."
Indecision and machismo lead us to the green sheet of directions. 50k.
The advantage of running straight into a massive puddle after less than a minute (and it took some presence of mind to find one through the expletives) is that the inevitable was over. I was wet. Soaked. My trainers oozed mud with every step and I no longer made the effort to run around pools of water or wasted any more nervous energy on the what-ifs.
Nevertheless, I backtrack, and we run around Lake Victoria with the our scrawny high-vis friend in hot pursuit.
The first "checkpoint" is three middle aged men in waterproof jackets, cowering from the rain under the boot of a car. I hand in our timesheets with the customary:
"I got here first. Make sure you stamp mine before his".
"Squash is over there", comes the reply with a finger pointing towards a sodden fold-out table with a dozen plastic cups in disarray and a bottle of own-brand cordial.
It's raining pretty hard now.
There's something wonderfully enlightening about embracing the elements. After a series of comedy jackets-on-jackets-off routines, we are both soaked through on top as well as below now.
Is that hail?
We're in a muddy field, in Kent, on a Sunday morning, wearing leggings and being battered by Mother Nature. And the best bit? We chose to do this!
Yeah, that's definitely hail. We'd better pick the pace up.
We didn't make it all the way. Matt's hip was deteriorating and, despite my really clever idea of continuing to run further away and hope he kept going, we saw a roadsign back to the start, stuck our thumbs out and started walking. Presented with a novel dilemma – aching bones preferring the sensation of walking, numb digits preferring the pumping blood from running – I resorted to running back and forth with my hands wedged up my arm pits to keep them from freezing.
Back in the car – heaters on, stereo blaring, clothes wet – the feeling of apprehension that the wall of wet outside had instilled on the journey over was now replaced with a warm fuzzy feeling that tingled through even the numbest of my toes.
–
If you enjoy running up hills and eating biscuits, I'd highly recommend the Long Distance Walking Association Challenge Events. This one was the Gatliff Marathon.