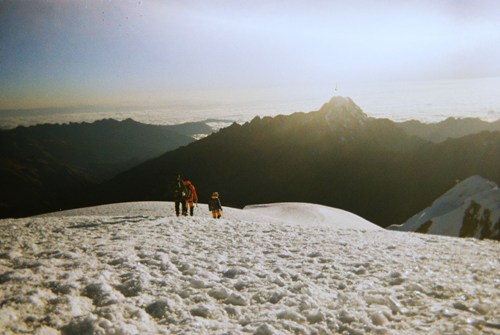 My friend Andy Ruck has just had his first book – Así Es La Vida – published and has very kindly offered me an extract for this website.
To set the tone, I could tell you that Andy has spent the last six years in Scotland with brief and not-so-brief forays into the Alps, Norway, Spain, Morocco, India and South America, and that the last of these forms the backdrop for his current book.
Or I could simply let you know that he's filed in my phone book under "The Rock".
I TOOK a nervous step back, looking into the eyes of my attacker. He moved forward. My eyes focused on the knife in his hand. Another step back. He jabbed the knife towards me. I froze.

It was two and a half years later and this was where that adventurous spirit had led us. Typical.

"DEJA LA MOCHILA!!!"

No, he really wasn't joking. A fairly clear order, even with my faltering Spanish, to drop the rucksack, uttered through fiercely clenched teeth and in a tone approaching a declaration of barbarian warfare.

On this occasion, we really should have known better. A poor neighbourhood of tin shacks stood to our left, separated from us only by a short embankment. We had located the slip-road onto the straight, dusty stretch of road that leads north from San Miguel de Tucumán. We were keen to cover as much ground as possible by way of hitchhiking, reasoning as ever that it was the best way to engage with the people. We dropped the rucksacks and began standing with our thumbs out. The initial signs were not good. It was a fast road and no drivers seemed to pay us much attention. Still, it was a busy road too, so you just never knew.

Cars passed.

First, a guy on an old squeaky bicycle passed us, shouting something we didn't quite catch and indicating the other side of the road.

"Dunno what he was saying," shrugged Carson. "I mean, why would we want to go that side? Cars won't pull over then." We disregarded his advice.

Cars passed.

About ten minutes and numerous dust-clouds from passing cars later, a kindly family who had been busying themselves outside their tiny house for the last few minutes, pointed across the "barrio," in urgent tones warning "Les van a robar, Les van a robar!" – they're going to rob you. Sure enough two very shifty-looking guys of around our age were lurking against the side of one of the dishevelled hovels, staring suspiciously in our direction and leaving their intentions beyond reasonable doubt. Now we were galvanised into some kind of action, although perhaps still not as urgent as it should have been.

"Let's walk away from here, go and try that service station back there instead," suggested Carson, and we began walking south again, with no particular urgency.

What happened next was something of a blur. I was about ten metres behind Carson when three youths of about sixteen came running down the embankment.

The three boys were clearly nervous; they had probably never robbed anyone as big as me before. They breathed deeply and waved the knife at me whenever I moved. I suppose I might have been a black belt in karate or ex-military tough guy who could floor them all with one mighty blow. Lucky for them I'm, well… not. Of course, I spent the next few days wondering if they would ever have dared use that knife, and whether merely shouting a few obscenities at them would have sent them scurrying back to their tin shacks and hiding in a corner until Christmas. But at that moment panic reigned and I dropped the rucksack.

It took all three of the little bastards to carry it away, mind.

 
You can read another extract of Andy's book next. Así es la Vida: An Un-structured Voyage of Discovery in South America is on sale now.