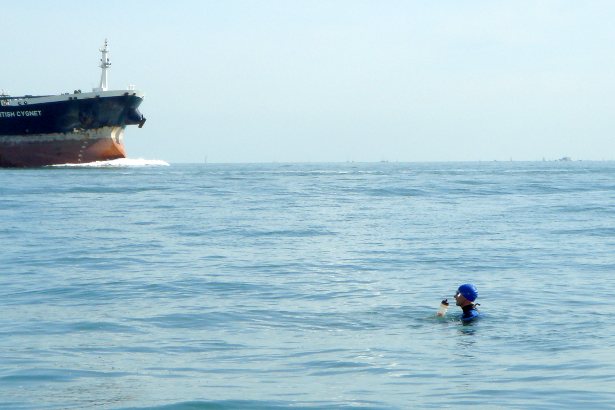 So, Ben Fogle is to swim the Atlantic. An almighty feat, no matter how you look at it.
Mr Fogle's activities often pique my interest (no doubt he is similarly fascinated by my life). This announcement, however, was not at all the kind of thing I would have expected from the Accidental Adventurer.
I've written before about the pros and cons of celebrity expeditions but thought this one made for some interesting debate.
1. It will be a genuinely tough expedition
With his previous projects it has always been easy for me to dismiss them from my imaginary ivory tower as "just events" that he'd joined – rowing the Atlantic and skiing to the South Pole were both organised races. Physically tough, yes, but very controlled and not "proper expeditions".
However, swimming the Atlantic is in a different league and, regardless of how much money and support he has, no one can take away from the fact that he will be swimming a really, really long way at sea.
No doubt the inevitably documentary voice over will exaggerate and dramatise everything that happens on the trip but so be it. It probably deserves at least a bit of dramatic music.
2. Ocean swimming will now forever be associated with Ben Fogle
Anyone who now attempts a long-distance swim, particularly at sea, will instantly be associated with Ben Fogle. That's fine. It may even be possible that, along the way, he raises the profile of some other great distance swimmers like Martin Strel, Ben Lecomte or Lynne Cox.
The risk, however, is that the giant wheels of the Fogle bandwagon inadvertently squash the hopes of other ocean swimming hopefuls; Jonathon Bradshaw or Haydn Welch for example, who might already have been fighting to find sponsorship or support, but find themselves pitching to a public now fatigued of salty swimming.
3. It may help promote wild swimming
The only time I've met Ben in person was at an Outdoor Swimming Society event. Undoubtedly this project will see even greater exposure for wild swimming than even our friend Robson Green managed. That is a good thing. Wild swimming is fun.
But what shade will be the spotlight focused on wild swimming by Team Fogle?
As I have argued elsewhere, Eddie Izzard's multiple-marathon run had a huge impact on people and I believe did so because it displayed his remarkable feat in an honest light. There was no hyperbole and high drama, it was just a slightly overweight comedian putting on his running shoes and churning out hundreds of miles.
Ben doesn't have much swimming experience (it says so on his website). It would be wonderful if the angle taken by this project is that anyone can undertake such great challenges if they put their mind to it. My fear, however, is that it will make open water swimming out to be an extreme. That is wrong.  Swimming 3,000 miles may be extreme but swimming outdoors is not.
Most of all, swimming across the Atlantic ocean will be a remarkable feat and I take my hat off to Mr Fogle for even contemplating it.
Sir, I wish you the best of luck!
You can read more about Ben's swim at www.thegreatatlanticswim.com
P.S. It would be quite remiss of me to not mention the fact that my mate Dan Martin is about to set off across the Atlantic in his speedos (no wetsuit for Dan!) very shortly and should be back in Europe before Mr Fogle can say "Pass me the Vaseline"… www.danmartinextreme.com