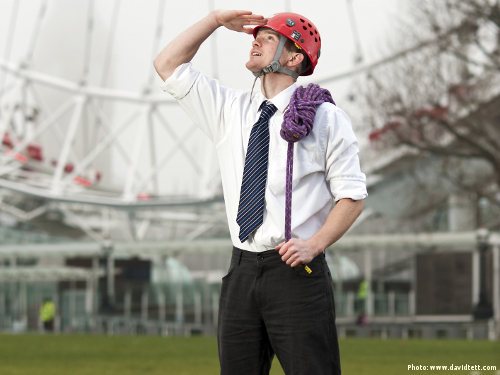 A friend of mine told me about a couple who, once a year, would walk to the horizon. They would look out their window, pick a spot on the line in the distance and set about getting there.
I am going to steal that idea for this month's Everyday Adventure.
The horizon is the visible outline where earth meets sky. If you stand on a flat plain or out at sea, it will probably be about 3 miles away. Rise 100 metres in a tower block or on the side of a small hill and earth will stretch away from you some 20 miles or more. But all too often these days our horizons are obscured by man-made constructions. It is a rarer treat to see into the distance, our vision block only by the curvature of the earth.
No matter! We won't be letting obstructions get in the way of our fun this month. We'll be using them…
I want you to get out of your chair, walk to the nearest window, peer out and pick something in the distance. What is it? How far away is it? Have you been there before? How can you get there?
Perhaps you don't have a window or there's nothing to see out of it (the view from my last office was a brick wall some three feet away). That's OK. Gaze out of your train window on the way to work; get to the nearest high-point to your house, be it hill or shopping mall; or keep your eyes peeled next time you're out and about.
Pick your spot and walk there. Or drive. Or run, cycle, take public transport. It doesn't matter. Just use your surroundings to inspire a journey.
Whatever our environments, wherever we live, there are adventurous opportunities in abundance. It just takes a little initiative and this week we use our field of vision for ideas.
This idea is not entirely plagiarism. I've adopted it in the past. Living on Oxford Street in my final year at university, the Canary Wharf tower was an omnipresence in my daily life but I'd never been there. One evening I tied the laces of my trainers and set about running there. I got hopelessly lost, found myself on the wrong side of the river and ended up taking a night bus home but it was a wonderful mid-week adventure that I enjoy reliving to this day.
You don't need to run anywhere and you needn't get lost either but you do need look out to the horizon and you do need to chase it down.
…and it is here for you to try.

There are no rules, constraints or conditions. Treat this as a spark for your imagination. Use it as an injection of excitement into your daily routine.

Please spread the word, email a link to this page or share it on Twitter and Facebook with the buttons at the bottom right. There'll be a new idea for each month of 2010 along with another fantastic image courtesy of David Tett Photography.