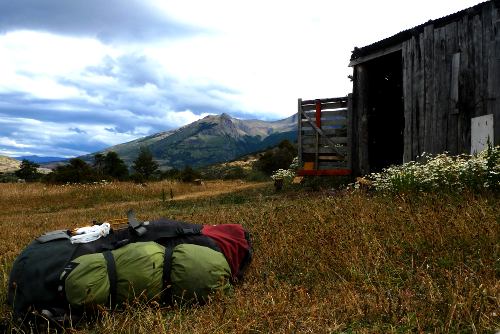 Some reflections about the trusty rucksack I lugged half away across South America:
My rucksack has a particularly large pocket in its lid. Big enough for an A4 folder or a pair of shoes. It always contains those items which I will need most often.

For the first week this was money for buying food and credit cards to pay for transport, my passport for border crossings and registrations, mobile phone for messages and Kindle for reading at bus stops.

The contents of my lid pocket have slowly changed over the last few days. In place of cash comes my pen knife for slicing cheese and cutting chunks of salami. I no longer need a passport to show who I am but a map to show WHERE I am. Phone and books are not necessary but sun cream to protect exposed flesh from the long hours in the sun is and so is my head torch should darkness creep up.

I enjoy how the changing constituents of this pocket reflect my changing needs. Two items have not changed however and will probably always constant in my whatever top pocket I have: water and snacks.