This weekend, the Cycle Touring Festival is happening online.
It is free and accessible to anyone, anywhere in the world.
---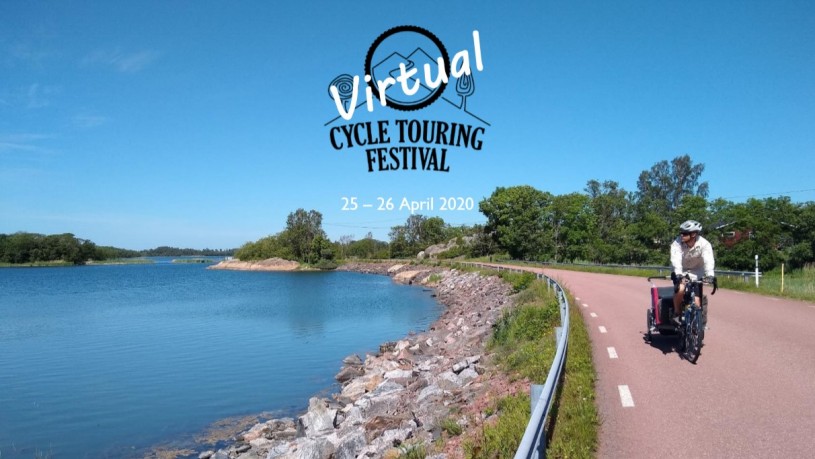 There should have been another Cycle Touring Festival in Lancashire next month. The venue was booked, speakers were signed up and tickets were close to selling.
But, like so many things at the moment, it had to be cancelled.
So in response, Laura (my wife, the organiser), did two things:
Moved it online. If people can't come to the festival, then the festival will come to them.
Brought it forward a month. Let's be honest, we are all looking for ways to keep entertained/sane, so we figured the sooner the better.
The event is usually part festival, part conference. It is a weekend filled with talks, seminars, how-to sessions (like a conference). It also involves tents, beers, cake and a marquee (like a festival). The virtual event will be ticking similar boxes.
There are lots of talks, beamed live from the homes of all the cyclist-speakers; there are webinars to join; and Q&As to participate in (the conference bit).
But there is also an online "cake break" where people can socialise (perhaps with a home-made cake after their allotted 1-hour bike ride). On Saturday night there's an 'open mike' where anyone, anywhere can give a 3-minute talk to all the other attendees live via Zoom (perhaps with a glass of BYO).
And there is a dedicated 'Slack' chat room for people to hang out and discuss on all things cycle touring (the festival bit).
The event is free. There are no charges for any of the talks, films, webinars, Q&As or other events. You do need to sign up for the live events in advance though and numbers are limited. All details are in the programme.
However, given the circumstances, we are encouraging people to make a donation National Emergencies Trust Coronavirus Appeal. There is a dedicated Cycle Touring Festival page for doing so.
Alternatively, you could buy a festival t-shirt or stem cap. All proceeds go to the same cause.
---
For more information on all of this, visit www.cycletouringfestival.co.uk