This guide tells you how to complete a desert crossing. It examines different methods such as on foot, by car, with camels or dragging a cart. Difficulties, like dehydration, sun stroke and spiders, snakes and scorpions, are examined and costs are broken down, before first steps are given to get you started.
This article is taken from my ebook How To Cross A Desert which tells you everything you need to know about undertaking a desert expedition in the 21st century.
Background
Bedouin, Tuareg, Aborigines. People have lived in deserts for thousand of years and no doubt completed plenty of crossings during that time. European explorers first started dabbling with desert crossings in the 19th century with people like David Livigstone, Heinrich Barth and John McDouall Stuart leading the way up until Wilfred Thesiger's ventures in Empty Quarter in the 1940s.
Deserts now make popular tourist destinations offering pretty pictures and an exciting night's luxury camping but the idea of a longer journey will be anathema to most. However, such journeys are surprisingly attainable. The outskirts of most deserts are more easily reached than, say, the foot of a remote mountain, and they can be crossed with only a minimum of low-tech kit.
How To Cross A Desert EBOOK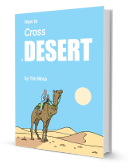 The only guide to desert expeditions in the modern day.
"The perfect resource" – Bear Grylls
"An excellent book" – Sir Ranulph Fiennes
What Defines 'Desert'?
A desert stereotype is hot and sandy but neither of these features are pre-requisites. Rainfall is a common measure with less than 250mm per year being the benchmark, although this ignores evaporation and other factors that can contribute to dryness.
There are a wide variation of environments within this definition. The Arabian Desert averages over 40C in the summer whilst the Gobi in winter drops below -30C. Equally, other desert environments can be quite mild at times, the Atacama and Namib being two such examples. Sand, too, is not the only substance under foot or even the most common. Gravel plains, salt flats, boulder fields and scrub land all play a part.
But whilst heat and sand may not be the defining features in the scientific sense, they are the most unique and present many practical implications and thus will be the focus for much of this article.
Options – Cars, Camels and Carts
On foot
The simplest method for short journeys is probably just to walk. There is very little specialist equipment you need and the only techniques required to start will be an understanding of how your body copes in the heat and how best to deal with that. The biggest limiting factor, of course, is how much water you can carry. More than a few days' supply will become unrealistic.
I crossed the Wahiba Sands desert on foot in 2011. It took two and half days crossing around 30 large dunes carrying 9-litres of water.
Cars
Obviously not the same challenge as being exposed to the elements but driving a heavy 4×4 over steep, deep sand in a remote area is still a significant undertaking. The limiting factor for this style of journey will likely be the amount of fuel you can carry. Beyond that, you can take vast amounts of equipment, food and water and thus cover some serious ground.
Camels
Camels can tolerate extreme heat, endure long periods without water, and take the weight of a human passenger and/or lots of kit. As such, they make excellent team-mates for desert expeditions. A typical expedition-fit camel should typically:
Carry 100-250kg.
Cover 20-30 miles a day.
Go 1-2 weeks without water in cool weather or a few days when working hard in the heat.
Drink 20 litres a day when given access to water.
Eat 2 or 3kg of food per day.
It's not usually practical to carry water for camels so you'll need to plan regular refills. Grazing on grass and shrubs is ideal but carrying grains works too. You can ride or walk next to a camel and there's not normally a huge difference in speed so you might be best sharing the burden between the two of you.
For more details on looking after camels, see Jeremy Curl's article: How to Buy a Camel.
Carts
Desert carts are like trolleys or rickshaws that you drag behind you. They are harder work than walking with a rucksack or a camel but allow you to carry huge amounts of supplies without the hassle or looking after a feral beast.
They are typically aluminium contraptions with two motorcycle, or mountain bike wheels, usually with two parallel bars which are either gripped by hand or attached around the waist.
Dragging one of these laden carts up a steep sandy slope will be no mean feat but, mechanical failures aside, they require no expertise and, by taking the weight off your body and putting it onto wheels, you can take much greater loads. As much as 300kg is not infeasible. This will vastly increase the range you can travel without re-supply.
For pictures, videos and a comparison of different contraptions used, see the article Carts for Crossing Desert.
Difficulties
Determining your water requirements
To travel safely in a desert you will need to replace the water that you lose but you will also invariably be limited in the amount that you can carry. Getting this balance right is key to success.
You can't rely on thirst to dictate your requirements as quenching it would require vast volumes. But deliberately restricting your intake is difficulty and potentially dangerous.
For details on the factors affecting your requirements, what the minerals you need to replace and how much past desert explorers have lived off, see the articles  How Much Water Do You Need to Drink in a Desert? and Deserts, Dehydration and Minerals.
Minimising water loss
You want to keep moisture loss to a minimum whilst in a desert environment. You can do this by:
Moving slowly and avoiding excessive exertion to limit unnecessary sweating.
Seeking shade whenever it's available.
Use mornings, evenings and nights to avoid activity in the heat of the day.
Wear light coloured, long sleeve, non-wicking clothing (see my article on a comparison of base layer materials)
Avoiding sun burn, heat exhaustion and heat stroke
You want to cover up most if not all of your skin to avoid sun burn and minimise evaporation of perspiration. That means long sleeves, long trousers and a wide brimmed hat, all in light colours to maximise heat reflection. This will help avoid heat exhaustion and stroke too. Sun glasses will protect your eyes from the desert equivalent of snow blindness.
Spiders, snake and scorpions
Most deserts are home to at least some nasty critters. They usually try to avoid human contact and save their more poisonous attacks for killing prey but, nonetheless, the following can help avoid any encounters:
Avoiding leaving unattended bags and tent doors open.
Sleeping away from bushes and rocks.
Checking your boats in the morning.
Avoiding walking barefoot, particularly at night when beasties are more active.
Costs
Transport: £300 – £2,000. Entirely dependent on where you in the world you're headed but you can reach the edge of most deserts without too much trouble.
Equipment: £100 – £1,000. There isn't too much specialist kit you need and can often get away with very little.
Supplies: £4 – £10/day. Cheaper if you use supermarket food, more if you buy ration packs.
Communications: £0 – £800. Could use nothing, might take a satellite phone and other gadgets.
Camel: £150 – £1,000+. See How to Buy a Camel.
Cart: £250 – £1,500+. You'll be making it yourself so the costs are up to you.
Lowest total cost: £1,000. A low cost flight, second-hand kit and a cheap cart or camel for a few weeks in the desert. (Our crossing of the Wahiba cost less than £40).
More typical total cost: £5,000. A long haul flight, in-country transfer, some new kit, a good cart or two good camels, and a satellite phone for one or two months in the desert.
First Steps
Test yourself in a hot environment with limited water. Take extra and a mobile phone for emergencies but give yourself a taste of what it's like to be hot, tired and thirsty.
Pick a desert that suits you for size, remoteness and temperature.
Pick an approach: on foot, with a car, camel or cart.
Do some calculations. How far is it, how long will it take, how much water will you have to carry and do you need a re-supply?
Get your body conditioned to working hard in the heat with limited water in take.
Do a test run, ideally in the same environment or as close as you can replicate at home.
Further Reading
If you are interested in a desert expedition then you might consider my book How To Cross A Desert. I'm pretty sure it is the only guide book in the world that tells you everything you need to know to undertake a desert expedition in the modern age.
The following extracts are available online for free: Deserts, Dehydration, Water & Minerals, How to Buy a Camel, Carts for Crossing Deserts and How Much Water Do You Need to Drink in a Desert?.
You can also read about my crossing of the Wahiba Sands desert on foot.
DOWNLOAD THE COMPLETE EBOOK NOW
How to Cross a Desert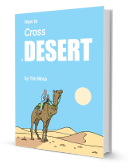 The only guide to desert expeditions in the modern day.
"The perfect resource" – Bear Grylls
"An excellent book" – Sir Ranulph Fiennes