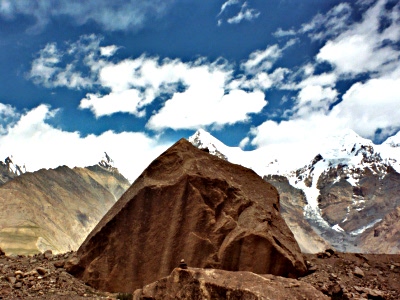 My friend recently asked me if I aspired to be like Ben Fogle and I laughed. I thought he was joking.
You see, to me, despite knowing next to nothing about him, Ben Fogle represents a group of "TV first, expedition second" adventurers. They may make entertaining television shows but they are not "the real deal".
But my friend wasn't joking. Quite the opposite. He'd been following Ben and James Cracknell's journey to the South Pole and was totally blown away by their achivement. He'd previously followed their row across the Atlantic and, as a direct result, was keen to try a big expedition of his own.
In recent years there have been a lot of celebrity expeditions and expeditioners. From Bear Grylls introducing extreme survival, through Jeremy Clarkson driving to the Magnetic North Pole and up to a whole host of celebrities descending on Kilimanjaro eariler this year.
In expedition circles, such activites are not generally held in high regard. Grylls exaggerates, Clarkson had his hand held and Kilimanjaro's just a walk anyway. Right? The problem is that most people can't tell the difference between Ben Fogle and Ben Saunders; Grylls looking for food here and this guy looking for it here.
But does it really matter?
Does it matter that they are not accurate reflections if they still entertain? Does it matter that they are not authentic if they still inspire?
I've always been a fan of Bear Grylls' shows and I loved watching the Top Gear North Pole Special. I wouldn't want to run my own trips like theirs but these guys have the ability to reach magnitudes more people than I will ever have. I think inspiration to others is one of the most important reasons for expeditioning and if these celebrity shows are doing that on a wider scale then are they really all bad?