Grant winner Joshua Powell describes his attempt to run a marathon at Marathon dressed as a Greek soldier.
---
Running a Marathon at Marathon
by Joshua Powell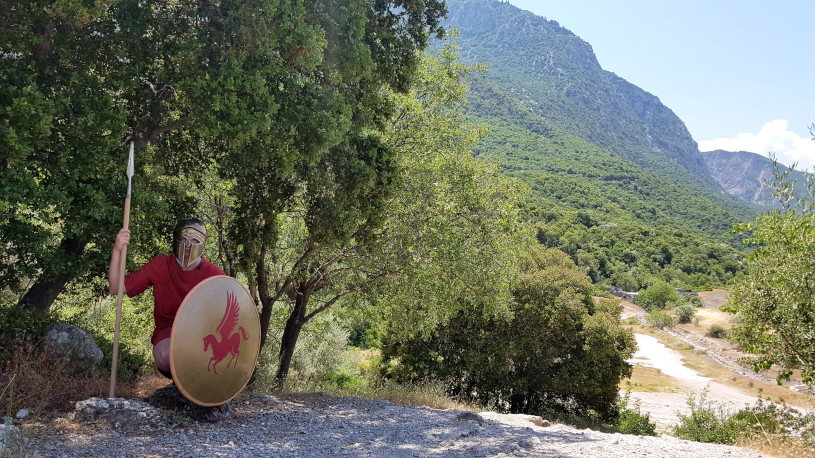 It was October 2016 and I was approaching the end of English Heritage's '1066 March', marking the 950th anniversary of the Battle of Hastings in 1066. We had traced the 300-mile journey of the Saxon army of Harold Godwinson south, from Stamford Bridge near York, to Sussex, where Harold would ultimately meet his fate at the Battle of Hastings. The experience was profoundly impactful for each of us – and in a moment of (rather rash) inspiration towards the end of the journey, I decided that I was going to challenge myself to attempt the Marathon at Marathon.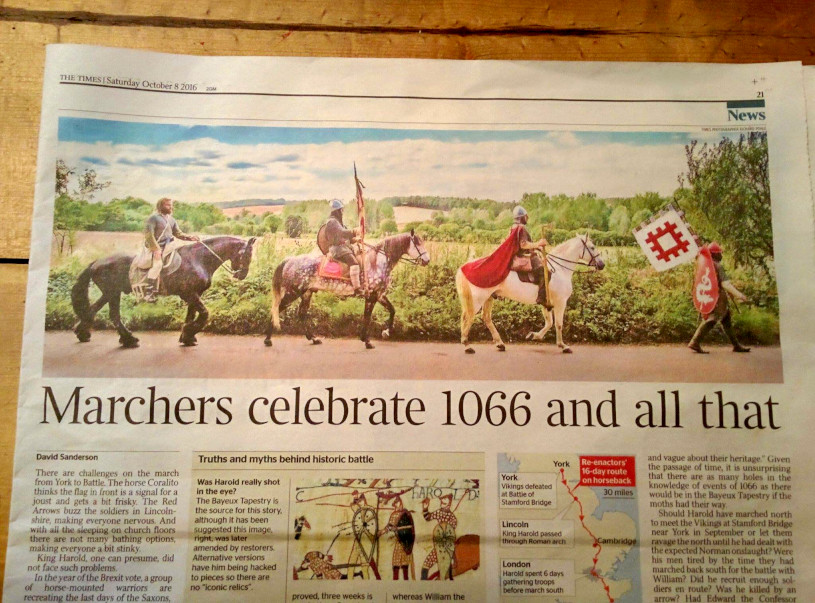 The Marathon at Marathon was a similarly simple idea: to complete a marathon following the 'original' run (or at least the legend that inspired the modern event) between the towns of Marathon and Athens in Greece. Whether a Greek soldier called Pheidippides actually ran the approximately 25 miles between Marathon and Athens after the Battle of Marathon (490 B.C) is a subject of debate among historians. But the story – possibly a combination of Pheidippides's previous feats, thought to include an earlier and far longer run to Sparta to seek military support against the oncoming Persian invasion, and a potential Athenian forced march between Marathon and Athens after the battle – inspired one of the most enduringly popular of all races: the marathon.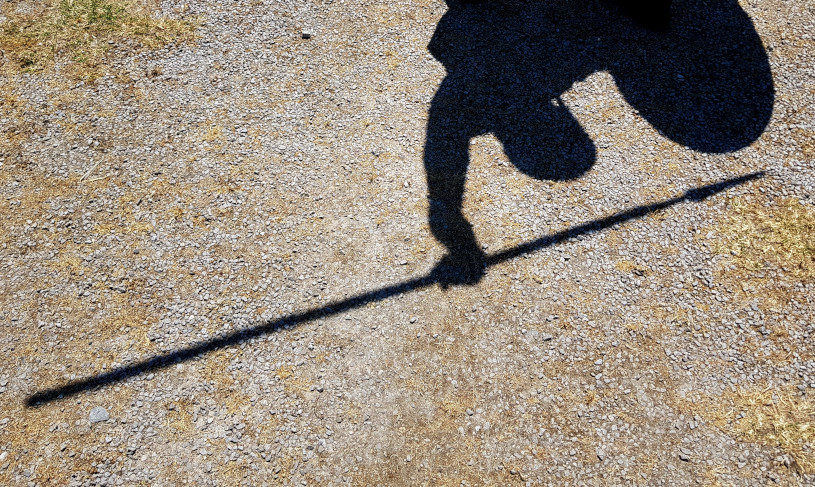 Now there is a relatively popular marathon that takes place between Marathon and Athens every year – it is the same route that was used for the 2004 Olympics – but I was not going to attempt to complete that. Instead, I would run the Marathon at Marathon individually while wearing replica Greek sandals and clothing. I had never run a marathon before, not even a half-marathon. While I have always enjoyed running, that enjoyment was strictly limited to the first 400 metres of any race – anything outside of sprinting distance was more chore than joy.
But once The Next Challenge Grant had offered their support, there was no backing out and so began preparations for the Marathon at Marathon. Acquiring replica clothing, footwear and armour suitable for an Ancient Greek hoplite is, it turns out, anything but simple. From hand-painting an aspis (the large round shield of a hoplite, also known as a hoplon) with a design seen on the shield of a hoplite depicted on a vase held in the Royal Scottish Museum in Edinburgh, to repeatedly attempting to break in a pair of leather sandals, the process of practically preparing for the marathon – let alone physical training – was a long and challenging, but ultimately thoroughly enjoyable, process.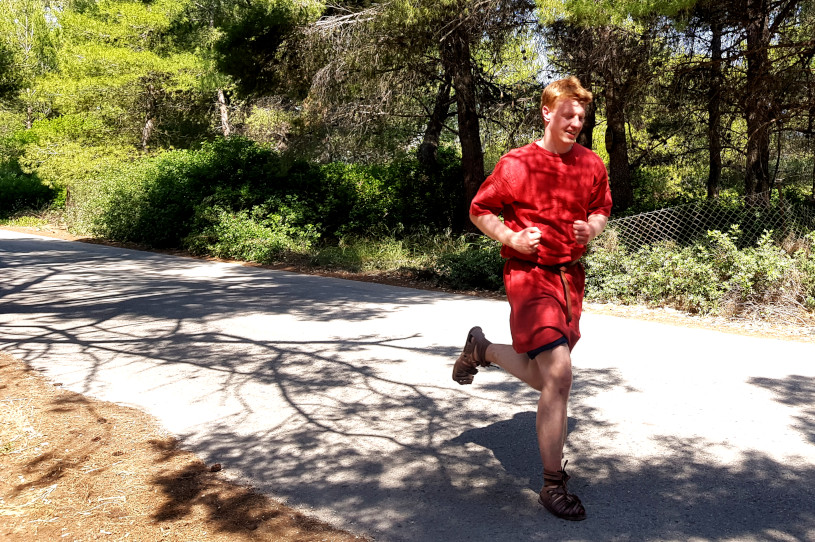 Arriving in Greece in June 2019, it was time to run the marathon. Prevented from completing the Marathon to Athens route by a large modern highway, I instead reversed the route and ran a loop from the modern town of Marathon to the site of the Battle of Marathon and on to where the Persian fleet is thought to have moored ahead of the battle. The theory was that running laps of this route would take in many of the major sites associated with the battle, but which are rarely seen by the modern competitors in the annual marathon, while avoiding the need to dice-with-death on some of the largest roads in the country.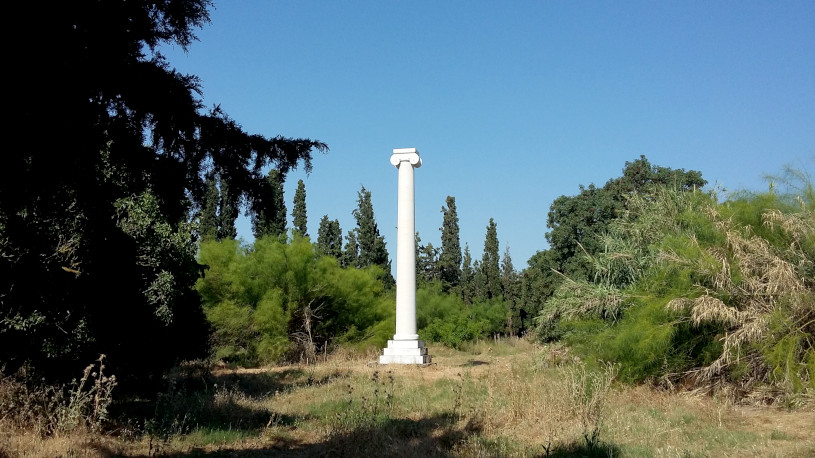 Perhaps foolishly, I was attempting to complete the marathon while both ill – having developed a rather nasty illness a few days before my departure – and on a June weekend that was projected to be one of the hottest that Greece had experienced that year. As a result, safety was vitally important and we had agreed a cut off temperature of 35oC – once it reached that temperature, or if the heat became unbearable, I was to stop the run.
Nevertheless, the marathon went ahead and I set off, passing the Trophy of the Battle of Marathon on a dusty farm track, experienced runners in modern sportswear who were clearly a little bemused by my 'old school' outfit, and some tourists whose experience of Marathon I like to think I perhaps added something to! By the time it reached 35oC I had not got to the full marathon, but I followed our procedure and pulled over. Maybe a 'Half-Marathon at Marathon' would have to do.
Although I have no desire to repeat the feat anytime soon, there were elements of distance running that I came to find, perhaps not enjoyable, but satisfying. I am certainly not ruling out ever running another marathon. In fact, I might even wear sandals again…
Thank you to everyone who donated to the Next Challenge Grant for their support and particularly to Tim Moss, for choosing to support the Marathon at Marathon, for patience when I was faced with setbacks, and for your belief in this unique challenge. Thanks to Matt, Nigel and Dom for their advice and assistance with Ancient Greek arms and armour.  Finally, a very special thank you to Sehee Park for providing such wonderful support during the marathon.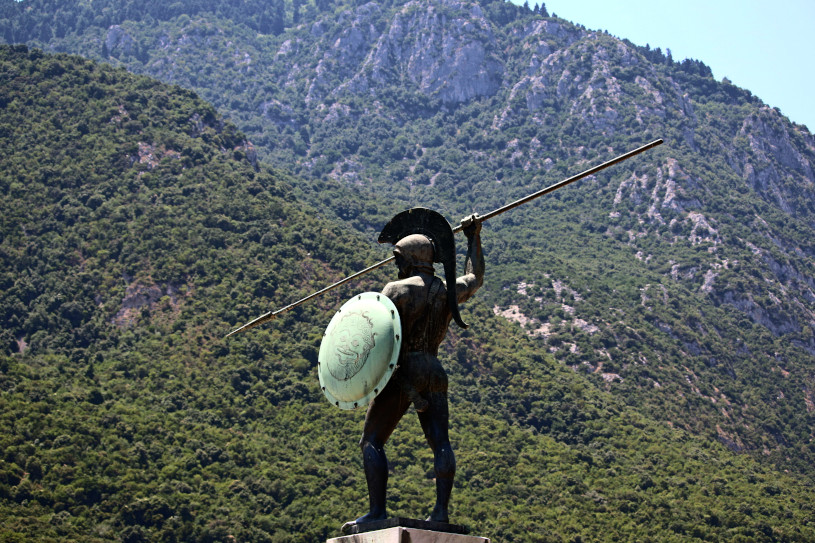 ---
The Next Challenge Grant re-opens for applications in September. Find out more here.