The Helium Bivy is the new ultralight hooped bivvy bag from Outdoor Research. Overall, it's an excellent ultralight bivi that also happens to be cheap.
At 510 grams (18oz), it's the lightest hooped bivi on the UK market by a long stretch and, I suspect, the lightest in the world. Better still, at £145 in the UK and an absurdly low $127 in the US, it's also very reasonable for a hooped bivvy.
Outdoor Research Helium Bivy Review
Outdoor Research have a wide range of bivvy bags. I wanted to include them in my Comparison of Bivvy Bags article so wrote to Outdoor Research a few months ago and asked for one to test. They sent a Helium Bivy which I've tested on half a dozen different nights out, camping in sunshine and rain up on the Yorkshire moors and down south in Devon. This is my verdict…
Pros
Lightest hooped bivi in the UK
Low cost
Cons
Hood tricky to tie up
Less durable
Conclusion: it's the lightest hooped bivvy bag on the market (by a long way) and I'd also recommend it as the best budget hooped bivvy.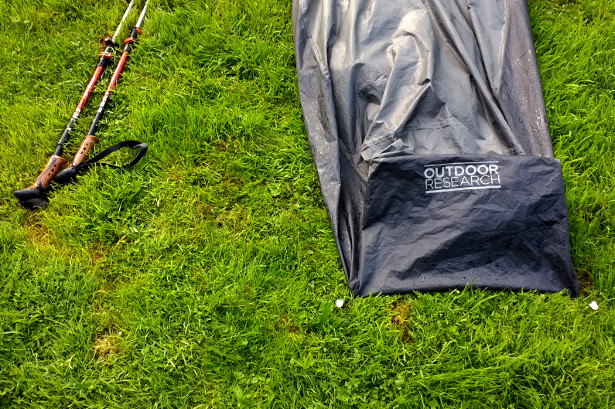 Weight
The number one feature of the Helium Bivy is its weight: 510g. That's decent for any bivvy bag and remarkable for a hooped one.
Helium Bivy weight vs other hooped bivvies:
| Bivvy | Weight |
| --- | --- |
| Snugpak Stratosphere | 1,130g |
| Rab Ridge Raider | 1,033g |
| Outdoor Research Alpine | 907g |
| Terra Nova Jupiter | 840g |
| Outdoor Research Helium | 510g |
As you can see, the Helium is significantly lighter than any other hooped bivvy bags.
Helium Bivy weight vs
non

-hooped bivvies:
| Bivvy | Weight |
| --- | --- |
| Typical ex-army | 800g |
| Rab Storm Bivy | 664g |
| Outdoor Research Helium | 510g |
| Alpkit Hunka XL | 503g |
| Alpkit Hunka | 376g |
| Rab Survival Zone Lite | 200g |
Even compared to traditional hoopless bivvy bags, the Helium sits in the middle of the range.
The bag doesn't come with pegs and thus they're not included in the weight. Unlike some other hooped bivvies, the Helium doesn't stand up without pegs so really does need to be pegged out so you should factor those into your calculations (N.B. it's quite common for manufacturers to exclude pegs in their total weights so this isn't too scandalous).
The weight saving largely comes from the fabric: Pertex Shield+ rather than the traditional Goretex, Event or heavy, coated nylon. But weight's saved in other areas too. The rest of the design makes my Terra Nova Jupiter look unnecessarily bulky with its thick plastic pole sleeves and heavy fabric and metal eyelets. Admittedly, my Jupiter is a model from 15 years ago, but it does highlight the easy weightsavings that can be made with a little thought.

Size
Inside, the Helium isn't spacious but it's big enough to not feel cramped. You can't fit a rucksack inside like you can with the cavernous ex-army bivvy bags and the opening isn't as big as the benchmark Terra Nova Jupiter, let alone the garage that is the Rab Ridge Raider. But there's plenty of room for a camping mat, your shoes and whatever you're using as a pillow.

Waterproofing
The Helium Bivy uses one of the new generation of lightweight waterproof materials: Pertex Shield+ 2.5L. It's very thin and much softer to the touch than the traditional Goretex fabrics. It's also much cheaper than Goretex and still has a hydrostatic head rating of 20,000 (which basically means it's waterproof). I've only used the Helium in light rain and heavy dew but it's shed both without problem. The Shield+ fabric has been used in a range of ultralight waterproof jackets for a few years now so it's a reasonably well known quantity.

Breathability
All bivvy bags feel a bit sticky inside, that's just life. A better test for a bivvy's breathability though is whether or not you get lots of condensation inside. Various factors outside of the bivvy's control will effect this – warmth, humidity, breeze etc – but I've found the Helium to breathe well in the conditions in which I've tested it. With the hood open, I've not had any notable condensation forming. With it closed, my breath condensed on the hood as it does with any bivvy.
Design
The Helium's design is pretty standard: slightly tougher material on the floor (Hydroseal) and a thinner waterproof material on top (Pertex Shield+). It has a zipped opening at one end with separate retractable waterproof and mosiquito net hoods. There are hoops for three pegs at the head, two at the feet and none on the sides. The sleeve for the hoop is opened by velcro at one end and sealed at the other, meaning you save a bit of weight by not having metal eyelets. It has a very thin plastic pole which would worry you if it were in a tent but is fine for a bivvy.
The only notable design difference with the Helium over other hooped bivvies is that the hood hangs down from the hoop and zips around the base of the bivvy (as opposed to being pulled up from the base and zipped along the hoop). This means that by default, the hood hangs down over the opening. There's a toggle to pin it up but the hood can't be rolled up and still hangs in the way. It's a bit annoying when setting up camp and, for those of us that like sleeping with the hood open, means it hangs in your face and stops air flow. I found the best solution is to bend the hoop and peel the hood back over it. That works fine but it seems like an odd design flaw.
Durability
I've not had my Helium long enough to vouch for its durability. However, it's an ultralight product using a thin waterproof fabric so it undoubtedly will not last as long as its heavier counterparts. This isn't a design flaw, it's just the nature of lightweight outdoor kit. If you're reasonably careful with it (i.e. don't camp on sharp rocks) then there's no reason to assume it won't serve you for a long time.
Cost
The Helium Bivy is available online for £145 in the UK at the time of writing and currently on sale at $127 in the US. The industry standard Jupiter from Terra Nova, meanwhile, retails at £279, almost double the price. The only hooped bivvies which are cheaper are the Hi Gear Adventure Bivvi (which is not breahthable and not recommended) and the Snugpak Stratosphere (if you can find one on Amazon). You can get hoopless bivvies for much less but that's comparing apples with pears. In other words, the Helium Bivy is excellent value.
Summary
This is an excellent bivvy that I would recommend to anyone who wants to save weight or money. It's about half the cost of a Jupiter and would be an ideal bivvy bag for someone who wants to start bivouacking with a hoop but without breaking the bank. And being significantly lighter than any other hooped bivvy bag on the UK market, tt would also be ideal as part of an ultralight bivvy set up.
Want to buy one?
UK: stocked by Ultralight Outdoor Gear for £145 and it's worth checking for deals on Amazon.
USA: stocked by REI.com at $169 and currently on sale for $127 on Amazon
For more information, see my Comparison of Bivvy Bags and Beginner's Guide to Bivouacking articles.