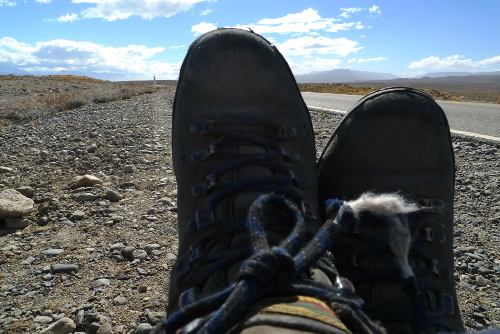 Below is a list of the equipment I took to Patagonia. We bought quite a lot of new kit so I've mentioned any particular bargains and expensive items. I think we took too much stuff though so I've also included what we could have done without. Notes from Laura are in italics.
Clothes
1 pair old walking boots (with new insoles)
1 pair sandals
2 pairs thick socks, 1 pair thin – Laura also took 1 medium pair
2 pairs light walking trousers, one of which zipped-off to short
2 pairs underwear (Laura: 4 knickers, 1 normal bra, 1 sports bra – also used for swimming)
1 merino t-shirt, 1 long sleeve merino, 1 long sleeve bamboo (L: no long sleeve merino)
1 long sleeve cotton/linen shirt
1 Buffalo jacket / Rab Generator smock
1 Goretex waterproof jacket / 1 Paramo Velez Adventure Light Smock
1 pair Goretex/eVent waterproof trousers
1 pair thin woollen/synthetic gloves
1 thin balaclava/buff (also used as dust mask, eye mask, mosquito protection and hat)
1 thick/thin fleece hat
Camping and other kit
Berghaus Flare 1100 synthetic sleeping bag
Polycotton/silk sleeping bag liner
Alpkit three-quarter length / Pacific Outdoors full length self-inflating mattress
Petzl Tikka/Zipka headtorch
MSR Hubba Hubba HP two-person tent
Primus Omnilite Ti titanium multi-fuel stove (kindly provided by Rosker and Primus)
2 aluminium cooking pots
1 titanium spoon
1 plastic folding cup
2 Leki Makula walking poles
1 MacPac Ascent 65-litre / Pursuit 55-litre rucksack
Various stuff sacks, dry bags and a large transparent plastic rucksack liner
Basic first aid kit, pen knife,
Tiny pack flannel, tooth brush, small bar soap in old tights
Tea-towel sized pack towel / lightweight sarong 
Technology
Samsung Galaxy II smartphone for GPS (using GPS Essentials app)
Amazon Kindle e-reader for books, email and Twitter
GoPro Hero video camera
Panasonic Lumix DMC-LX3 digital camera
2 Freeloader Classic solar panels
Camlink Z1 universal battery charger
Gomadic adaptable USB charger
Costs and Bargains
Solar panels were picked up for £14 each (RRP£40) in Millets sale.
Sleeping bags, £30 in the same sale (RRP£90)
Tent was a whopping £300 plus a little extra for the additional groundsheet (RRP£400)
I don't have a GPS but I already had a smartphone and the GPS Essentials app was free
The multi-fuel stove came free on trial from Primus and Rosker.
Could have made do with…
Our bags ended up being really heavy when loaded with food and water, and it made for tough going. If I did it again, I would try to shed some weight from my pack. I reckon I could have got by using the following:
1 pair thick socks (ditch the other 2 pairs and wash them when wearing sandals)
1 bamboo long sleeve top (ditch the 2 merino tops which I'd planned to use as layers for warmth but didn't need. I mostly wore the cotton shirt for the sun protection.)
1 pair zip-off trousers (the second pair were nice for social occasions but not necessary)
1 pair of undies (I didn't wear them whilst walking) / 2 knickers and just sports bra
1 pair of trainers might have worked instead of the boots and sandals, perhaps with flip flops, and/or more cushioned soles
Something thinner/lighter than the Buffalo since it was so hot
Lighter weight waterproofs (we could have got away with none but that was just luck)
Smaller sleeping bag. I didn't need to zip it up most nights and could have worn more clothes. 3/4 length mat.
1 pan instead of two.