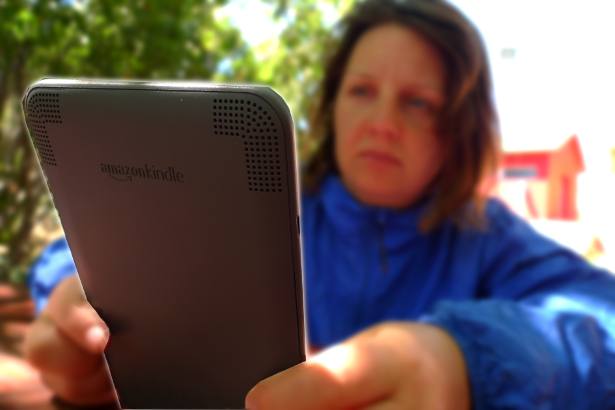 In addition to its obvious use for reading, there is one key feature of the Amazon Kindle that can make it an awesome supplement for expeditions and travel: unlimited free 3G roaming. They also have some other useful attributes for life on the road as well as some flaws.
I have had my Kindle for a year or so now and used it whilst on a recce in the Russian Far East, exploring the Dhofar mountains of Oman, walking in Patagonia and sometimes even in bed at home. I thought it might be useful to share my experiences and, particularly, to highlight the brilliant free internet feature.
Models
There are lots of different types of Kindle – Kindle Touch, Kindle DX, Kindle 2, Kindle Fire, Kindle Keyboard, Kindle 4th Generation etc etc.
I have what is known as a Kindle 3 with 3G. It is dark grey and has a keyboard. You can see it in the photo above. No doubt there are many pros and cons about the many other models which I've not used but, in a nutshell:
A) I suspect they are all pretty much the same for reading a book
B) If you want free internet roaming, just check it has 3G and that you can still easily type on it (one of the new ones has no keyboard).
Reading
The primary function of the Kindle is to read books. It is very easy on the eye and, for general reading, is no better or worse than a book. More importantly, reading by head-torch doesn't present any problems. I soon found that it feels less like reading on an e-reader and more like just reading.
Battery Life
If you keep the wireless/3G connection turned off then it will last for about a month's worth of bed time reading and the occasional train/plane/jeep journey. If you browse the internet continually then you could drain it in a couple of days but checking email once or twice a day whilst keeping up your reading might see it last a week or so.
In Patagonia, I used it for many hours of reading and for the occasional email check and Twitter update and found it was fine for more than a week without charging.
Size and Weight
As the blurb will tell you, a Kindle weighs less than your average paperback. The advantages for travel over hard copies are obvious: you only have to carry one "book" but can read hundreds of different stories.
That means you avoid the holiday dilemma of how many books to take and/or whether to donate the ones you've read to the hostel to save weight. You can also buy new books of Amazon whenever you get signal.
Robustness
An electronic gadget is never going to be as robust as a book. I broke my first one by leaning on it accidentally whilst it was tucked inside my sleeping bag.
The impression I get is that the screen is the most fragile such that pressure in the middle of it can damage it without too much effort. I suspect this could happen quite easily if squashed in a rucksack that gets thrown around.
I would strongly recommend a case. I started with a rubberised 'skin' from a pound shop and stored it in an old A5 padded envelope.
If you are going somewhere wet or dusty then you can get transparent waterproof dry bags that allow you to still read whilst it's protected. I know AquaPac make one.
As a slight reassurance, if it breaks, your books will always be available online and ready to download to a replacement or other medium.
Free 3G
Free 3F is the single best feature of the Kindle for expeditions and travel: you get unlimited free internet access in 60+ countries around the world. You can see the list of countries here and there is a coverage map here but, in the countries supporting it, it  tends to work in most places you get phone signal.
The Kinde's 'experimental internet browser' is very basic. It's black and white, does not allow more than one window and can't handle pages that refresh/update regularly. The interface is also very clunky and slow to use. But… it does mean that you can get basic internet access in some pretty far flung paces, instantly and without cost.
For checking your email, updating a basic blog or putting out messages on Twitter, it is ideal. A friend of mine who works on the expedition industry bought one for this sole reason after trying mine.
(N.B. There are no facilities to use a Kindle to connect a computer to the internet. It might be technically possible but it would, unfortunately, be a breach of the contract).
Compared to other e-readers
I've not used any other e-readers so couldn't comment. The Kindle's one star feature for expeditions and travel is the free 3G roaming. If other e-readers offer this then I can't think of any particular features of the Kindle that would make it an obviously better choice.
In Summary
As a communications tool…
The free international 3G is a fantastic feature which alone might make it worth considering for a trip; whether it's to keep in touch with home by emailing whilst travelling or to update your blog and Twitter account during an expedition.
For reading…
It works just as well as a book. It has the big advantage of being able to store a lifetime of stories in a package the size and weight of a paperback but comes with the drawback of being breakable, not to mention valuable enough to be coveted.
The battery…
Is probably good enough for all but the longest wilderness trips (and then you've probably got solar panels anyway). If you want to use it for both reading and regular communication then the battery may become more of an issue.
In the UK or on a tough expedition
I'd probably stick to my paperback and avoid the risk of damage. For most other travel situations, I will continue to carry it.
Have you been travelling with a Kindle? Are you considering purchasing one? Share your thoughts in the comments section below.