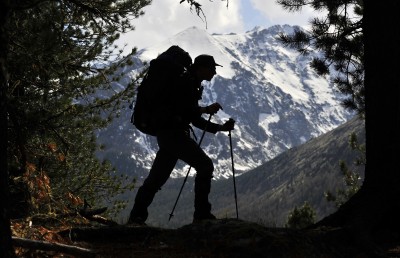 During my first year at University College London, I was lucky enough to live on Oxford Street. On the evening after my final exam of the year, I felt the urge to go for a big run and get all the stress out of my system. Canary Wharf seemed like a suitably big target so I put my running shoes on and set off by streetlight.
Google suggests that's it's about 8 miles if you go directly. I did not. I had no idea where I was going other than to head towards the blinking white light in the distance (technically, I was heading for One Canada Water). After some minor navigational issues along the sporadic Thames Path and an untimely right hand turn in the river, I found myself on the southern bank looking across at my destination. I'd never been there before and, as I approached, I was sure Canary Wharf stood on the south of the river – whoops! I hopped on the next bus back to Oxford Street, nevertheless happy with my evening's run.
Ever since then I have been a big advocate of "running blind". That is, going out for a run with no idea where you're going or how to get there. I enjoy it for the following reasons:
Variety. Running can be a very boring sport, especially in London. Heading to new destinations, be it a landmark or an unknown area, can be exciting.
Navigation. Whether you use bus-stop maps, known landmarks, taxi drivers or just your nose, the added element of having to find your way can keep your mind off the monotonous plod and improve your knowledge of the area.
Getting lost. The beauty of getting lost is that it makes you explore new areas. Plus, you invariably end up running further than you would have if you'd planned the route. There's no cop-out shortcut when you don't know where you are, you've just got to put in the hard miles until you recognise something!
It sounds a bit silly written down but is anyone willing to back me up on this one? It needn't just apply to running. I think walking, cycling or even driving could all benefit from a bit of "going blind".