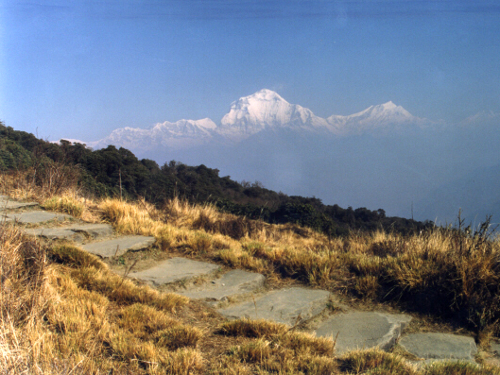 My friend Rob has taught me a lot about running and life in general over the last few years. It's been a privilege to know him but I am not the only person that benefits from his experience.
His latest project has seen him work with some long-distance runners from Nepal and he is about to put them to the test. Here's some news from Rob…
Davos is a big marathon through the Swiss Alps that draws a big crowd at the end of each July.  And this year it is drawing an audience from further afield – two runners are coming all the way from Nepal to compete with the best European trail runners.

Nepal isn't that well known for running, if at all.  But it is well known for its massive hills.  Not surprisingly the Nepalis go up and down them, a lot, every day which gives them a pretty good background for hill running.  And wow are they good.  I don't think they'd do well on the flat tarmac of the Tube lines (Sudip had never even run on tarmac before he met me), but comparing the results of the Annapurna 100km race, (which is higher, further and harder than Davos) the Nepalis are just as fast as the best Europeans at Davos. 

What will they achieve at the end of July?  And what will the Europeans think when two small, wild looking Nepalis turn up next to them at the start line, beaming smiles as they dance off up the trail?

Project Davos is an experiment to see how the Nepali mountain runners, with none of the modern physio, nutrition and equipment backup, can fare against the best European mountain runners.  It's also an opportunity for my two runners, Bed and Sudip, to experience a different country, and give themselves a new horizon beyond the hard lives that they lead in Nepal.

We've arranged for them to have three months off work to concentrate on their training.  They have been housed and fed well and given massage and treatment for injuries and problems.  They've also, for the first time, had some higher quality coaching, which just doesn't exist in Nepal, and they have responded wonderfully.  And now there are only a few days to go…..

You can follow their progress and get involved on the Project Davos website and blog. Drop us a line!