Oman, I have learned, is a beautiful country. Laura and I lived there for about six months and, acutely aware of our finite stay, we tried to make the most of our time there.
If you're planning a trip to Oman be it for travel, tourism, sightseeing or an expedition, then below are some of my adventurous highlights in no particular order. They're completely biased of course and not based on any research beyond having done them all but I would highly recommend each and every one.
Feel free to email me if you have any questions.
1. Wahiba Sands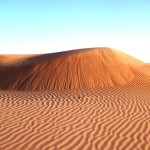 We walked the width of this tiny desert carrying all our own water and supplies which was tough going but a fantastic way to experience the Wahiba. A text book desert only a couple of hours' drive from Muscat it's just as easily enjoyed in a 4×4 or at one of the great tourist camps. Read more…
2. Masirah Island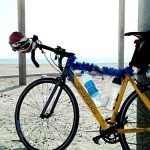 A desert island with deserted pristine beaches all along its 90 mile circumference (which we cycled on Christmas Day). No tourist sights, no shopping centres, just bliss. As with most places in Oman, it's best enjoyed by camping. Read more…
3. Snake Gorge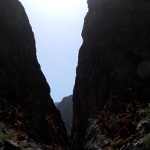 One of the most amazing places on earth in my humble opinion. An embarrassingly beautiful sheer sided canyon off Wadi Bani Awf that you can only descend by jumping off cliffs into plunge pools and sliding down natural flumes. Take a guide. Nizwa.net…
4. Wadi Tiwi to Bani Khalid Trek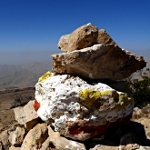 A two day hike from one beautiful wadi (river valley) to another. A re-supply and/or transport support is useful as there's no water on the way. Finish in the luxurious natural water park that is Wadi Bani Khalid's makes it worthwhile in itself. Both wadis can be visited by road. Trekking In Oman…
5. Wadi Shab & Bimmah Sinkhole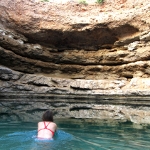 Wadi Shab is probably the most famous of all the wadis. Take a small boat across the entrance, follow the trail uphill for an hour and splash through the pools until you reach the cave. Swim through the tiniest gap in the rock, climb to the top of the waterfall and jump! Bimmah Sinkhole just up the road is a stunner too (dare to jump?). Lonely Planet…
6. Jebel Shams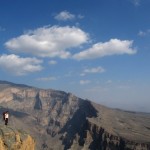 The highest mountain in Oman. We spent two days hiking up it but you can just as well drive to the Base Camp and enjoy the shorter Balcony Walk. Looking into the Western Hajar's "Grand Canyon of the Gulf" at sunset is the only time in my life when a view literally took my breath away. Wiki…
7. Musandam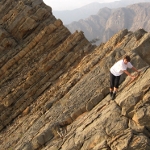 The northerly peninsula separated from the rest of Oman by the UAE, it's wild up there and known for its beautiful fjords and khors. I'm told that you should hire a traditional dhow boat to see the best of it. We just drove around and scrambled up a few of the many mountains that cover the place. Wiki Travel…
8. Wadi Bih Relay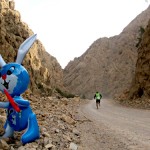 An annual 75km race in teams of five up a wonderful wadi on the Musandam Peninsula. A great atmosphere and probably the best race I've ever entered. Access is currently through the UAE. Read more…
9. Dhofar Mountains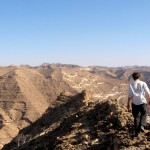 It's easy to forget that there is life in the south of Oman. Salalah is the main town and the Dhofar region is quite different from the rest of the country. We didn't get to see it during the wet, green khareef but it was still beautiful. Lots of unexplored mountains too. Read more…
10. Walk up Muscat's Mountains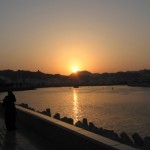 Muscat is surrounded by steep craggy hills and you can walk up any of them. Within ten minutes of parking your car you can be on top of a precipitous ridge feeling as wild as anywhere except with a panorama over the city. Adventure Trekking in Oman…
What did I miss?