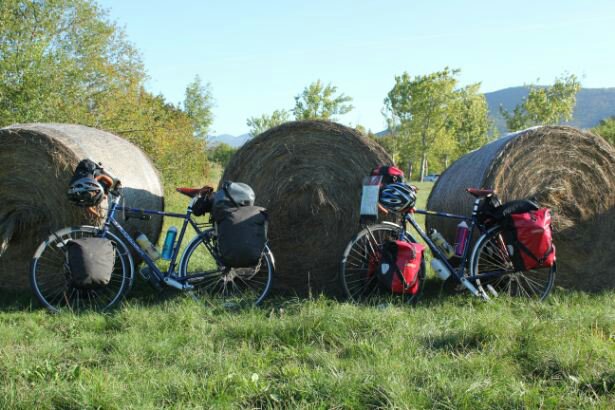 We are now on the Croatian island of Hvar, a little way off the coast from Split. We have taken a few days rest in a small apartment as a belated birthday treat.
Last time we wrote properly we were in Italy and, even then, I used the opportunity to illustrate that days on the road blend into one another and fly by quickly. I feel that I should be telling you more but I'm not sure what and whether it would really be that interesting.
I could go back a couple of weeks and tell you that out of Switzerland we had an uphill entry to Italy where we basked in the cheap hypermarkets we'd missed since France and found it much easier to locate suitable campsites after the densely packed Switzerland.
I could even continue to share that we entered Milan along a canal and stayed with a girl called Vanessa who had seen our itinerary on Couch Surfing and invited us to stay. We had a little look around the city but, mostly, we stayed indoors indulging in the shelter and free internet.
If I carried on then I'd say that from Milan our next major stop was Venice. We had been using cycle routes for much of our journey up until Italy: the Avenue Verte to Paris, Euro Velo 6 across France and Swiss Route 3 down across the Alps. Following these cycle routes often make life easier by removing decisions about where to go each day/junction and worries about whether the roads will be good for bikes. We also figured that there will be fewer such facilities like these the further from home we get so we might as well use them while we can.
For your information, EuroVelo 8 is planned to go across Italy, down the coast of Croatia and carry on all the way to Greece. Unfortunately, after having marked up our map with the route it follows we discovered that there is not yet any infrastructure in place i.e. there are no sign posts indicating which way to go and many of the suggested roads are large, noisy dual carriageways with no provision for cyclists. All of which is a round about way of saying that, since Milan, we have been making up our own route, picking our own roads.
Italian roads – I might continue sharing – were generally quite busy but never that scary (except the time we got onto the dual carriageway leading to Venice, which we'd already visited at that point, and had to run across to the central reservation and haul our bikes across to the other side to avoid a 10km detour). The drivers weren't as courteous as the beloved French but were an improvement on the Swiss who seemed not to even notice the presence of the cyclist let alone acknowledge it with an extra inch or two's space.
We had our first properly wet days in Italy. The first one we tried to out last by sipping tea and reading in a cafe but eventually embraced. All credit to our Berghaus waterproofs (made with the lovely new Goretex Active fabric) and our Sealkinz waterproof socks and overshoes – we have routinely emerged dry from such watery onslaughts.
If I wasn't yet afraid of boring you then I would continue waffling that we'd tried with no avail to find people with whom to Couch Surf across Italy so settled for a campsite near Venice that we'd had recommended by a couple of cyclists we'd bumped into in Andermatt. We rarely use campsites after a normal day's cycling – we used them the first week when cycling with friends and just twice since, when in cities – preferring the ease of collapsing whenever we get tired, the freedom of wilderness and, most importantly, the lack of expenditure. However, when we do get to them, showers, water on tap and the ability to leave our bikes somewhere secure are the key features. The day spent walking around Venice was our first and only day of pure tourism so far and no less tiring than a day in the saddle.
Slovenia – I could tell you – perhaps knowing that we would only pass through briefly, made her presence felt. First, a huge uphill to gain access and then a day of ups and downs before she finally gave up her height to Croatia. We spent a single night in Slovenia and it was one of my most memorable to date. Certainly the wildest we've had because, whilst still within ear shot of the main road, we were up in the hills, in a huge green meadow and out of sight of cars and people. Best of all, it was cold! No doubt my tune will change come winter but, so far, the nights have been mild which, when coupled with a tent that insulates so well, the best camping mats we could get (Exped SynMats with foam roll mats underneath) and super warm Rab Neutrino 400 down sleeping bags, means sleeping is hot.
Should you really be interested in all of this then we flew at speed over the Croatian border and stopped at a cafe for wifi to check if the couple who had invited us to stay in Rijeka would mind hosting us a day early. When Vedran waved us down later that evening after several days of hills, including a particularly long one that day, we were feeling pretty weary. But he and Tatjana quicly perked us up with shower access and a trip to the local pizzeria. Staying with local hosts – through the Couch Surfing and Warm Showers websites, primarily – is not only great for beds, showers and washing machines but is a wonderful way to gain an insight into a country. We learned a lot about Croatia, which only joined the EU a couple of months ago, from our hosts.
Finally – am I boring you yet? – we hugged the coastal road south from Rijeka, hopping onto the island of Pag for a day or two, camping in a secret cove recommended by Vedran and Tatjana, and taking our time to get down here to Hvar. Progress was slow partly due to the hills but as much due to the fact that we had accommodation booked here and only needed to average 30 miles a day to reach it on time. It was on this fine stretch of coast line that we started listening to podcasts and audiobooks in the saddle, and I am never going back.
So, if I were so inclined, I could tell you all of that about our last few weeks on the road and plenty more. Or, perhaps, I should save my breath and you the embarrassment of listening to the ramblings of a man with a bike and blog.