I lived in Muscat for five months with my girlfriend Laura, an even keener outdoor swimmer than me. Oman has many beautiful places to swim wild and we sought them out whenever we could.
Below are a list of swimming destinations that we either visited or wished we had. We make no claims to its comprehensiveness – more suggestions are welcome – but can guarantee that you'll find some great places for a Middle Eastern wild swim.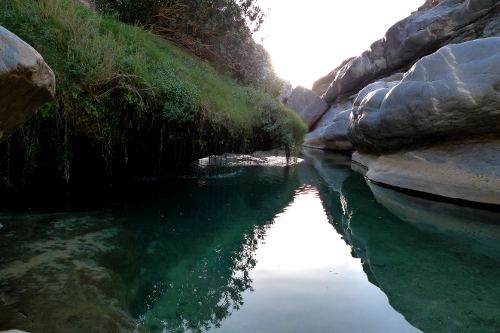 General Notes on Wild Swimming in Oman
Do I have to be a good swimmer?
No! Most of these swims are little more than a paddle and a splash in shallow waters. The beauty of them comes less from lengths and more from the remoteness, tranquillity and chance to escape the heat.
Culture
It's a Muslim country and you should dress accordingly. That generally means shorts and t-shirt for swimming unless you're on a popular beach in Muscat or a particularly remote wadi where you're sure that no one will see you.
Wadis
"Wadi" is an Arabic term referring to a valley or dry river bed. They are the key to many of the Gulf's best open water swims. They are also prone to flash flooding and people die in them every year through ill preparation. Do some research yourself but if there's a hint of rain clouds then don't go in.
Useful Books
Many of the places described are well-known tourist destinations although they're not always associated with wild swimming. However, that means that guide books will often detail how you find them. Explorer Oman Off-Road was probably the best we had along with the Lonely Planet (no doubt other guides are similar) and Adventure Trekking in Oman helped too.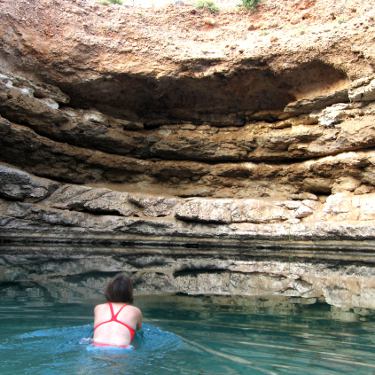 1. Bimmah Sink Hole
A vast crater and a stunning natural swimming pool. About 50-metres in diameter and of unknown depth, the "House of Demons" is one of the most easily accessible wild swims in Oman. It even has a car park and changing facilities. Once in, you can clamber up the rope at the far end to jump off a ledge or turn around and swim into the cave. On your way out, cast a look back down at the water from the top and think about how high you are. A local friend of ours showed a photo of himself  jumping from the edge. Impressive.
Location: Hwaiyat Najm Park, off the coastal Muscat-Sur road near Wadi Shab
Time from Muscat: 1.5 hours
Walking time: 2 minutes
No 4WD needed
2. Wadi Shab
One of the best known tourist sites in Oman and with good reason. Even after two recent cyclones deposited gravel in the lower pools, Shab's crown remains untouched at the top: a cave accessible only by swimming through a crack in the rock not much wider than a head. From inside you can scramble up the waterfall, swing round to your left and leap back in off the cliff. If you're lucky, you'll catch the sun filtering through the roof and the rainbow it creates.
To get there you may need to pay a few baisa to a boat man at the entrance to the wadi then follow the trail until you reach the pools. Slip your shoes off and keep wading upwards until you reach cave.
Location: Signposted off the coastal Muscat-Sur road near Wadi Tiwi and Bimmah Sink Hole
Time from Muscat: 1.5 hours
Walking time: 30 minutes to first pool, another 20 to the cave
No 4WD needed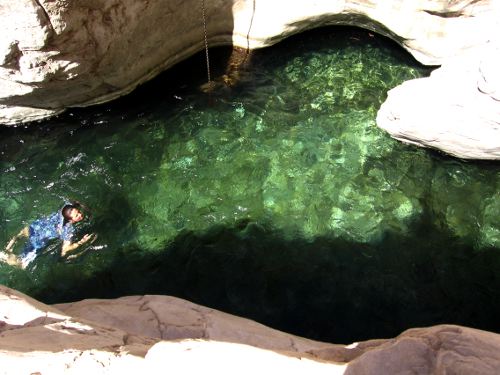 3. Wadi Bani Khalid
One of the more touristy spots in Oman is also one of the loveliest, a real-world water park.  Wadi Bani Khalid is relatively well-developed, with a sealed road, proper car park, cafe and toilet facilities.  The lower reaches of the wadi consist of a series of large deep emerald pools.  Oddly, the signs say no swimming but everyone does. Jump off the second bridge if you're feeling bold.
The real glory, however, is further up, away from the tourist throngs.  Follow the path up the wadi and you will find crystalline limestone gorges and pools with plenty of jumping points and a couple of natural water slides. Keep going up the trail and you'll eventually reach a set of stairs leading to a cave, which the intrepid may choose to explore (take a torch to get the full experience).
Location: Signposted off the inland Muscat-Sur road, half an hour past Al Mintrib going east
Time from Muscat: 3 hours
Walking time: 5 minutes to first pool, 15 minutes to the top
No 4WD needed
4. Masirah Island
The island of Masirah is lacking in tourist attractions but abundant in beauty. The entire island is surrounded by a single tarmac ring road off which lies a continuous stretch of beach. The east side is wilder than the west as it faces the Indian Ocean but the whole coastline is your oyster. Park your car and run head first for the sea. We saw two people in 48 hours camped there. Look out for the invasion of hermit crabs every night and the glowing phosphorescence amongst the crashing waves.
With a bit of planning, you could probably swim to Masirah from the mainland. It's about 13 miles in a straight line.
Location: Largest island off the east coast of Oman
Time from Muscat: 5 hours drive plus 90-minute ferry
Walking time: 30 seconds
No 4WD needed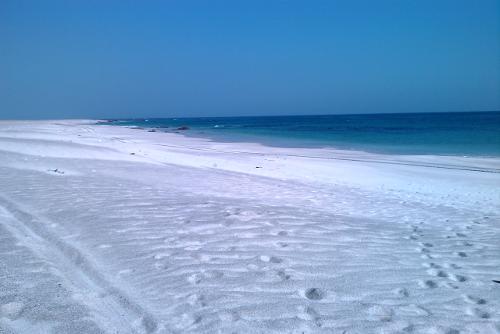 5. Snake Gorge
Inside Wadi Bani Awf, this is the wadi equivalent of coasteering and a pretty unique place. It's a long, narrow canyon with high, vertical walls on either side. Starting at the top, you can work your way down a series of cliff jumps, natural water slides and underground pools. It can get surprisingly cold in there so a good one in the summer months.
It's an adventurous outing of plunges and scrambling with a few short stretches to swim. If it's your first time then you would be well advised to hire a guide or find someone with experience. It's hard to tell which areas are deep enough to jump into and the route is quite committing with no exit backwards or to either side.
Location: Near Rustaq and Nakhal
Time from Muscat: 1.5-2 hours drive
Walking time: A few minutes to the start, a couple of hours to complete
4WD needed
6. Swimming in and around Muscat
Qurum/Shatti Beach and beyond
Almost the entire length of the north coast of  Muscat is a sandy beach. From the eastern end with the hotels and coffee shops, right out west to the airport, there are plenty of places to swim. We devised The Qurum Beach challenge to run and swim from the 'Private Beach' sign at the Crowne Plaza to the 'No Entry' signs at the desalination plant a few miles west, then cycle back to the beginning.
Qantab Beach
Far smaller than Qurum but you can easily arrange for a boatman there to drop you off on a beach all to yourself and pick you up later. It's only a short drive outside Muscat past the Al Bustan towards Yiti.
Fahal Island
This is a small island about two miles due north of Qurum. There is an annual swim there but you could just as well hire a kayak (e.g. from Muscat Diving & Adventure Centre) or pay a boatman to support you. Don't be put off by the locals calling it Shark Island.
British School
The British School Muscat has a chilled 25-metre pool that's regularly used by ex-pats training for triathlons. Your best bet for getting in touch might be through the active Muscat Road Runners.


More Places to Swim
There are plenty of other places we visited and many more beyond. There are a few more ideas below. For details of reaching them, use a guidebook or Google, or email Tim.
Wadi Damm
Some beautiful pools with overhanging greenery only a few minutes' walk from the car park. If you continue much further up the wadi you'll reach some more secluded pools.
The Chains
Connecting Wadi Hawasinah and Ad Dil, The Chains are so-called for a steep section of rock that's climbed with the aid of some dangling metal chains. You'll have to wade whether you like it or not but there are a few opportunities for full immersion on your way up.
Wadi Tirbat
This wadi gives a great sense of scale to the tiny walker. After a decent hike up the valley (detailed in Adventure Trekking in Oman) you can descend back to the wadi floor where, apparently, there are some remote pools for a dip. Rain was threatening when we visited so we didn't risk it.
Wadi Dawkhar
Strictly out of bounds for swimmers at present due to bilharzia, if the situation ever changes this would be a beautiful place for a swim. A lively green valley down south in Dhofar with camels galore and easy access by road.
Dhofar Beaches
We only had a week in the Dhofar region near Salalah but if the beach we visited near Dalkut was anything to go by then the rest will be well worth a visit. Deserted except for sea birds and an army of shy crabs, powerful waves provided a great playground beneath the cliff tops.
Bigger Outdoor Swimming Challenges
Most of the above are easy splash arounds for a quick dip. For the more ambitious, here are a final few ideas:
Swim the fjords of Musandam
Swim to Iran (about 30 miles from Musandam)
Swim to Masirah (13 miles) and Fahal Island (2 miles), details above
Swim the coast (1,000 miles, kayaked by Mark Evans)
Have you got any recommendations that we missed? Help us build a list of the best outdoor wild swims in Oman by emailing Tim or leaving a comment below.