THIS ARTICLE: Was written in 2011 by Sarah Outen after becoming the first woman to row across the Indian Ocean. At the time she was preparing to travel human-powered around the world, a trip that would include rowing across both the Pacific and the Atlantic Oceans. This was her advice for anyone considering attempting an ocean row…
---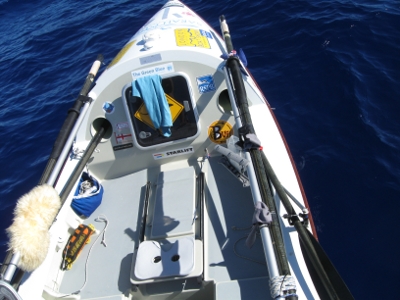 10 Tips for Ocean Rowing
by Sarah Outen
Like most things, ocean rowing is not a science and there are all sorts of different opinions on what's best, what's not and everything in between. It's a friendly community and so the best place to start is by talking to other rowers, past and present. There are some great books on ocean rowing – stories written by soloists and doubles through recent history, many of them offering interesting insight into the ocean, the challenges and the psychology of surviving and thriving on the ocean.
Another great place to start researching, and finding other rowers to talk to, is the Ocean Rowing Society www.oceanrowing.com and the Association for Ocean Rowers www.oceanrowers.com [I've got some free resources on this website too – Tim].
I'm going to focus on the ocean itself, rather than the challenges of getting to the ocean. I'll only say one thing – expect to see your bank balance plunge into the red: water based expeditions far out to sea are expensive.
1. Clip on, clip on, clip on
There's no excuse for getting washed away – it's your responsibility to get back home safe.
2. Marathon, not a sprint
Solo or pairs, fours or more, you are about to enter a whole new world and inflict huge changes on your mind and body. Expect them both to react wildly. To help the settling in process try and rest, sleep and eat and drink as much as possible, as often as possible. Stock up with plenty of 'land food', such as sandwiches, cakes, biscuits, chopped up fruit and some cans of fizzy drink for the first few days, meaning you won't have to worry about cooking
3. Anticipate the fish-feeding
I generally hoof up most of my food for the first few days, and then settle in to a more sporadic pattern of fish feeding for a week before finally finding my sea legs. Different things work for different people, but I can recommend Hyacin patches as bombproof in those early days, as well as providing some stunning hallucinations. Prescription only and rather pricey, but well worth it. Remember to nibble and hydrate regularly, even if you feel sick and especially if you are being sick.
4. Below deck
Hands, feet and backside – these are the bits of your body you will need to look after if you are to survive and thrive on the ocean. I find GreenPeople zinc oxide cream with calendula is really good for keeping backside happy after a dousing with iodine tincture and talc, and regular use of decent barrier hand cream for the hands should help
5. Make jelly
Food will become an obsession! Make it a good one. Take lots of variety, including things you have to cook yourself and add sauces to, such as cous cous, dried pasta and rice. You don't have to have dehydrated rations all the time. Use special foods as treats; sprout seeds and beans for extra protein and be creative – pancakes, jelly, eggs
6. Listen to Luhrman
There's no excuse for sunburn or windburn. Wear sunscreen – the thicker the better. Moisturise day and night
7. Litter ye not
Use biodegradable, organic wet wipes like those from Natracare – not the horrid plasticized ones. Take all of your rubbish home with you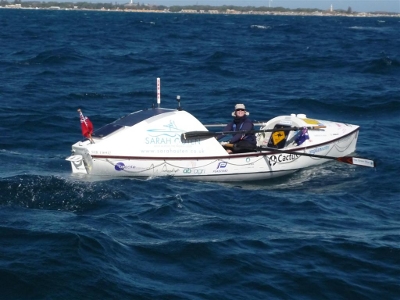 8. Expect the unexpected
Amazing unexpected things can and will happen at sea – like wildlife surfacing by your boat or flying past to say hello. At other times, scary and unexpected stuff arrives with a life threatening bang, so make sure you have practised your drills before you head out to sea and you have a clear plan of what to do in case of emergencies. Never let a stupid mistake like a lazy open cabin door ruin your journey or your life. Boats can and do capsize and fail to re-right in these circumstances.
9. In finite supply
Power management is really critical on the boat – water first, then comms, then iPod.
10. Remember nothing lasts forever
Bad times will pass, and so will the good – optimize weather windows and make the most of now. Try and look at it all with equanimity – rough and smooth to truly become a beast of the ocens.
---
More about Sarah Outen
You can read more about Sarah's adventures on her website and on Twitter. You can also buy her first book and pre-order her second on Amazon.
More about ocean rowing
If you're interested in ocean rowing then I've got a collection of free Ocean Rowing Resources online and I've written an ebook ocean rowing guide which you can download here.
DOWNLOAD THE COMPLETE EBOOK NOW
How To Row An Ocean


The only ocean rowing guide book.
"The perfect resource" – Bear Grylls
"An excellent book" – Sir Ranulph Fiennes