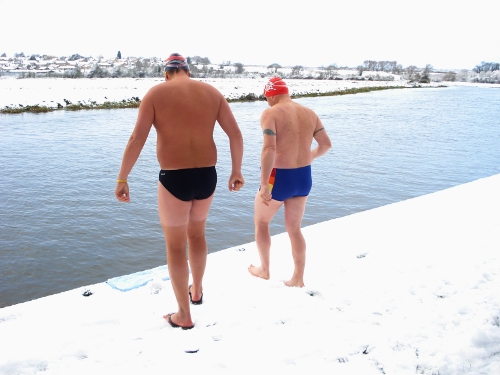 THIS ARTICLE: Is written by Dan Martin; the guy I like to call Big Ocean Man who is training to swim across the Atlantic as the first stage of his Global Triathlon. If you really need find out more about his credentials for writing this article then visit his website. Otherwise, here is some advice if you're thinking about trying a first swimming trip:
Never swim alone.
NEVER swim alone.
Don't over do it. A good open water swim is one where you get out and want to do it again.
Know your entry and exit points. Get in slowly so as not to shock your system too much.
Vaseline and sunscreen. Apply vaseline liberally to all your moving parts-especially armpits, neck and groin. Always wear sunscreen.
Relax, control your breathing. If swimming in the cold is new to you then the temperature will be a shock to your system-calm down and breathe.
Don't assume you're swimming in a straight line-take regular looks up to sight landmarks. Swimming into things is zero fun.
Acclimatise yourself. Start off with short swims and build up.
Plan out your post swim procedure before you get in the water. Organise your bag so your towel is on top, then your wooly hat, shirts and jumper; then the rest of your gear. The first few minutes after a swim are key. Don't chat-get dry and get your layers on.
Get fat or be fast. If it's cold don't hang around-your muscles produce your heat, keep moving!
Don't eat yellow snow (or drink yellow water). But if you do then have a coke afterwards. The rivers, lakes and oceans aren't as polluted as you think but having a coke will take care of most low level nasties!
And here is a short video on good practice for entering cold water, also from Dan: