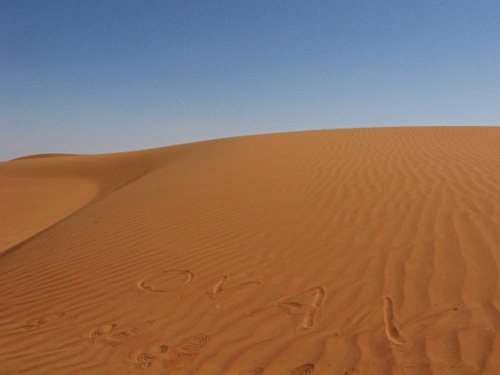 Question: How good is a spatula at digging a car out of sand?
Answer: Better than a coolbox lid but not not as good as Tupperware
It was fine last night.
The black-top had turned to dirt-track and the dirt-track had turned to sand-track but we weren't too bothered because we knew there was a short stretch of unsealed road leading to the camp. It was, after all, the only camp you could reach without a four wheel drive. Of course, if we knew at the time that we'd missed the turning and were in fact just heading directly into the desert then we might have been more cautious.
Two conflicting feelings struck:
First, excitement. I wouldn't ever dream of deliberately getting myself into such a situation but when one comes around, I'm not in any real danger and I just know it's going to be a great story down the pub one day, I'd be lying if I said I didn't enjoy it. I got face down in the sand and used my grin to start digging us out.
Second, embarrassment. Pain, almost, at having so quickly and unequivocally fallen into the category of "westerner without a clue". We were 400 yards into the desert and already resorting to the use of plastic kitchen utensils to extract from sand a car clearly not designed for anything more than picking up the groceries.
It was taking a long time and Laura kept making references to Sisyphus.
"I've got an idea," I exclaimed and marched purposefully toward the boot, "I saw it on Ray Mears"
Of course, Ray had a special track or something that he wedged under the tyre, not a one rial beach mat he'd picked up from the supermarket but I felt the principle would still work.
"Er, I'm not sure that's helping. I think it's just chewing up our beach mat"
She was right.
"Let me just drive forward a bit…"
Freedom! The car rocked forward then rolled back into the ditch using the momentum to carry it out the other side.
"Whatever you do, don't stop!" I shouted after Laura as I let go of the car with one final shove.
–
We found our turning and arranged for someone to drop us off in the dunes. The most skilful lunatic driver I've ever had the pleasure of being scared witless by.
He asked a dozen times in broken English if we were sure we wanted to walk back. Of course we were but since I'm now feeling a little nervous from how strangely you seem to be viewing our idea could you perhaps confirm just how far we've been driven?
He scratched a back-to-front "4" in the ground. Four kilometres. Easy even in this heat.
I waited until his jeep had disappeared over the horizon before deliberately walking in the wrong direction.
I had to see over the top of that dune but didn't want to further harm my already fragile "competent hiker" credentials after the car/sand/Tupperware incident by walking directly away from camp while he was still watching.
Wow.
I know that the Sands are inundated with tourists. I know we've only been driven for about an hour and I know that I can still see buildings if I squint. But I also know that I've never seen anything like this first hand and it is blowing me away.
We hike along the tops of the dunes, the ground falling away with each step like the snowy ridges to which we're more accustomed. It's tougher going up high but the views are worth it and my camera's memory card groans under the weight of a thousand grains of sand.
–
We may be English but we're not mad dogs and as the sun gets high, we plan to lie low, aiming for a tiny tree we can see in the distance. What appeared to be a thick canopy of sun-shielding branches turns out to be little more than a collection of twigs but it's the best we're going to get. We eat warm halva and gooey dates then wash it down with some hot water. The only kind available in the desert.
The modicum of shade does not make for the relaxing environment I'd envisaged and neither reading nor the siesta I had dreamed of come to fruition. Instead, we press on a little earlier than would be ideal.
There are goats about. There always are in Oman and some of them cluster in shade as we had been. The occasional camel too. And is that a jeep heading for us?
This is the first of no less than four separate drivers who pull over to see if we're OK. This guy has actually come from the camp where we got our ride so knows exactly what we're doing but came out to check up on us anyway. We explain that we really are OK walking.
Is what we're doing really that strange/dangerous/stupid?
The day wears on and the four kilometres seem endless. It's hot, the sand's a little awkward to walk on and we're deliberately taking it easy but surely we're not going that slowly? We've been going for three hours not including lunch.
Carrying six and a half litres of water had seemed a little gratuitous for an afternoon's bimble but it's the one thing that people always emphasise. With the camp finally in sight I felt at liberty to neck the final drops.
Another jeep approaches driven by what turns out to be the owner of the camp with his family. No, we're OK without a lift but thank you for offering. Yes, we visited your camp this morning. No, we'd rather walk thanks. Yes, it's amazing up there isn't it? No, don't worry, we'll manage the last bit of the walk.
So it turns out that wasn't the camp I could see and now we're both struggling a little with thirst. I try a date biscuit to stave the thirst pang but end up chewing dry pastry for some time.
This is actually turning out to be a slightly epic day.
Conversation falls by the way side and thoughts turn primarily to the different chilled beverages that will be showered upon us as we return to the camp, hailed as heroes for our courageous trek through the Sharqiya Sands.
The real camp finally comes into sight after the longest four kilometres I've ever walked and I unlock the car from a range of a hundred yards in anticipation of accessing the water we've stashed.
"Maybe he didn't mean four kilometres. Maybe he meant four hours."