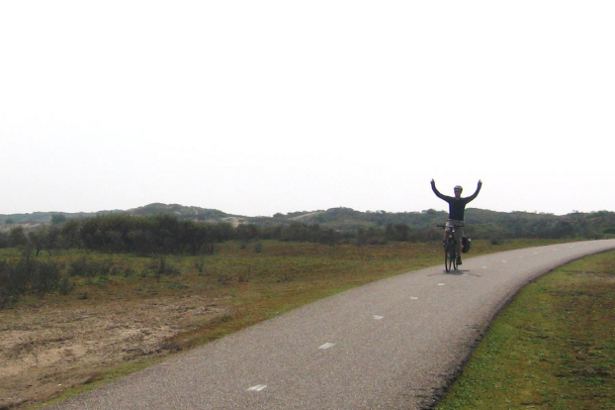 It is only five days until Sunday 18th August when Laura and I begin our cycle to Australia. We are mostly ordering things from Amazon, opening parcels and making long To Do lists.
Read on for details of how to wave us off or join us for the first few miles, to see if you know anyone on our cycle route and in case you speak any languages and would be willing to do a very short bit of translating for us.
Cycle with us
We will be meeting at Hampton Court Palace at 2pm on Sunday. Consider this an open invitation to come and join us for the first few miles or just wave us off.
We'll be meeting by Liongate KT8 9DD, next to the King's Arms, and opposite the Liongate Hotel and entrance to Bushy Park.
Do you know anyone on our route?
Friendly faces and/or floor space are warmly welcomed on our journey. If you or anyone you know lives near anywhere we might pass on our route (see below) then please do get in touch.
We'll be going through:
Europe: France, Switzerland, Italy, Slovenia, Croatia, Bosnia & Herzegovina, Montenegro, Albania, Greece and Turkey.
Middle East / Central Asia: Iran, Turkmenistan, Uzbekistan, Kazakhstan, China.
South East Asia: Burma (if at all possible), Laos, Vietnam, Cambodia, Thailand, Malaysia, Singapore.
Australasia: Australia, possibly Perth, definitely Melbourne, visiting New Zealand.
North America: Optional return leg across the USA, from San Francisco to the east coast.
Do you speak any other languages?
We have written a short 'Magic Letter' to introduce ourselves in countries where we don't speak the language.
If you speak any of the following languages and would be willing to translate a couple of short, simple paragraphs for us then please do get in touch.
Key languages: Turkish, Persian, Russian and Chinese (Mandarin).
Still very helpful languages: Italian, Croatian, Bosnian, Serbian, Montenegrin, Albanian, Greek, Turkmen, Kyrgyz, Kazakh, Uzbek, Vietnamese, Lao, Khmer, Thai and Malaysian.
How to follow us
After Sunday, you can follow our progress on this blog, on Facebook/Twitter, and by signing up to my monthly emails.
Blog: We'll update this whenever we can by 3G or when we get wifi. It'll probably be one every week or two. Just visit www.thenextchallenge.org.
Twitter: Updated by text message or from Kindle 3G. About every other day. You don't need to use or know anything about Twitter to get the updates. They'll be displayed on every page of this site or you can view them by clicking: Tim (@NextChallenge) or Laura (@LauraLikesWater).
Facebook: Click the 'Like' button on the right-hand-side of my website and you'll get
Support our charity
A reminder that we're supporting JDRF Diabetes Research on our trip. You can donate online or by text message.
[divider]
Sponsors
Finally, just a note to thank the very generous sponsors who have kitted us out with lots of fantastic equipment, clothing and insurance for our trip…
Ridgeback: Provided us with two shiny Panorama touring bikes.
PJ Hayman: Generously supporting us with comprehensive adventure travel insurance.
Lyon Equipment: Kitted us out with Ortlieb panniers, Exped camping mats, Petzl headtorches and a Katadyn water filter.
Berghaus: Set us up with Goretex Active waterproofs and working together on Everyday Adventures.
Buffalo: Sent us a nice new Active mountain shirt, a hood and some mittens.
Brooks: Beautiful leather saddles and fancy new Lands End / John O'Groats panniers.
Sealskinz: Waterproof socks, gloves and overshoes.
Rab: Ultralight Survival Zone Lite bivis and down sleeping bags.
Keen: Cycling shoes and hybrid sandals.
BAM: Wonderful bamboo baselayers (the best kind).