I recently acquired a set of the new Primus Eta cooking pots – anodized aluminium, outdoor camping pans with heat exchangers on the base designed to improve fuel efficiency.
I have used them on an induction period of two cycle tours and will be taking them away in my panniers for 12 months as I cycle around the world over the coming months.
[UPDATE SEPT 2014: I've been using the pots for over a year now in combination with the Primus OmniLite Ti titanium stove. I reckon they're the best pots I've used].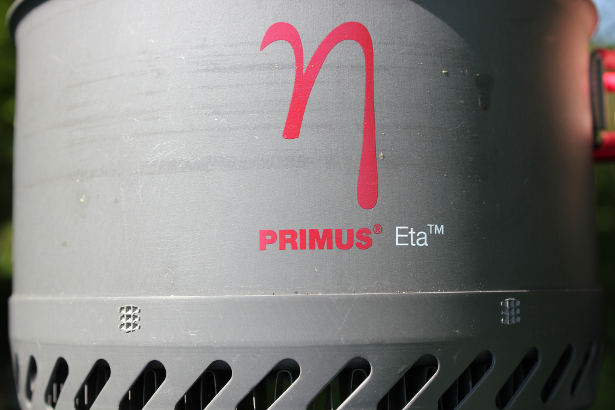 Primus Eta Pots: 10 Second Review
The Primus Eta heat exchangers significantly increase the rate of cooking (i.e. boil a pot of water faster) and will thus improve fuel efficiency (i.e. your gas will last longer).
In addition, the build quality and functionality of the pots is excellent: the non-stick coating is really hard wearing, the handles are stable and easy to use, and the plastic lids are inspired.
The only downsides for the ultralight outdoors enthusiast are that they are slightly taller and heavier than equivalent standard pots (although you may save weight on fuel).
In short, they're an excellent cookware range (the best I've used) and will cook your meals quicker.
Primus Eta Cooking Pots Review
I have the Eta Pots in 1.8-litre and 3.0-litre. The 1.0-litre version is exactly the same design. Let's go through a few cookware basics before looking at the heat exchangers specifically:
Primus Eta Lids
I've never seen it utilised elsewhere but the Eta range uses plastic lids. I was a little suspect at first but they're excellent. They don't get as hot so you can remove them with your hands when cooking – avoiding the awkward act of levering off a hot metal lid with your spork or using the invariably tiny handle provided.
They don't bend or get bent either which means they fit snugly on top without rattling with steam or when packed in your bag. They also act as a colander with a series of holes on one side.
The only down sides are that you can't use them to fry as you can with some pans (though not most) and they could conceivably break (although they feel pretty tough, like the material used in Nalgene bottles).
Primus Eta Handles
It's a simple thing but handles on outdoors cookware can be a pain – collapsing at the wrong moment or losing grip when you stop squeezing tightly, dashing your hard earned dinner on the floor. The Eta handles are good. They are attached to the pans, don't require a tight grip, cannot collapse and are plenty big enough to operate with gloves on. Top marks.
Primus Eta Pot Stacking
Pans that don't stack properly are annoying (and one of the key reasons I didn't get the old Eta pans – see below). By virtue of the tight fitting plastic lids and the rigidity of the pans' shape (see below), these pans stack together perfectly.
Primus Eta Non-Stick Coating
It sounds like a luxury until you're scraping the burnt remains of cold porridge off the bottom of your pot in an icy cold stream in darkness. Hard ceramic non-stick is definitely better than the coatings that scratch off easily (the coating on my last pan set didn't last a month). The ceramic non-stick on these pans is the best I've used.
The Primus Eta Heat Exchanger
As mentioned, the key feature of the Eta range is that they have a heat sink on the bottom. The idea of this is to improve efficiency by avoiding lost heat around the sides of the pan (see heat image at the bottom of this page) thus saving you fuel in the long run, and making for a faster cooking speed.
(The Primus Eta Solo and Primus Eta Express stoves use similar technology on their built-in cookware.)
Cooking speeds on the Primus Eta

I could see how the heat exchangers would improve fuel efficiency but was a little sceptical about the idea that it would increase the rate of cooking. So I tested it out.
I filled an Eta pan and another aluminium pan of the same size with 700ml of water (enough for two cups of tea) and heated them simultaneously on my gas burner stove at home. The Eta pot boiled the water in 2 minutes 8 seconds, a full minute ahead of the regular pan at 3 minutes 11 seconds.
I didn't quite believe it so I repeated the test, switching stove burners around, and found the exact same result. The Eta pot cooked about one-third faster. Pretty impressive.
Primus Eta Fuel efficiency
I've not conducted my own tests for fuel efficiency but if it heats food/water quicker (see above) then it must necessarily use less fuel (and that's what all the tests claim). This can only be a benefit when you're restricted to a bottle of petrol or a gas cannister.
Other benefits of the Primus Eta Pots

The addition of the heat exchanger on the base has a number of other beneficial side effects which include:
A more even cook across the pan, with less hot spots and burning points.

Food at the bottom of the pan stays hotter for longer (less grim mouthfuls of cold, dank pasta at the end of a meal).
The heat sink cools off much more quickly than the base of a normal pan would when filled with hot food/liquid so you can put it on the tent floor or your lap sooner after cooking with less risk of burning.
Whereas most pans get a bit bent and buckled quite quickly, meaning the lids don't fit properly, because of the reinforced ring at the base, these pans hold their shape rigidly.
Disadvantages of the Eta range

The downsides of these pans are pretty up front and can be summarised as thus:
Large pack size
The heat sink and the raised lid make these pans notably taller (2 or 3cm extra) than most which might be an issue for some when it comes to packing into a rucksack. For me, it means the 3.0l is too big for my smaller front panniers and thus can only really fit in the panniers at the back.
Primus Eta Pot Weights

Eta pots come with a slight weight penalty from the heat exchangers. As such, they're heavier than other equivalent aluminium or titanium pans but still lighter than steel. If you're into ultra light outdoors activities though then the increased fuel efficiency may be a compensatory factor (i.e. the pan's 100g heavier but I can take 100ml less fuel).
Here's a weight comparison with a few other pans:
1-Litre Pans
MSR Alpine Stowaway 1.1l (steel) = 440g
Primus TiTech Pot 1.0 (titanium) = 230g
MSR Quick Solo Pot 1.3l (aluminium) = 213g
Trangia 1l (aluminum) = 192g
2.0 Litre Pans
MSR Alpine Stowaway 1.6l (steel) = 550g
MSR Alpinist Pot 2.4l (aluminium) = 306g
Old 'EtaPower Pots' vs New Eta Pots
The Eta 1.0l, 1.8l and 3.0l are the second generation of Primus pans with heat exchangers. The previous incarnations were EtaPower Pots 1l and 1.7l.
The most obvious improvements are:
Protected heat element
The old EtaPower pots had the individual ridges of the heat exchanger exposed, leaving them liable to catch on clothing, collect dirt and scratch the inside of your pack. The new pots have them covered which is much better.
Stackable
It may seem minor but the fact that the old 1.0l and 1.7l pans didn't stack at all meant that I had always ruled out using them because they'd take up so much extra space. The new range stack perfectly.
And…
They're bigger: the inclusion of a larger 3.0-litre pot is a good addition (as a couple, a 1.7-litre pan would have been too small); they have better fixed handles (at least compared to the 1.7l) and they use the new plastic lids.
Primus Eta Pots: In Summary
The Primus Eta pans are a really well designed set of pots, even without the heat exchangers. The addition of heat sinks makes them remarkably more efficient and quicker to heat food. If you don't mind a few extra grams and can fit them in your rucksack then I would recommend them highly as the best pans I've used.
Want One?



The Primus Eta potst are not prolific in the UK or America. Ellis Brigham stocks the 1.0 and 1.8 litre pots, and Cotswold Outdoor have the Primus Eta Power stove which comes with the 1.8 litre Eta pot. However, the best place to look for the whole range is Amazon.co.uk and Amazon.com. and you can often find them on Amazon.co.uk and Amazon.com.