As winter descends on the northern hemisphere, regular cyclists begin the annual search for the perfect glove, overshoe or waterproof to help insulate them from the elements. Cycling in the wind and rain can be miserable, but the right gear can make all the difference.
For this cycle trip, we drew on our years of experience cycling in all weathers to choose what clothing and accessories to bring, as well as spending hours trawling blogs and speaking to fellow cyclists to get some recommendations. In a future blog post, we will discuss our cold weather clothing, but as November begins and grey drizzle descends on the UK, we thought this was a good opportunity to talk about our wet weather outfits. We have focussed only on the items we put on when it starts raining, and haven't given details on what we have on underneath, as this depends on temperature – after ten weeks on the road, you probably wouldn't want to see them anyway.
So, in the style of a magazine fashion shoot…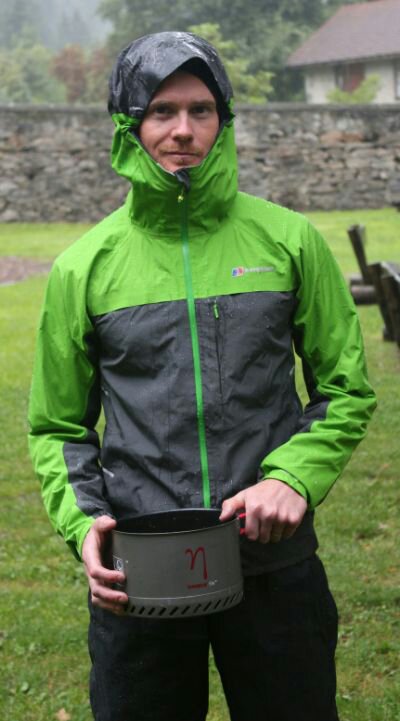 Top half
Berghaus Vapour Storm Jacket (men's and women's)
We love these jackets. I (Laura) tend to get hot very quickly, and this jacket has small vents all over it, which helps reduce the clammy factor when you're working hard. It's a longer length – key for cycling in bad weather – and has thumb loops which ensures the sleeves don't ride up. They kept us dry even when cycling through massive thunderstorms in Montenegro.
Downsides include the very slim fit (you would struggle to fit a warm jacket underneath) and the hood, which is hard to tighten, meaning it stays still while you move your head from side to side (you have to unzip it to pull the drawcord tight, which is impractical when cycling and inconvenient when it's raining). However, these are unlikely to be issues, given that we'll probably never wear it over a thick jacket when cycling and don't use the hood under our helmets.
The women's version is also a silly colour for outdoor wear – pale blue would be lovely in town but when getting spattered in mud? Less so. Sadly, this is all too common with women's outdoor gear, where pink and pastels abound. Why do the men get sensible dark colours?
The best feature is that it weighs just 300g, being made with Gore-Tex Active fabric.
Bottom half
Women's Vapour Overtrousers (Laura)
Laura: Like the jacket, these trousers are made with Gore-Tex Active fabric, meaning they are not at all bulky and weigh around 240g. They are the first waterproof trousers I've been able to cycle in, and I think they're brilliant.
Some of the best features, apart from the weight, are:
– Draw cord at the bottom of the trouser legs so you can tighten them: crucial so they don't get caught in the chains.
– Three quarter length zip down each leg. Provides excellent venting, especially when going uphill and you're working hard.
– Reflective yellow stripe inside the zip (although a reflective piping on the outside would have been more useful).
– Come with their own stuff sack, about the size of a large grapefruit.
I should add that both the trousers and the jacket are designed for high intensity activity, including running. I wish I'd had them for the Original Mountain Marathon, they would be perfect for an event like this where effective, lightweight gear really helps.
Gore-Tex Paclite Shell Overtrousers (Tim)
Tim: I've had these trousers for a while. They're similar to the Vapour Overtrousers except with a full length zip and are made with Paclite, rather than Gore-Tex Active, material. They're good but, having now tried Goretex Active, I'd recommend that fabric over Paclite any day (much tougher and just as light/breathable, if not more so).
Footwear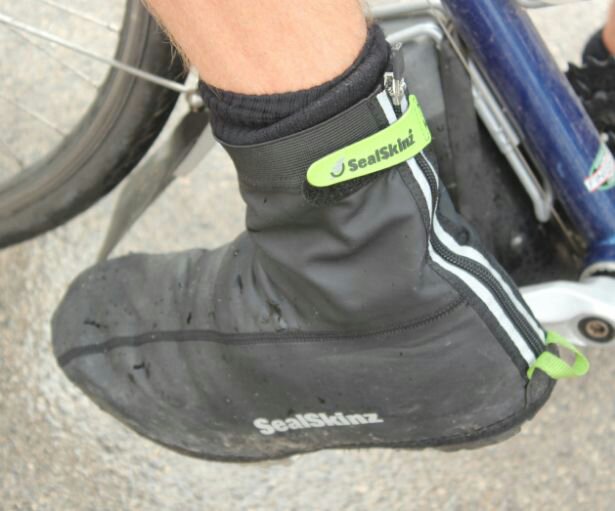 Sealskinz Thick Mid Length Socks (Laura)
Sealskinz Thin Mid Length Socks (Tim)
Sealskinz Lightweight Overshoe (both)
The socks are great: they are comfortable and have kept our feet warm and dry even in heavy downpours. We're looking forward to trying them out in cold weather, as we suspect they'll be a godsend. They do take a while to dry out.
The overshoes help keep rain out but don't provide waterproofing in the same way as, say, a jacket keeps your torso dry. Water presumably gets in underneath the shoe (which isn't covered) and possibly through the cleat holes. They reduce the soaking that our shoes get (which is good as they take a long time to dry out) and provide some warmth and wind protection. They pack very small. Unfortunately, the stitching isn't very strong and after just three uses, the loop on the heel used to pull them off has come off, and they're ripped around the toe. We use Keen Springwater II shoes to cycle in, which are bulkier than most road cycling shoes, so perhaps this is part of the problem.
Gloves
Sealskinz All Weather Cycling Gloves (Tim)

Tim:I normally advocate cheap Goretex over-mittens for keeping hands dry whilst cycling (see below) but thought I'd try a more conventional waterproof glove. They've been good so far and done a good job of keeping the water out (as long as my jacket sleeves are pulled down over the cuffs to prevent water running down my arms into them. When it gets colder they'll be switched for Sealskinz waterproof mittens.
Military waterproof overmitts (Laura)
Laura: These gloves cost me about a fiver from an online army surplus store. I find that Sealskinz gloves don't fit me well at all, as the fingers are too long and skinny, so these are my cheap and cheerful alternative. I actually think they're very good, especially for the price. I pop them on over my cycling gloves when it starts raining, and my hands do stay reasonably dry, without getting too hot. They don't weigh very much (being just a single skin) and have good features like straps at the wrist and cuff to tighten them, which can be used with one hand or even your teeth when pedalling along. I expected it to be a bit like wearing plastic bags on your hands, but I'm surprised how breathable they are. For someone who 'runs hot', these are a good choice as they allow so much flexibility: in summer I can stick with my fingerless gloves underneath, and in winter I can switch to a thicker pair. I also very much enjoy the look, wearing camo mitts up to my elbows, in contrast to the high spec, shiny waterproof jacket and trousers.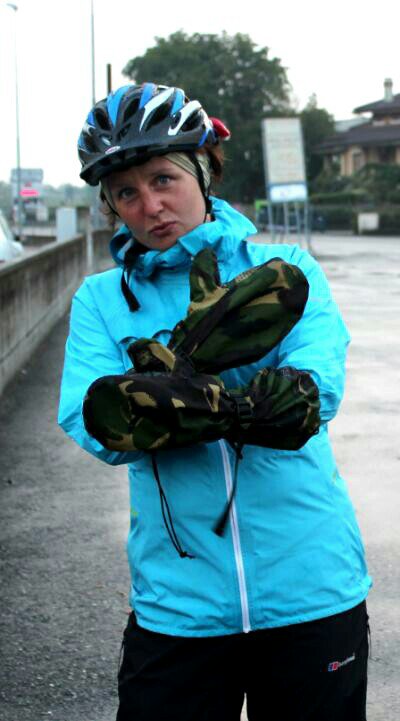 Finally…
If you are considering buying some new gear online, please consider using our affiliate links. This doesn't cost you anything, but a small percentage of each sale comes to us, helping to pay for this website. Thanks.