Let me this morning share with you a story about a monk, two ice creams and some fish.
The evening was warm and the roads wide. A pregnant sun hung low in the sky. The morning's mountain ascent – autumnal forests, bear warnings, vacant ski resorts – had been followed by an afternoon's free wheeling and we agreed to stop just as soon as we could find water and a nice spot.
A petrol station.
Abandoned.
Pedal on.
In the distance appeared a small building outlined first by a wall and then by trees. Out front sat a tap and behind it a large dog. Cautiously we approached and began taking enough water for the evening.
There was space enough for a tent outside the walls so I entered the grounds slowly (the dog, don't forget) wearing a smile and offering a wave to the man at the end of the drive. He quickly sent a message through his colleagues – all of an older generation than I – to fetch the English speaker amongst them. When he arrived, before I had a chance to ask if it would be OK to pitch our tent outside, we were invited to sit down and tell our story.
Which brings us to the ice cream that I promised you.
While talking to our new friends from whom we found that we were at a Greek Orthodox church tended by a monk/priest, were talking to a man who had worked for many years in Australia (hence the English) and that he and his friends were all voluntarily helping prepare for a monastery to be built behind the church; the monk himself approached, beclothed in heavy black robes and large felt hat, with a long grey beard.
He approached Laura. She extended her hand for a shake and she withdrew it moments later having not received the anticipated shake but instead in the possession of a large chocolate cornetto.
The sun set and the volunteers went home. Reassured by the former-Australian that the dog would not eat us, we were given permission by Father Paeseus to camp inside the church grounds and had thus erected our tent.
His prayers evidently completed for the evening, the Father emerged from his church and beckoned us in.
"I no speak Good English", he offered apologetically for the second time, though it was far better than our Greek.
His flat was plain but homely. On the table stood three large bowls of hearty soup, a basket of bread and individual salads laid out in each place. The Father gestured to sit and we did.
Through the evening we communicated through broken English, the few Greek words that we knew, hand gestures and will power.
He had tended the church for seven years and lived there alone, the Orthodox monk-priest being celibate. He was learning English through a tutor in preparation for a visit to a Greek Orthodox community in America in 2015. The monastery whose construction he was overseeing turned out not to be a small building for his own personal use as we had imagined but – as the multiple A1-size blueprints informed us – a huge, two story affair to house no less than 43 monks, complete with multiple churches inside, lecture rooms and gift shop.
I should intervene here with an apology. It may be that in introducing this character – monk, traditional dress, grey beard, celibate, living alone – that you are picturing us having a serious, solemn evening. But, in fact, a bigger clue to you as to his personality was probably those ice creams he dealt out earlier. You cannot maintain an image of stuffy Orthodox monk whilst emerging from a car with a carrier bag full of cornettos.
And, for us, the best clue about his personality was his eyes. Bright and mischievous, they told us more than his vocabulary would allow, making us feel at ease and in good humour. Which was a good thing because it is impossible not to laugh when a grown man proudly declares that he : "Go to Turkey two times", while holding up three fingers then adds "when I was a baby and when I was seven o'clock".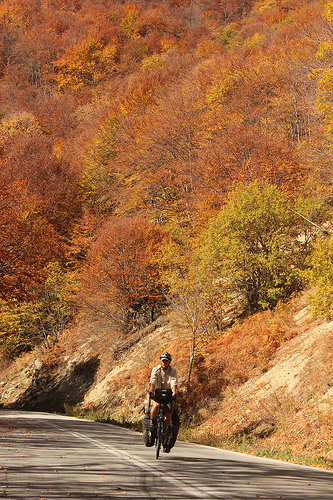 Come dessert, the Father was keen to tell us about the Orthodox church after we expressed an interest. Curious, in particular, about the ways in which it differs from Catholic and Protestant traditions. He struggled to convey certain concepts, however, and after an initial frustation he suddenly became excited and excused himself to make a phone call.
A minute later he handed me the phone saying: "English".
"Hello?", I said.
"Do you want to go to sleep or do you want to talk about the Greek Orthodox church?", came the reply.
A little baffled, I made a hesitant pitch for Option B.
"OK. I will drive over and translate for Father Paeseus."
And so it was that we found ourselves up past our bed times, sat around the dining room table in the monk's cramped kitchen, eating pancakes freshly made by the Father's English tutor, drinking Greek coffee (not Turkish) and discussing the Greek Orthodox church.
Members of the Orthodox church traditionally do no eat meat, fish or dairy products on Wednesdays and Fridays, instead giving that which they would normally eat to those in need. Being a Wednesday morning on which we awoke the next day, we ate our usual breakfast alone in the monk's garden before being invited in for coffee. The coffee was sugared but the conversation that came with it left us with the feeling that there might too have been some bitterness.
When asked about our continuing route, we only got as far as listing Turkey and Iran when the Father looked concerned and shook his head:
"Very dangerous."
This was not the first time people had been concerned about us visiting certain areas on the trip.
"Musselman very angry. Jihad. Very dangerous."
Was this just misplaced concern for two naive travellers visiting a country that he had heard about on the news? Did it just come across poorly through the language barrier, the words chosen inadvertantly giving the wrong impression? We certainly didn't have the words to challenge it and were left with little but the exchange of an awkward glance.
But, as I said, this was a Wednesday and I have promised you fish. Recent comments notwithstanding, our host had been kind and generous and he gave one more act of kindness and generosity in presenting us with a parting present of one large bag of freshly grilled fish for our lunch, stored on the back of our bikes and consumed with relish in Edessa later that day.