Below is a selection of Laura's photographs from our cycle ride across northern Greece, through Edessa, Thessaloniki and Alexandroupolis…
Autumn welcomed us in the Greek mountains.
Deserted beaches with showers made for wonderful campsites.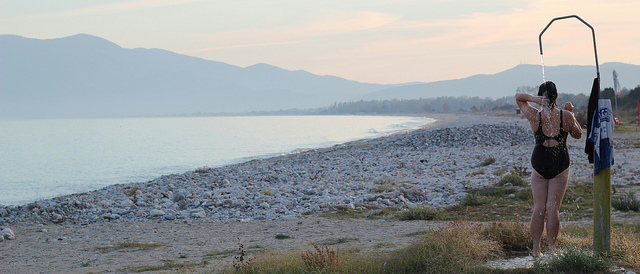 My (Tım's) brother Robın visited us in Thessaloniki.
The city was filled with armed riot police ahead of a big military parade.
Laura was excited to get her new camera lens.
We had our (comically) worst ever camp site – warned about gypsies, barracaded agaınst a nasty guard dog, plagued by mosquitoes, kept awake by loud musıc untıl 3am, awoken by ındustry at 4am…
We spent an evenıng wıth a Greek Orthodox prıest.
Cotton harvest near Alexandroupolis.
You can vıew the whole photograph set on Flickr
Photo Blogs
This photo blog is part of a series from our round-the-world bike trip. Here's the rest of the series: