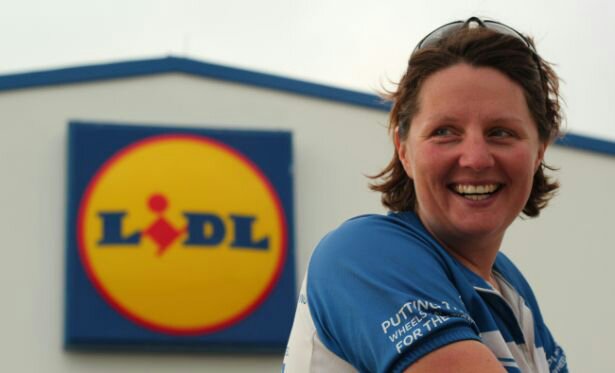 It is with a heavy heart that I write this blog post. A few days ago, Tim and I said goodbye to a dear friend who has been a regular companion on this trip. After one final lunch together, we pedalled away towards the Turkish border, knowing it would be several months before we saw Lidl again.
There have been three constants on this trip so far: blackberries, our tent and Lidl.
We picked blackberries in the leafy lanes of Surrey on our first day of cycling, and last week, three months later, I noticed tangled bushes of ripening berries in Greece – a consequence of following the sun south.
Our tent acts as a familiar home for us to collapse into each evening. With practised regularity, we can pitch, unpack and get the kettle on almost without words and every item inside has its own corner of canvas.
Lidl has been the third ever-fixed mark. We could walk into a store anywhere in Europe and instantly know that we would be eating tinned sardines and chocolate pudding (not usually together), and where to find them in the standard layout. Of course, it is also friendly on the wallet, a key factor for the budget-conscious cycle tourist. Although we are both unsettled by the power and dominance exercised by some large corporates, and would generally prefer to shop at small local stores, we have grown lazy. At the end of a day of cycling,when tired and hungry, we want a familiar option which is as cheap as possible, and Lidl all too often fits that bill.
Before you judge us too harshly, on a trip like this, life is in constant flux. Every night brings a new place to call home, every week a new landscape to look at, and every month a new language to learn (or at least, resolve to learn). Having something familiar to cling to helps anchor us, offering some respite from the onslaught of new experiences. Of course, we love escaping the tent on occasion to stay with local people and relish the opportunity to try local foods, but having a couple of standard things to fall back on offers us a safety net. In Lidl's case, its harsh strip lighting envelops us and offers a degree of comfort that we know what we are doing.
So, it is farewell to German salami, meat salad and bargain muesli. Farewell to Mister Choc, a chap I feel I have come to know personally over the last few months. We look forward to the road ahead, wondering what we will find to latch onto in Turkey, Iran and beyond. I even dare dream – hesitantly, cautiously – that it will be even better than Lidl.