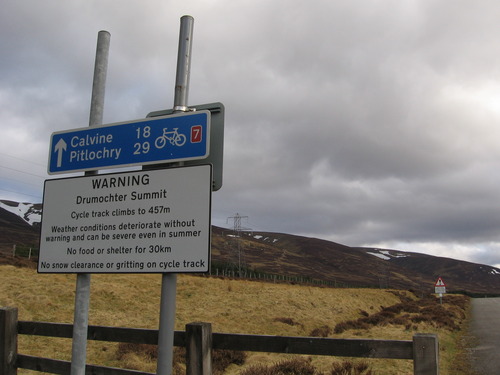 Without going into too much boring detail, I've had a number of mechanical issues arising with The Bug since stopping in Edinburgh. They've largely revolved around dodgy wheels and ill-functioning brakes.
Considering it was supposed to be a rest day, I found myself gunning up a fair few of Edinburgh's finest hills on a single speed bike kindly loaned by my host. I was on a goose chase for 6200RS cartridge bearings (or at least that's what I had scribbled on the crumpled receipt in my pocket) and, miraculously, tracked some down. Waiting for them to be fitted in the motorbike shop, I felt a strong need to sit down on the floor and lean back against a wall. Lunch seemed a long time ago and I'm not sure when liquid had last past my lips. My mind was no more sprightly than my body at that moment and the ride back to the Bike Station seemed like a long one.
Despite Time ticked on and it was clear that she wasn't going to be ready before they closed up shop and, besides, I had arranged to meet an Olympian that evening to talk about my South Pole project so I had to settle for completing repairs in the morning. Bounding to The Bike Station the next day I was all set for a swift departure but instead found myself holding an inner tube with six punctures (it only had one when I started work on it), a wheel that wouldn't turn and brakes that had less effect that my heels would have.
I was ready to spit the dummy.
A silly thing to do at the best of times and particularly ridiculous to get that emotional about a novelty tricycle that I'm riding around for a holiday but that's how I felt. I took a lunch break and set about applying some glue and rubber to the myriad holes I'd created. Before I knew it, I was singing along to the radio and greeting people with the enthusiasm of my old self. Little had changed, I still had a mountain of mechanics to get over but I now had blood sugar on my side.
I've been increasingly aware of how poor I am without regular food input but it still catches me off guard. Something so minor, so pathetic but it really affects my mood even when I'm aware of the cause.
Fast-forward an hour or two of rapid activity, new brake cables, two new brake levers and lots of cable ties and, incredibly, The Bug is going. Going better than it was before and with – touch wood – fully functioning brakes.
I'm heading south tomorrow, next stop Preston and no more hypoglycemic whining.
Day 6 (1st May)

Distance so far: 138 miles
Quote of the day: "London… where's that?", youths in response to hearing where I was headed

I'm currently cycling a rickshaw 1000 miles from Aviemore back to London in support of Special Olympics Great Britain. Find out where I am on the map, track my statistics or donate here.
All of my repairs were conducted at, and with no small amount of assistance from, The Bike Station, to whom I hugely indebted. They're a very cool charitable operation that recycle old bikes into new ones and parts, and were a fortuitous find. I'd have been lost without them and they did it all from kindness.