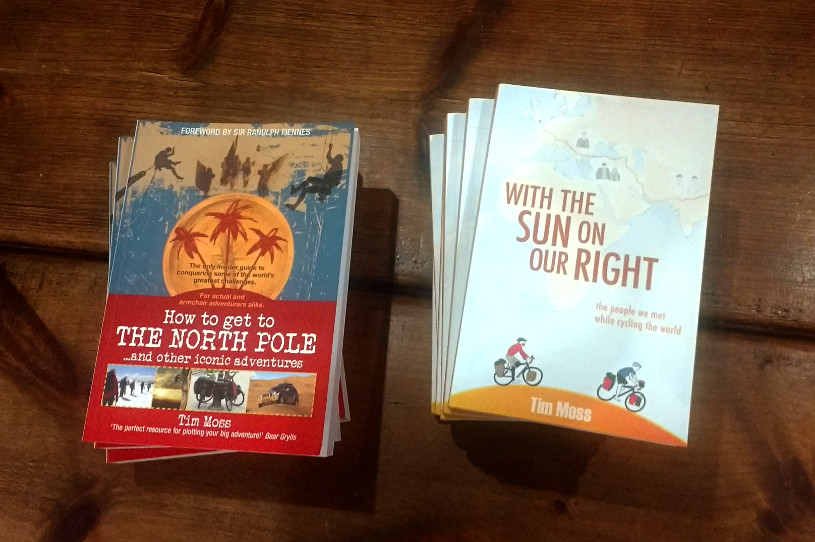 Buy 'How To Get To The North Pole and Other Iconic Adventures' (paperback + free ebooks) for £6 – SOLD OUT
Buy 'With the Sun on Our Right' (paperback + free ebook + free bonus material) for £10 – SOLD OUT
Or buy both – 'North Pole' + 'Sun On Our Right' – for £13 – SOLD OUT
---
Book sale
I'm offering all my books at discount rates, as detailed below.
The offers are only good as long as stocks last. I don't have that many left.
All books come signed.
These offers are UK postage only. If you want one sent internationally, just get in touch.
---
'How To Get To The North Pole and Other Iconic Adventures'
RRP £13 (paperback only)
Offer £6 (paperback + ebooks)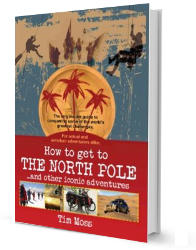 This is a guidebook to seven different classic expeditions around the world. With a foreword by Sir Ranulph Fiennes and contributions from over 50 different explorers, this book is aimed at aspiring expeditioners and armchair adventurers alike.
"The perfect resource" – Bear Grylls

"An excellent book" – Sir Ranulph Fiennes

"The bible for adventure travelers" – Outdoor Minded Magazine
The seven chapters cover:
How to Row an Ocean
How to Cross a Desert
How to Climb an Unclimbed Mountain
How to Sail the Seven Seas
How to Cycle Around the World
How to Get to the North Pole
How to Get to the South Pole
A few years after the paperback was published, I updated each chapter and released them as standalone ebooks.
The paperback's RRP is £13 and the individual ebooks are £5-10 each.
The current offer is to get the original paperbook plus all seven updated ebooks for £6 (no P&P).
SOLD OUT!
---
'With the Sun On Our Right' offer
RRP £12 (paperback only, no photos)
Offer £10 (paperback, photos, ebook and bonus material)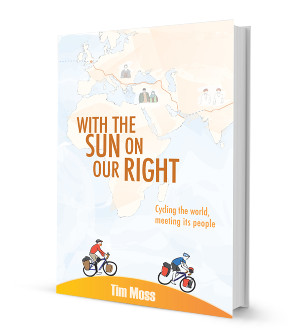 Subtitled "The people we met while cycling the world", this is my account of cycling 13,000 miles around the world.
Tim and Laura Moss quit their jobs to cycle 13,000 miles around the world.

Riding across deserts, over mountains and through jungles, they braved climatic extremes from sub-zero blizzards to the sweltering tropics.

But this is not a book about cycling.

It is a book about the world and its people.
The book goes for £12 online, but the Amazon version doesn't have the photos in the middle (or my priceless signature).
The current offer is to get the paperback copy, signed by me, with photographs plus a copy of the ebook and the 50-page bonus material supplement.
SOLD OUT!
However…
Whilst I've completely sold out of With the Sun on Our Right', I have temporarily reduced the print-to-order price on Amazon to £10 (N.B. It may take 24hrs for the reduction to appear).
If you buy a copy from Amazon then just email me afterwards and I'll send you the bonus material, ebook and photographs for free.
---
North Pole + Sun On Our Right offer
RRP £25 (paperbacks only)
Offer £13 (paperbacks, ebooks and more)
Alternatively, you can get both of the above deals for £13. That is:
How to Get to the North Pole and Other Iconic Adventures signed paperback and ebooks x 7
With the Sun On Our Right signed paperback and ebook
With the Sun On Our Right bonus material
SOLD OUT!
---