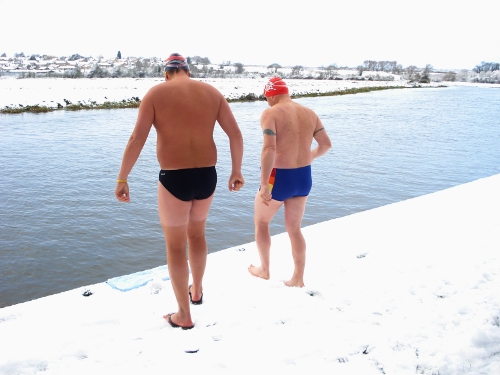 Cold water swimming is something I've written about before, particularly with regards to its health benefits, but here are a few tips for acclimatising to cold water, adapting to the icy water and improving tolerance for those winter swims:
Get regular swimming exposure in cool or cold water. The more you do it, even if only briefly, the more you'll improve your tolerance.
Wear a swimming cap or two, and/or a neoprene hat, as your head will suffer the most in the cold water.
Gain some weight. Fatter people stay warmer for longer and have better tolerance as a result.
Use a wetsuit if you want to do a longer winter swim (and don't consider it "cheating").
Wetsuit gloves and socks are excellent additions, with or without the main suit, as hands and feet can get painfully cold.
Use a bigger swimming mask rather than little goggles as they'll cover more of your face when it goes under water.
Try cold showers and baths at home to help with your body's cold water adaptation.
Build up your brown fat supplies. Not very practical but an interesting area of research (see Wiki and this article).
Train to be a stronger swimmer. Muscles create heat so if you're able to work hard in the water, you'll stay warmer.
Enter slowly and/or splash yourself a bit first. It's argued that this gives your body a chance to react more than if you jump straight in (which Lewis Gordon Pugh advocates).
Got any tips of your own? Add them in the comments section below.
For more swimming articles and advice, see my Swimming Resources page.
(Photo courtesy of Dan Martin)