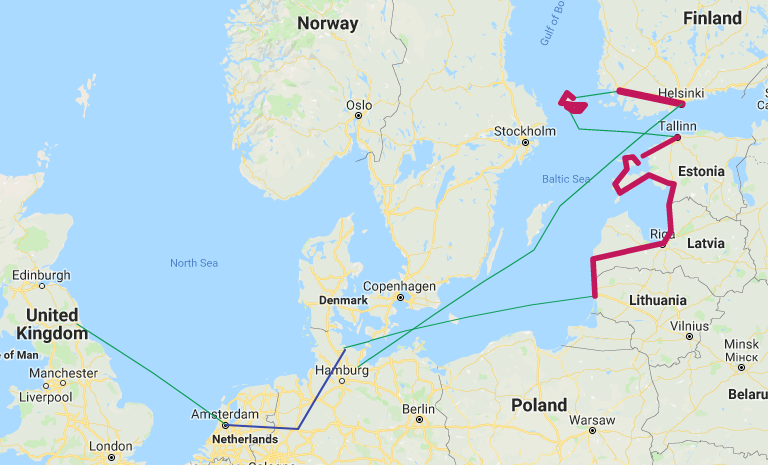 Laura and I are currently on our way to the Baltics and the Aland islands on a cycling trip.
You can see our very rough route plan on the map above.
Two things are making this trip more interesting for us:
1) We are travelling "overland" the whole way, on trains and ferries. No flights.
2) We are travelling with our baby boy.
1) NO FLIGHTS
We'd originally thought about a cycle tour in Nova Scotia, Canada. But it was going to be really expensive to fly there and undoubtedly a long and unpleasant experience with two bikes, eight panniers, a trailer and a child. Not to mention the environmental impact.
A quick Twitter survey of other suggestions for a month's tour threw up two main options: Central Europe (e.g. Austria) and Northern Europe / the Baltic countries.
We've had our eye on the Aland islands – an archipelago between Finland and Sweden – for several years. But they were always too awkward to reach in two weeks' leave. This was our chance.
I'd be lying if I said climate change was the key reason we opted not to fly, but it was a factor. It would have been quicker and, in some ways, easier to travel by air. But bikes and babies on planes sounds like hard work, whereas the space and freedom afforded on a boat makes for a much more pleasant experience. No dismantling bikes, putting them in boxes and try to haul them to/around the airport. You can just ride them straight onto the car deck.
It will take us three full days to reach Estonia, but each of those days will involve some cycling (to Newcastle port, to Amsterdam Central and through Kiel) and leave time for a day with friends in the Netherlands. Sometimes it's convenient to teleport to your destination by jet engine, but when possible, it's nice to experience a journey in slow motion.
2) CYCLING WITH A BABY
Our son will be 9 months old on this trip. He will sit in a trailer while we ride (a Thule Cougar 2 Chariot), get carried in a sling when changing trains/ferry decks, and sleep on a camping mat in our tent at night.
We have only done one overnight cycle trip with him before (the Cinder Track between Scarborough and Whitby) but have spent a week dragging him in his trailer while cross-country skiing in Austria, so we have some idea of how long he will stay happy in his trailer.
Progress will be a lot slower than we are used to. At best, we will manage two stints of 1-2 hours per day, while our boy sleeps. That means 30 miles at the most. As such, there is no way we will be able to cycle everything I've marked on the map above. We will take trains when we need to and just try to cycle the most interesting bits when we can.
It will be different from the tours we did when there were just two of us. But then touring as a couple was different from touring solo. And I wouldn't go back to travelling alone.
You can follow us on Twitter (@nextchallenge and @lauralikeswater) and Instagram (@nextchallenge).
Wish us luck!