Cycling between, walking up and swimming on the slopes of Snowdon, Cadair Idris and Pen y Fan.
That was the plan for 2016 Next Challenge Grant winner Heather Jones. She hadn't planned, however, to get buried by snow in a bivvy bag. Her trip turned out to be a little more dramatic than she'd anticipated.
This is how she got on…
Welsh 1-and-a-half Peaks Challenge: Hike/Bike/Swim… Snow
by Heather Jones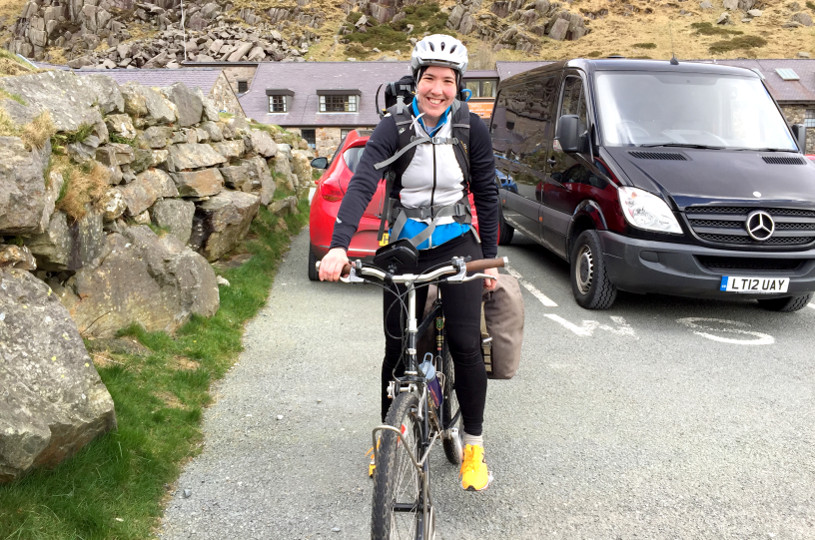 Things don't always go to plan.
I set out for Wales on the first day of Spring. In my mind I had sunny skies and newborn lambs, clear views from the summits and sparkling lakes inviting me in. So it wasn't the most encouraging start to the challenge when I checked the Met Office forecast on my day of departure to find warnings of snow and temperatures of -11°C at the Snowdon Summit. I'd picked a bad week.
Arriving at Pen-y-Pass in the late afternoon, the sun was shining and the summits were clear, giving me that feeling in my heart of pure joy of being in the mountains, mingled with nostalgia and familiarity.  I'd persuaded my friend and regular walking companion, Lydia, to be my driver for the challenge and she'd opted to climb Snowdon with me. I'm not sure how much my parents bribed her for this, but their fear of me drowning in Llyn Glaslyn with no one there to witness it was making them lose sleep.
Llyn Glaslyn was our destination for the night. It lies half way up the Miner's Track on Snowdon. We set up camp with plenty of daylight to spare, and enjoyed the luxury of eating dinner with such a stunning panorama. So far so good.
I woke in the middle of the night to the sound (and feeling) of hail pummeling my bivvy bag. I tried to get some sleep again before my alarm went off at 5.45am. Time for a swim! I unzipped the bivvy to inspect my surroundings. I remember as a child I would rush to look out the window first thing in the morning to see if my wish for snow had come true. The sight of snow on this occasion still made me smile, but irrationally so.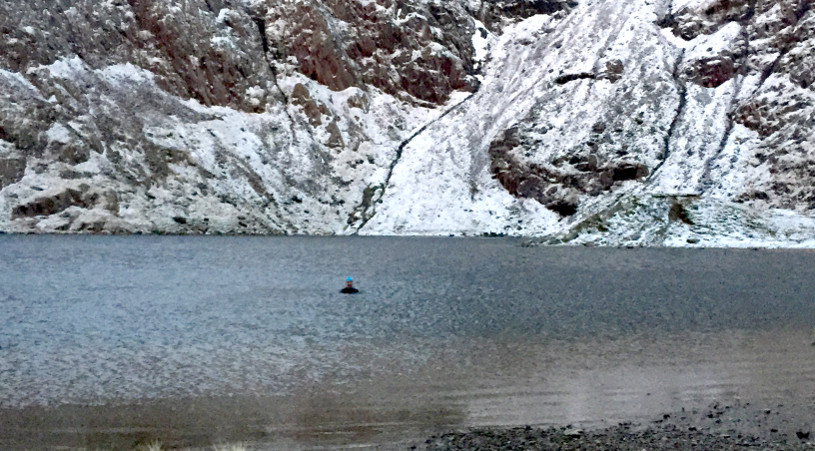 I managed to get my wetsuit on without fully emerging from my bivvy (an achievement in itself), and congratulated myself on having the good sense to purchase neoprene socks.  I tentatively made my way into the lake and resisted the urge to scream as the cold water filled up the inside of my wetsuit. Then I realised my mistake…I'd forgotten to take my walking gloves off.
We continued up the Miner's Track, picking a path through the icy, snow-covered rocks, and made it safely to the summit. I've climbed Snowdon dozens of times before, but this time was special and will stick in my memory forever. The atmosphere was extraordinary, feeling like a fantasy world laid out before us with no one else around.
With the first summit out of the way, I started thinking about the bike ride ahead as we made our way back to Pen-y-Pass. Back at the car park, I transferred my kit from my backpack to the panniers and set off for Cadair Idris. The plan was to meet Lydia there six hours later.
The start of the ride was exactly how I'd imagined it but better. Firstly, there was that bend just after you come out of the car park and head down into the valley. It feels precarious in a car. On a bike it was thrilling. I didn't have to pedal for miles.
Then I did have to pedal for miles. There are hills, then there are Welsh hills (a.k.a. mountains). The road signs amicably warned me every time I approached a hill with a 14% gradient. As a person who is relatively new to the cycling game, the ride was both mentally and physically tough. By the time I was within five miles of Cadair Idris I was stopping regularly. Not so good.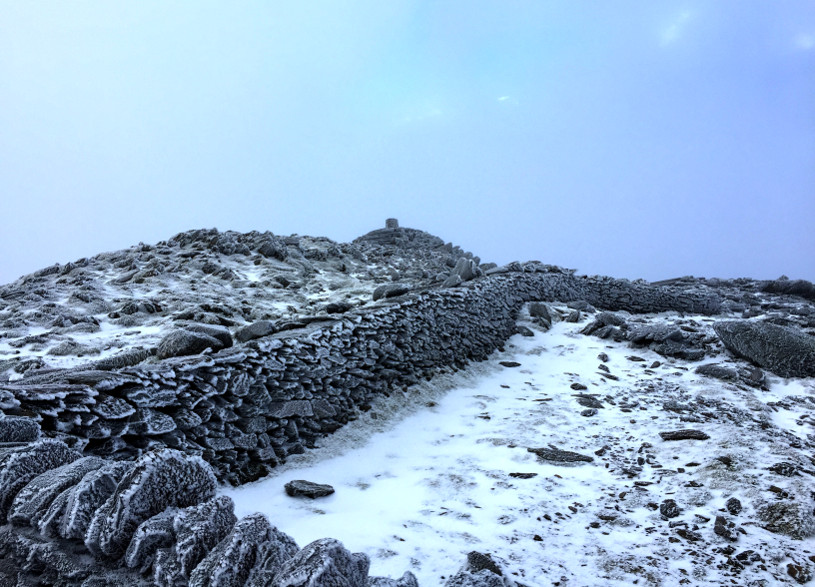 Despite feeling like I'd eked out every last drop of energy from my legs, I reached the car park at Dôl Idris exactly on schedule to find Lydia waiting for me. She delivered the news that more snow was expected to fall overnight and that she'd been strongly warned against ascending the mountain. The temptation to give up at this point was huge. The ride had taken a lot out of me and Lydia was giving me the option of a nice warm hotel room. I started transferring my kit into my backpack and took a moment to think.
At this point things had pretty much gone to plan. I'd done the hard part of making it to Dôl Idris on time, which was the part of the schedule that I'd been most worried about. Having hail hit me in the face as I cycled up a hill wasn't ideal but I'd not got any punctures and I hadn't drowned in Llyn Glaslyn. This wasn't the time to quit, and I didn't want to quit. I had to try.
As Lydia drove off I refocused and set off confidently for Llyn Cau. My legs didn't enjoy being put back into action so soon but darkness was creeping in and I had somewhere to be. On the final approach to the lake I was using Google Maps to direct me. I couldn't see the lake at all, but my phone told me I was right next to it as I pitched the bivvy next to a big rock. I fell asleep easily and had four hours of blissful rest.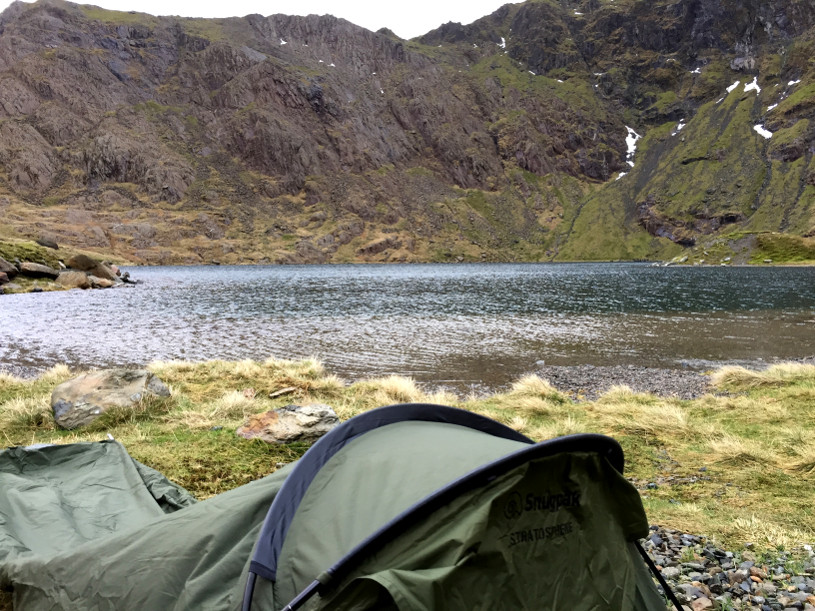 When I woke up something wasn't right. I kicked out to the side and all I could feel was snow. Proper snow. The kind we haven't seen in the South East for at least fifteen years. Not something I'm used to. When I next woke up I put my hands out in front of me and my heart started pounding, convinced that I've been buried. Scrabbling for the zip, I soon discovered I'd been facing sideways and had been fooled by my disorientation. I was safe but felt terrified. I wanted out.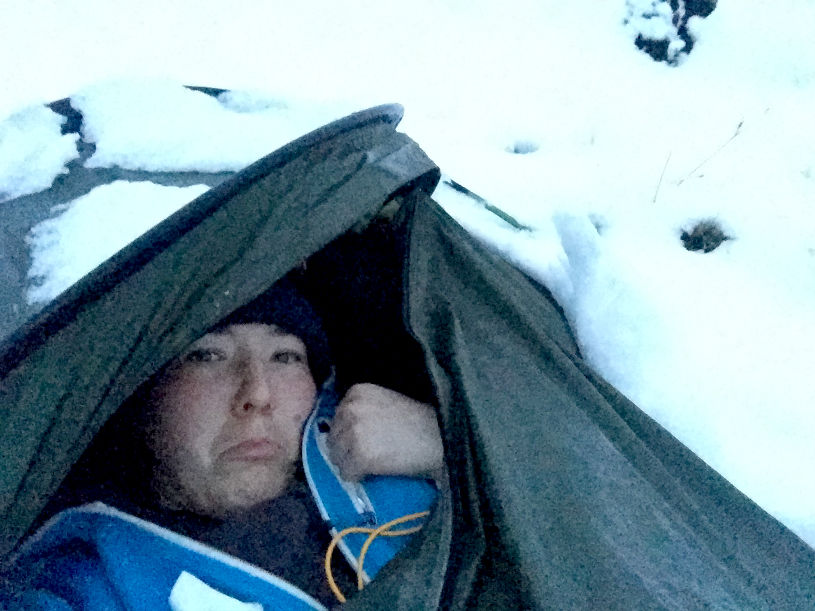 As soon as it was light I confirmed with Lydia that I'd be returning early and that I'd decided not to go to the summit of Cadair Idris.  I was retiring from the challenge. The internal conflict had been raging for a few hours, but ultimately I decided to do what I would have advised someone else in my position to do and put safety above my own ego. "The mountains are the easy bit", I'd said.
In the moment I turned back down Cadair Idris I was fully convinced there was no alternative. Visibility was poor, weather conditions were Arctic and this was a mountain I only knew from pictures. OK, so this wasn't Everest or K2 but I've read about too many tragic endings where a climber hasn't known when to turn back. It wasn't worth the risk.
I followed a ewe with her lamb skipping through the snow back to the path and I felt quite at peace with my decision. As soon as I got onto hard ground again the disappointment hit and I descended through the forest an emotional wreck.  Wounded pride, the feeling of failure and the premature ending were hard pills to swallow. But if past experience has taught me anything, it's that those things make you tougher, and make happy endings even sweeter. This isn't the story I wanted to be telling, but perhaps it's a more interesting one than if it had all gone to plan.
---
You can find out more about The Next Challenge Grant, read about other winners and apply for yourself here.