I've been using an MSR WindBurner stove for almost two years now and, having tested many other all-in-one Jetboil style stoves, feel in a good position to write a review.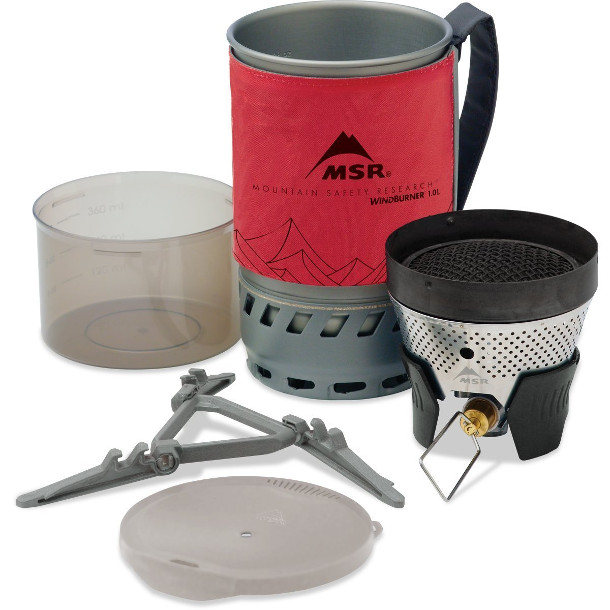 ---
MSR WindBurner Stove System (1.0-litre) Review
Pros
Really fast
Very small
Windproof
Innovative design
Cons
No built-in lighter
Feels unfinished
Design
The pot itself is lightweight aluminium with an insulative sleeve around it. The sleeve works really well in both its roles: keeping the heat in for faster boiling (see below) and stopping the pot from getting too hot to handle.
The Windburner has a small plastic cup/bowl which fits onto the bottom of the pot for storage. It's nothing more than a simple plastic pot but it's a great feature (also used by JetBoil). It protects the stove and adds no bulk and very little weight but gives you a reasonably sized cup.
The lid is made from a flexible plastic and can either be pushed tightly onto the pot (best for storage) or just balanced on top (best when cooking).
Also included in the bundle is a canister support: plastic legs that attach to the bottom of a gas canister to help stabilise the top heavy stove. Unlike the plastic legs that come with Primus's Lite+, the MSR legs fold away to fit inside the pot.
Overall, it's a really well thought-out design and a neat package that all fits inside the pot. My only gripe is that it all feels a little unfinished, like it's a prototype. The sleeve doesn't quite seem to fit the pot – it's not tight enough to stay fixed in place but not loose enough to feel deliberately moveable. It was a real struggle to get the lid to stretch around the rim of the pot the at first and the cup was so hard to remove the first time that I was convinced I'd break the stove and began to wonder if it had been glued in place.
It's as if they spent ages working on the perfect design and then rushed it through production without ironing out the kinks. It has very little impact on the overall efficacy of the stove – it's a great design and works fantastically – but it just seems like a little bit of polish would have made a big difference.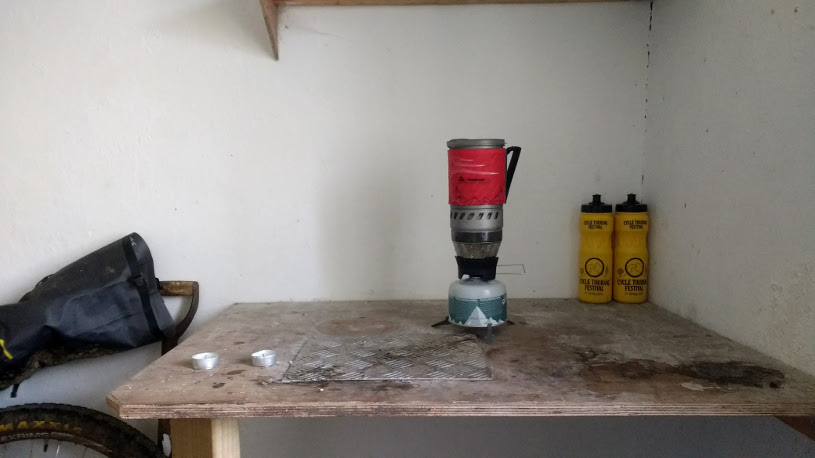 Quick boiling water ready for dehydrated rations at the end of the day
Speed
The MSR Windburner is really fast at heating water. I haven't timed them head-to-head yet (test coming soon) but am confident that it's faster than the Primus Lite+ and way faster than the AlpKit BruKit. And it goes without saying that it's quicker than regular stove and pot combinations.
The heat exchanger and insulation clearly work well. If you turn the stove off just before it reaches boiling point, it will still continue to get hotter, boil, and keep boiling for some time.
Later this year, I will be conducting some head-to-head tests between MSR, Jetboil, Primus, Kovea, Optimus and AlpKit all-in-one stoves to measure exactly how fast they all boil water.
Flame
The reason I've described the WindBurner as innovative is that the flame it produces is quite different from any other stove on the market (except for its cousin, the MSR Reactor). Instead of a ring of fire that rages upwards like you get on other camping stoves or your gas hob at home, the WindBurner produces a short, diffuse flame across its entire surface area. It's really quiet and almost invisible in broad daylight. Thankfully, they've added a tiny wire across its surface that glows red when hot because it can be genuinely quite hard to tell whether or not its alight. It's not as snazzy as the MSR Reactor stoves which spell out the letters 'MSR' in flames but it's still pretty cool (as camping stoves go).
Whatever the engineering behind it, the technology obviously works because the stove is very fast and, notably, works really well in the wind (which is not something that can be said of many gas stoves).
Ignition
Most all-in-stoves have a piezo electric lighter which means you just turn the gas and push a button to ignite. Unfortunately, the WindBurner's flame is too diffuse to light with a piezo lighter. That means you have to light it manually with a striker, match or lighter. It's not a big deal but just means slightly more hassle, lighting the stove then fitting the pot once it's hot and burning. With most other all-in-one stoves (e.g. Jetboil, Primus and Kovea), you can fit the pot first then ignite it.
Size
Official capacity is 800ml (27oz). Even at that level, you've got to be careful to turn it off just as the water boils or it will erupt over the top making it hard to turn off without scalding yourself.
It's a good size. I love my Primus Lite+ stove but at 650ml it's not big enough for two people. The Windburner is large enough for two mugs of tea and will have excess water if you want to rehydrate two ration packs.
In terms of dimensions, the WindBurner is compact and one of the smaller all-in-stoves on the market. The Primus Lite and Lite+ are smaller but because the latter has a fancy badge on the side, the Windburner actually has a smaller circumference. That made enough of a difference that I was able to fit the Windburner, inside a drybag, into the velcro bottle cage of my bike for a recent bikepacking trip when the Lite+ was too big (photo below).
The pot has space inside to fit the burner, a 100ml gas canister and the stand plus a few little extras like a striker and a couple of hot chocolate sachets.

The light green dry bag attached to the bottom of my bike has an MSR WindBurner inside. It's small!
Weight
At 432 grams (15oz), the MSR Windburner is light. As all-in-one stoves go, it's actually one of the heavier ones and there are several other lighter stoves such as the Jetboil Zip and Primus Lite. But for a stove, cooking pot and windshield combination, it's still a pretty lightweight set up.
MSR WindBurner vs JetBoil and other stove weights
| Stove | Weight |
| --- | --- |
| AlpKit BruKit Wolf | 570g |
| Primus Lite XL | 450g |
| MSR WindBurner | 432g |
| AlpKit BruKit Jackal | 425g |
| MSR Reactor | 417g |
| JetBoil MiniMo | 415g |
| JetBoil Flash | 400g |
| Primus Lite+ | 390g |
| JetBoil Zip | 345g |
Full comparison of all-in-one stoves here
Cost: where to get the cheapest one
In the UK, the WindBurner currently goes for around £95. It's currently £102 at AllOutdoor and I'd recommend you check Amazon (where it's currently going for £98.95).
In the US, it goes for $139.95 on REI and, similarly, you should check Amazon.com too (currently $108).
MSR WindBurner vs WindBoiler
The WindBurner was originally called the WindBoiler. There is no difference between the two and I've used the names interchangeably. Apparently the change involved legal wranglings with JetBoil objecting to the term 'boiler'.
MSR WindBurner 1.0L vs 1.8-litre
The WindBurner 1.8L is the same as the WindBurner 1.0L, just with a larger pot. Aside from the obvious facts that the 1.8-liter holds more water and weighs more, the bigger model is also wide enough to fit a 200ml gas canister inside.
MSR WindBurner vs JetBoil
The MSR Windburner holds its own against the Jetboil stoves. It's well designed and boils water rapidly. Several Jetboil stoves are lighter than the Windburner (e.g. the Zip, Flash and MiniMo) and, pending tests, I think the Jetboil MiniMo might be a smidge faster. But, as you'd expect, the Windburner wins in the wind.
---