Charlie and Sam King were winners of a 2016 Next Challenge Grant. They used their money for a big cycling trip across Europe inspired by their dad who had done a similar ride aged 17 but had recently been diagnosed with a brain tumour.
Charlie and Sam were partly inspired by their dad's attitude to his diagnosis: in 2015 he walked the Camino de Santiago and raised over £20,000 for a cancer charity in doing so. They said:
Seeing his determination and positive approach to a not so good situation made us realise that life is there to be lived to the fullest."
Below is their account of the trip along with plenty of photos and some videos at the bottom.
---
Cycling 2,000 miles through Europe
by Sam King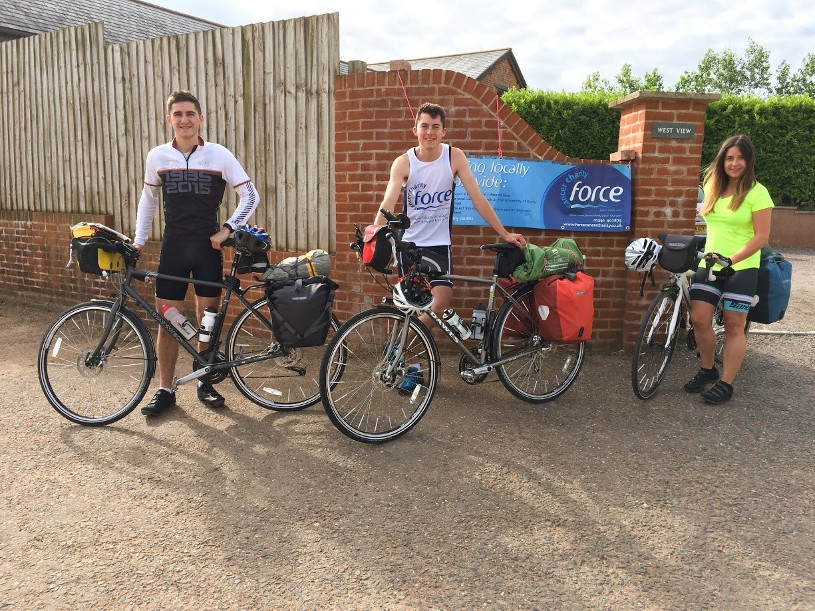 Charlie and I had been planning our cycle tour for the better part of a year, mapping routes, booking ferries and refining our kit lists, as well as finding time to fit in some training. Before we knew it, we had just one week before setting off. Charlie was still at school for the last week of his penultimate year of sixth form, whilst I was in my last week of a placement year at an engineering consultancy. We knew it was going to be tight for time, it was a frantic week of final preparations, made even more disorganised by that fact that I was moving house the day before we set off. It certainly seemed a lot more straightforward when we slotted it neatly into the calendar! Despite all this, we made it to the start line, then it was just for the cycling part…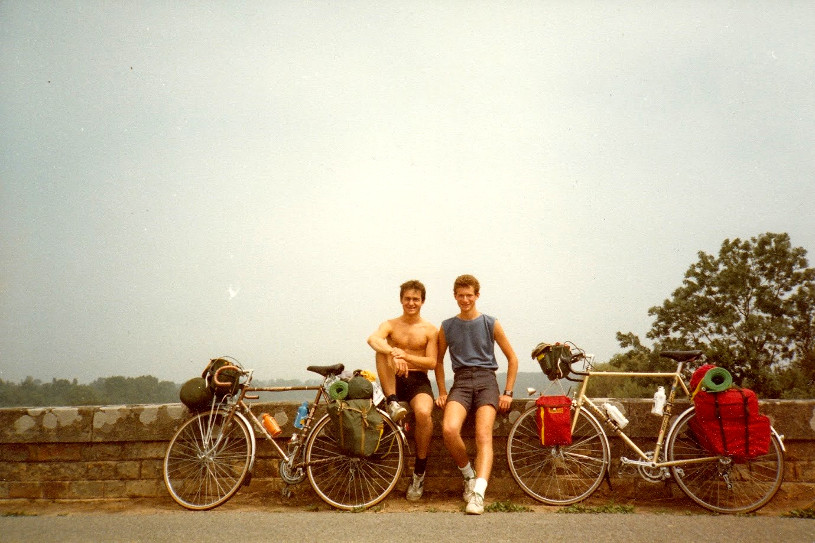 Our trip was inspired by our Dad's ride to Italy at the age of 17, pictured above. Going out and taking on a similar challenge has always been something that we'd said "we'd do one day", but we never made time to do. After some recent changes in our lives we realised how important it is to get out there and adventure, motivating us to plan this trip.
The route of our trip was split into three stages:
Devon to Geneva
Geneva to Lyon (via the Alps)
Lyon to Devon (via Santander)

Stage 1 – Devon to Geneva
For the first stage of our trip we were joined by our older sister Rosie, and her friend Kitty. We spent two days cycling from Devon to Poole, where we caught the ferry over to Cherbourg. We spent the entire ferry journey on the upper deck enjoying the sunshine. It was nice to get talking to people on the ferry who were interested in where we were going and told us of similar trips they had done.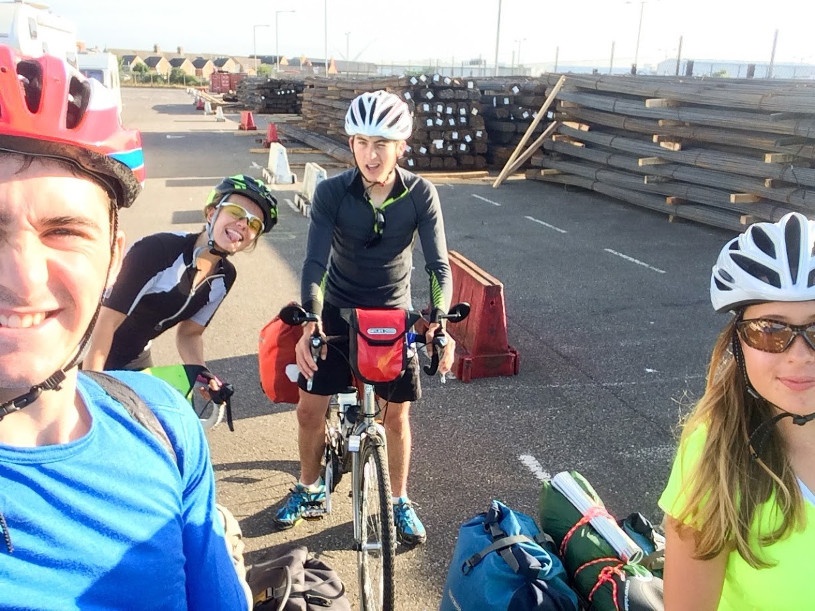 Once we arrived in France it felt like the real start of the trip. Our plan had always been to camp for the entire trip, something which I'd been worrying about pre-departure, not knowing whether or not we'd need to book campsites in advance. Once we made it to our first camp ground for the night, all of these worries were put at rest as we realised just how easy it was to find somewhere for the night.
The first few days of the trip took some getting used to as we adjusted to riding as a group and covering daily mileage higher than what we were used to. We settled into a daily routine of leaving camp early and getting a good number of miles under our belt before noon. Navigation was something that took us a little longer to learn. On the second day in France we were stopped in our tracks by a road closure, causing us to take a long and rural detour. Northern France might be flat for the most part, but this diversion seemed to take in all of the short, steep and punishing climbs in the vicinity. It was relentless: up one hill and down into a valley only to be met by another looming climb. As our fitness improved this became more manageable.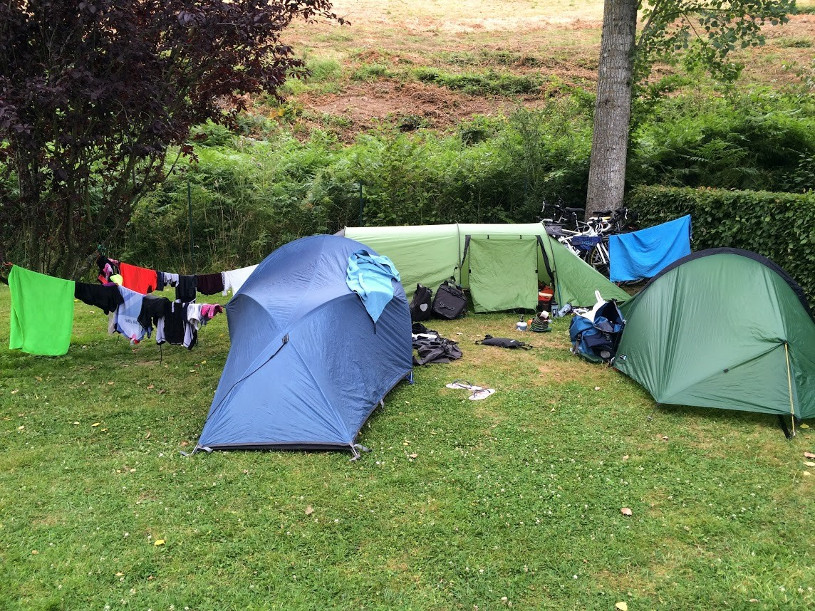 The further through France we cycled, the more frustrated we became by the unchanging scenery of cornfields and wind farms. We kept ourselves entertained by games of eye-spy which spanned over several days. One of the things that we hadn't anticipated was just how much food we were going to eat. France is a great place to be if you're constantly hungry, we made full use of the patisseries in each town, filling our panniers to the brim with baguettes, croissants and pain au chocolat.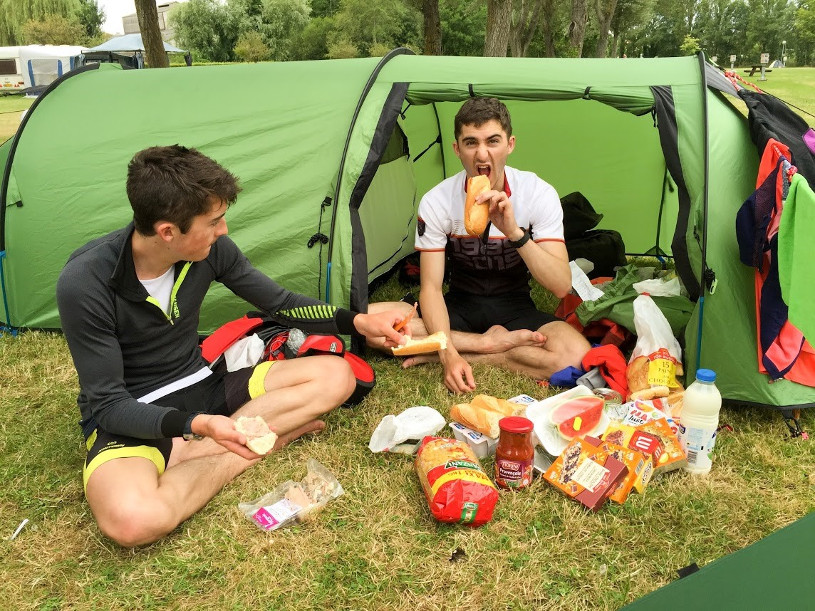 The day before we were set to arrive in Geneva we had another navigational mishap as we ended up on a dangerously busy stretch of road with no hard shoulder to cycle in. It was made even worse by the 10% gradient. In the interest of safety, we resorted to pushing the loaded bikes up the last mile of hill on the grass verge. We topped out on the hill to be greeted by a truck stop, never had we been more pleased to see a trailer selling overpriced snacks and ice-cold water. After refuelling we mustered up the courage to get back on the road and continue on to our campsite for the night.
The next day we cycled into Geneva, completing the first stage of our trip.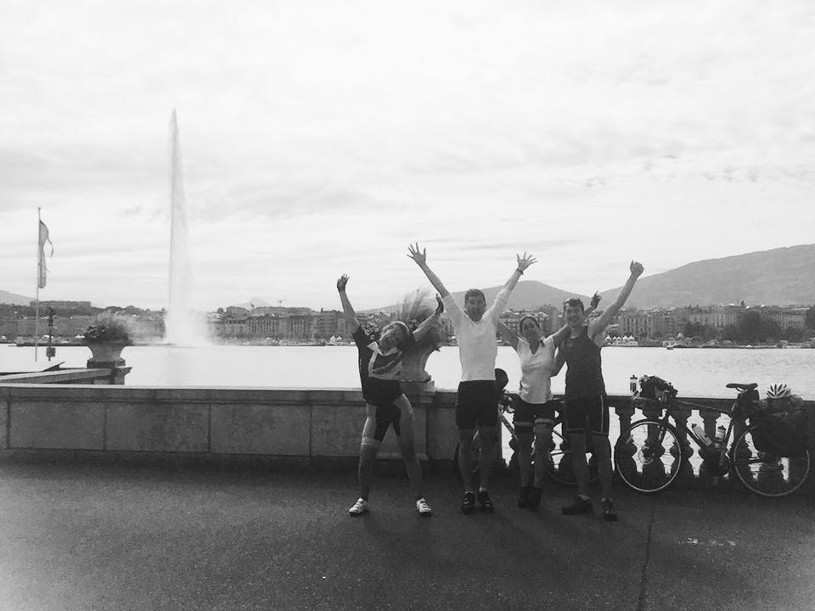 Stage 2 – Geneva to Lyon (via the Alps)
After a couple of days resting in Geneva, Charlie and I said goodbye to Rosie and Kitty, and set off towards Lake Annecy. There we rendezvoused with our friends Tim and James who had flown out to join us for this leg of the trip.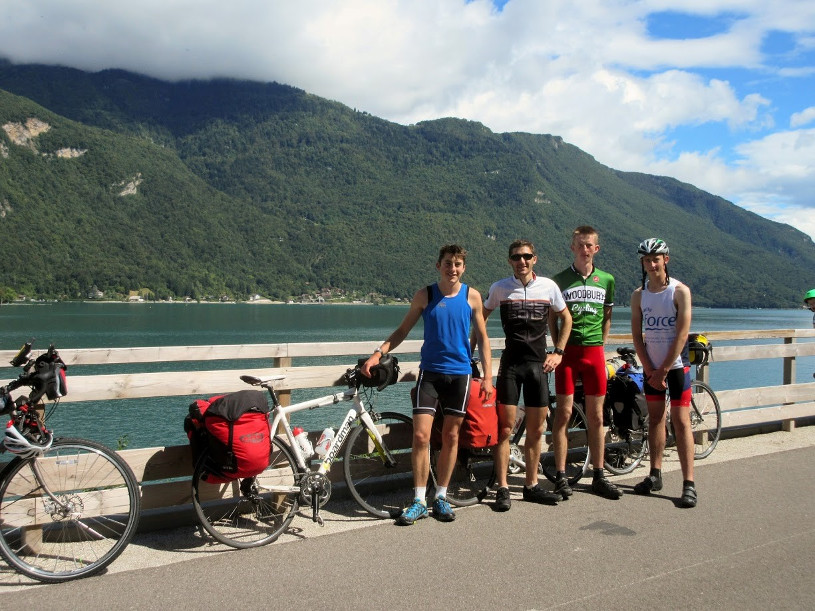 Within seconds of taking the above photo, Tim's rear tyre spontaneously blew out, most probably caused by the heat. We replaced the innertube and continued on towards our campsite on the lake. After cooking dinner over our camp stove, we went out to watch an incredible sunset over the lake.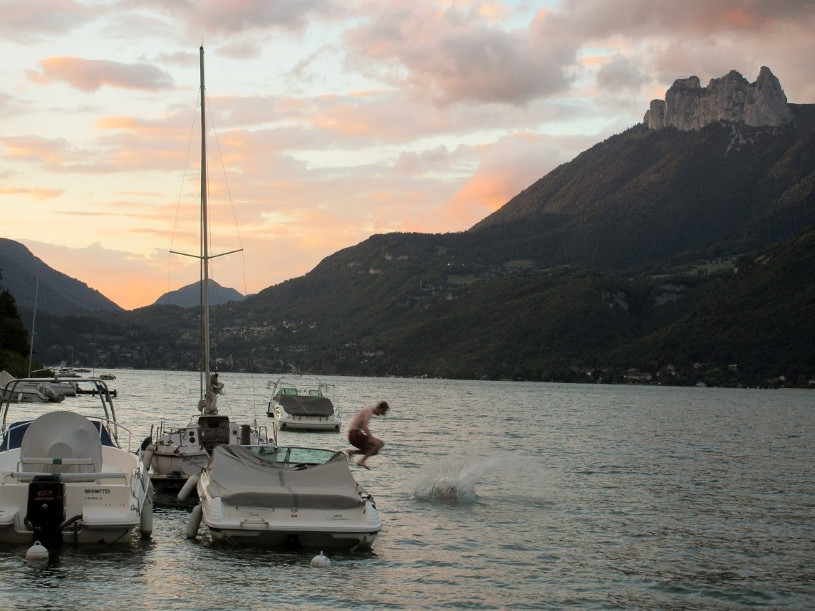 One thing that we loved about cycling through France was experiencing the change of scenery as we approached the Alps. At first they were just a silhouette on the horizon, but as we grew closer the mountains became all the more impressive, and a constant reminder of the challenging climbs ahead of us. After our first night camping with Tim and James, we set off on what would be one of the biggest climbs of our trip. We cycled from Doussard, along to Albertville and then on to Beaufort where we climbed up the Cormet de Roselend.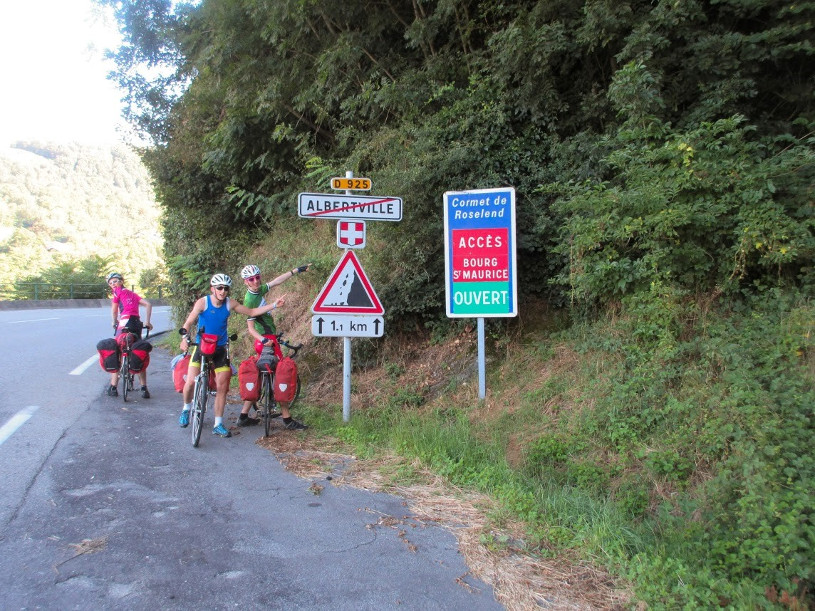 This was an incredible climb, starting off through the forest road along switchbacks, and then opening up with some stunning views over Beaufort, before reaching the summit of the pass. We stopped for a quick celebratory photo before taking on the descent into Bourg Saint Maurice.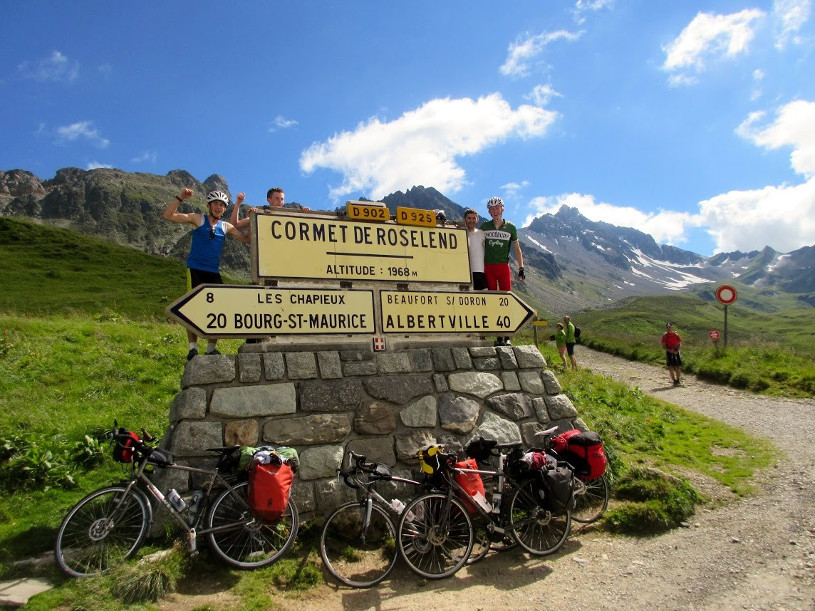 Through most of our suffering up the climb we were telling ourselves how fun the descent would be, the reward for the climb, if you like. The descent was technical but very fun. After a near miss involving the wing-mirror of an overtaking campervan and Tim's head, we made it to Bourg-Saint-Maurice in one piece. It was incredible that we spent all day climbing up to Cormet de Roselend, and descending took just over half an hour!
Now fully in the Alps, we planned to use Bourg-Saint-Maurice as our base for a few days and enjoy some day rides. As luck would have it, our cousins were on holiday just 10 miles away, and offered us a free bunk for a few nights. That 10 miles away seemed oh-so-close, until it's pointed out that it involves 800 metres of climb. We really did choose the wrong time to set off, tackling it in the midday heat – lesson learned!
The next morning we took on the Col du Petit Saint Bernard, a mountain pass which crosses the border into Italy. After the previous day's mistake, we set off early to avoid the heat, and raced the shadows of the mountains which ran away from us as the sun rose. We reached the Italian border before turning around and enjoying a fast descent.
We then spent the next two rest days with our cousins, enjoying some time off the bike and exploring the area. On our final evening with them we had a mountaintop bonfire with an incredible view over the valley!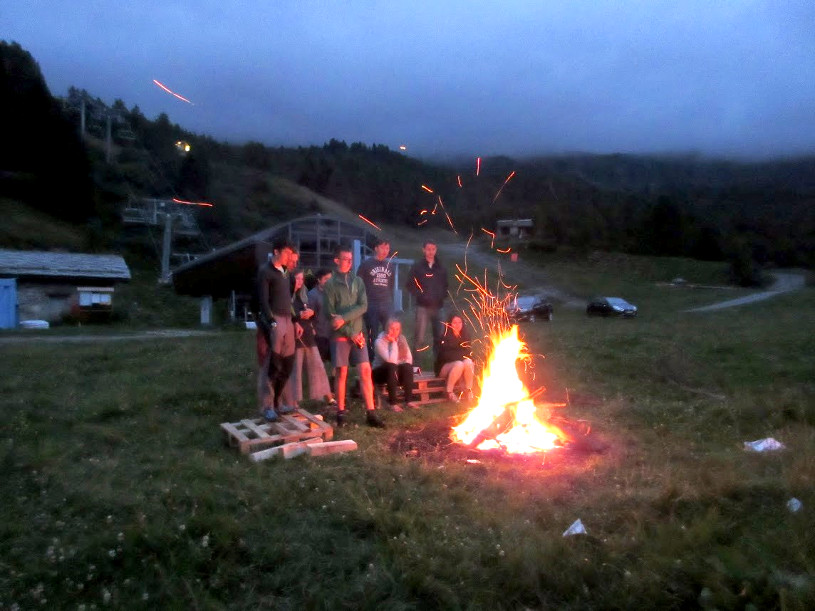 Before long it was time to leave the Alps and cycle to Lyon, where Tim and James had to catch their flight home, marking the end of stage 2 of our trip.
Stage 3 – Lyon to Devon (via Santander)
After saying goodbye to Tim and James at Lyon airport, Charlie and I spent a day on the outskirts of Lyon whilst waiting for our friend Ross to fly out and join us. After spending days at a time cycling, we were suddenly without focus, so decided to cycle out to find a bike shop to buy some parts we needed.
At our campsite that evening we met some German bike tourists who took great pleasure in mocking us regarding the recent Brexit vote. We discussed cycle routes with them over a few drinks, and they gave some suggestions of places to visit along the river Rhône. The next day we cycled out to Lyon airport to meet our friend Ross.
We followed the River Rhône down to the coast, for the most part riding along cycle paths. We came across a dead-end, only then realising that the bike path is still under construction in places! It was easy cycling along flat, smooth tarmac, and we managed a respectable daily average. A day before arriving at the coast, Charlie broke a spoke, causing us to detour to a bike shop who were better equipped to fix it than we were.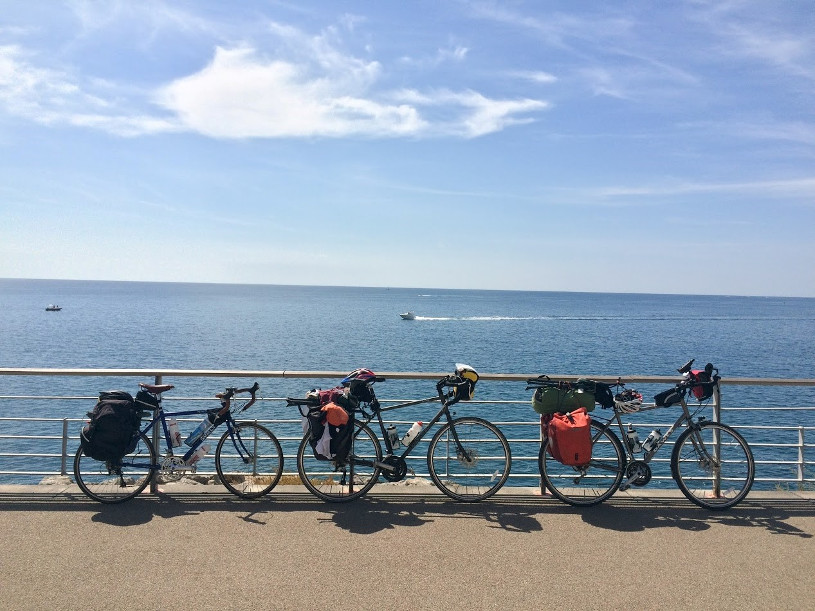 Before we knew it, we had cycled along the coastline and turned back inland towards the Pyrenees, where we planned to climb the Col du Tourmalet. Cue another navigational error, after an 85 mile day we reached what we had thought was the valley to climb the Tourmalet from. Oh, how wrong we were. We in fact ended up having to climb the Col de Beyrede, descend into the correct valley and then climb the Tourmalet, all in one day. Despite the challenge, it was one of the most rewarding days of the trip. The stunning views from both climbs really made for a spectacular experience that we will never forget.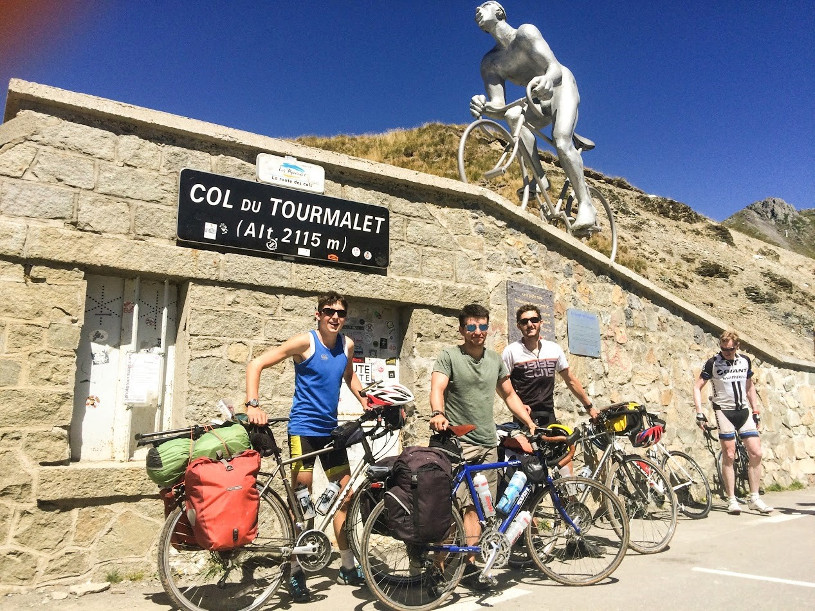 We continued on towards Saint Jean Pied de Port, the start of the Camino de Santiago. Here we were joined by our Dad who cycled with us for the last five days of the trip to Santander. Before we knew it, we had arrived in Santander ready to catch out ferry home.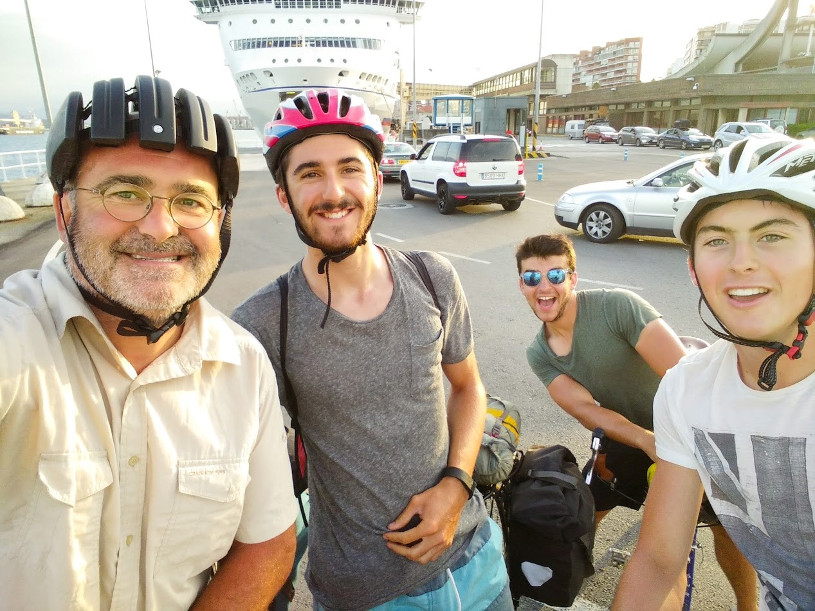 It was a truly amazing experience, made so much better by the people who were crazy enough to come out and join us for parts of it.
We kept a full daily blog and posted to our Instagram account. You can watch a series of videos documenting our trip below (or here on YouTube)
---
Charlie and Sam won a bursary from The Next Challenge Grant, a grant whose funds come from me and crowd-sourced donations. Read more and apply here.