Cycling and dipping in the 16 biggest water bodies in the Lake District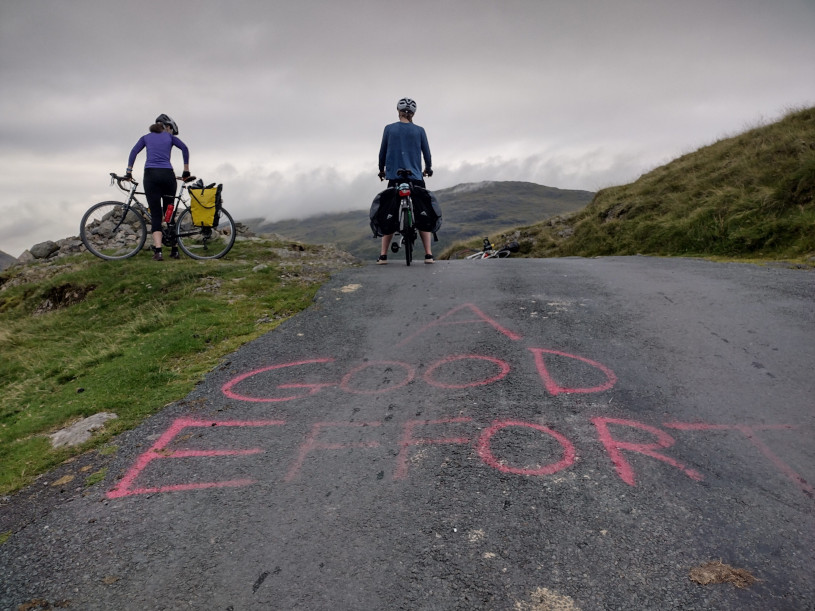 Last summer, Laura cycled around the Lake District, dipping into the 16 largest water bodies, in what she's christened the Frog Whitton Challenge. She tells us more in this blog post.
---
Many years ago, together with a group of mates, I decided to try and dip in all the lakes* in the Lake District in a day. Only four lakes in, our minibus broke down and the challenge ended ignominiously, waiting for the AA by the side of the road wearing just our swimming costumes as we were locked out of our vehicle. Ahhh, student japes.
Almost twenty years later, we resurrected the challenge, but this time chose to travel by bike. The theory was that a self-propelled mission was less likely to fail due to mechanical problems – but in truth it also provided an excuse for a couple of nights away with good friends, having a good time, without our usual family responsibilities.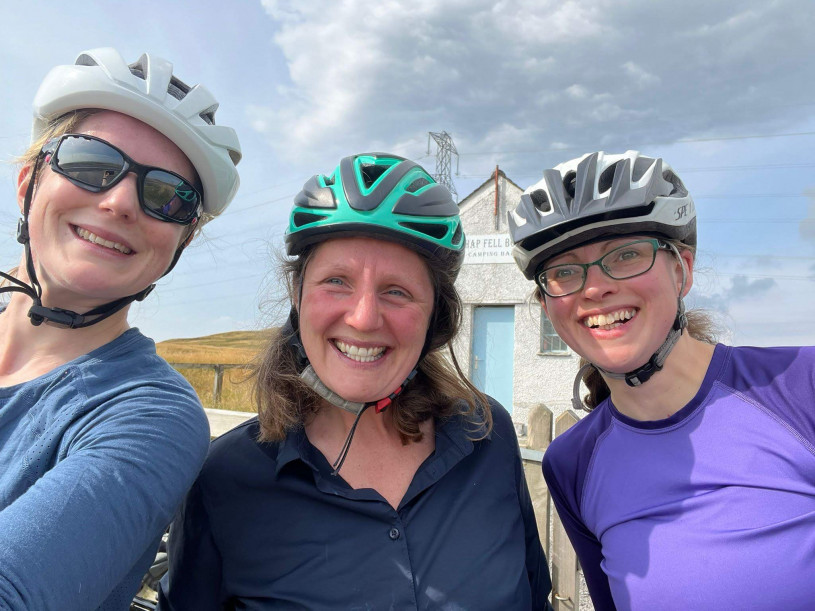 The Fred Whitton Challenge is a classic cycling event in the Lake District. It takes in all the major passes in the area over a brutal 112 mile route and riders aim to complete it in a day. Our route happened to take in many of the same passes and so we named it the Frog Whitton Challenge, taking inspiration from the Frog Graham/Bob Graham Rounds.**
Day 1
We set off from home near Kendal and headed north over the first of many hills to Shap. Without our children in tow, we could eat Haribo with abandon and were soon at Haweswater, our first water body.
Haweswater was one of three reservoirs on our route, in which swimming is officially forbidden. I'll remain silent on whether we did or didn't take the plunge in the reservoirs – but at one point we did find ourselves loitering on a beach 'sunbathing' at 6pm while the United Utilities security team prowled about looking for illegal BBQers. It was a brief taste of what being on the run from the police must feel like, albeit I don't remember the scene in Thelma & Louise where they don neoprene shoes and eat dried apricots while waiting for some blokes in a dinghy to move on.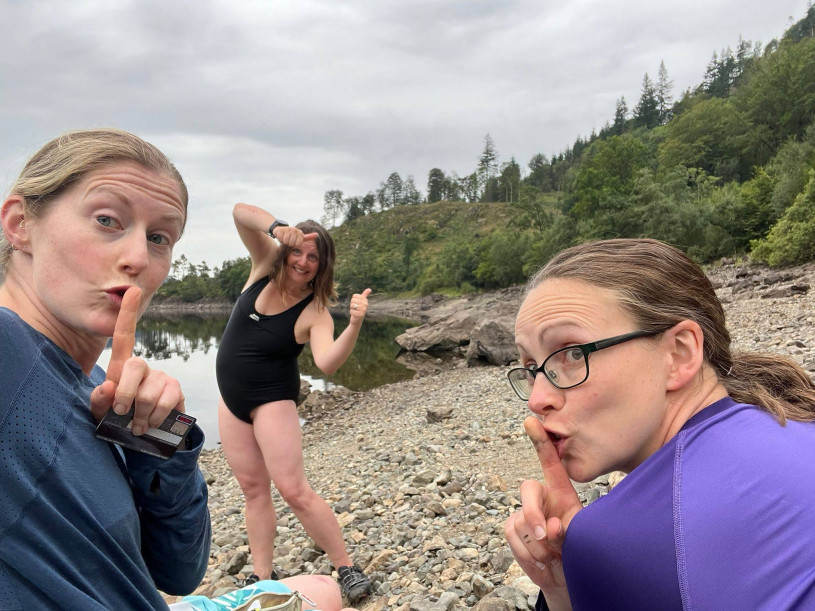 A few more miles, a couple of water bodies and a tyre puncture later, we found ourselves in Keswick where we spent the night with friends.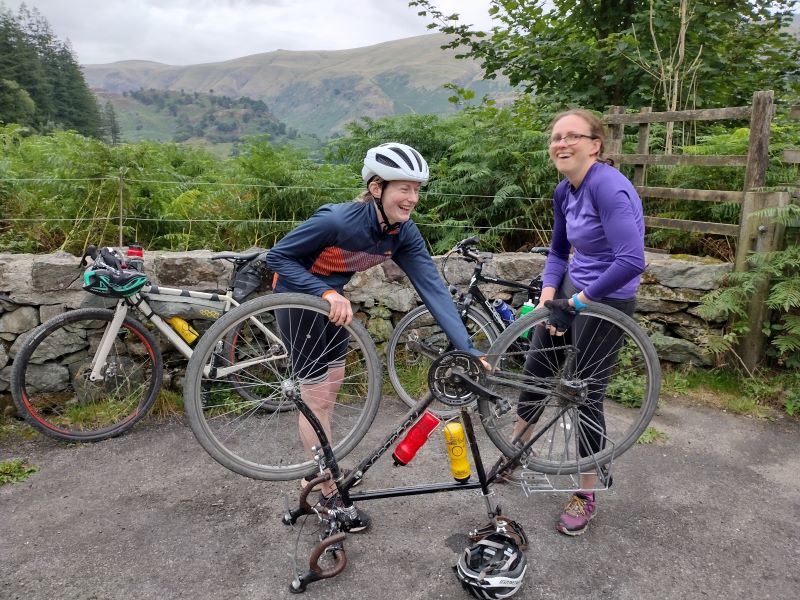 DAY 1 STATS:
Lakes: Haweswater, Ullswater, Thirlmere, Derwentwater
Distance: 93 km
Elevation gain: 1,315m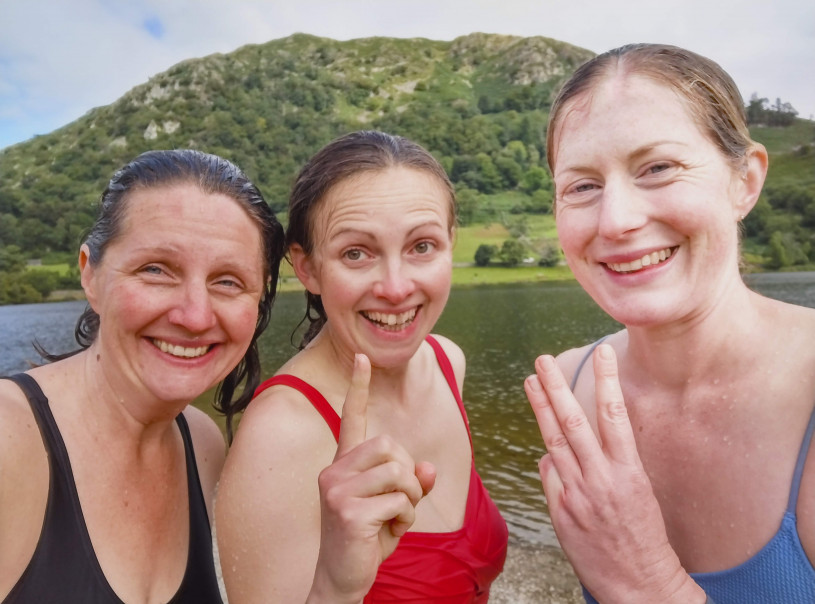 ---
Day 2
Day two started with a bang: after a quick dip in Bassenthwaite Lake, we rode over Newlands Pass, a tough but stunning climb into Buttermere. At the top, we bumped into a shell shocked bunch of cyclists from Holland who were clearly questioning their choice of holiday destination, faced with Cumbrian hills.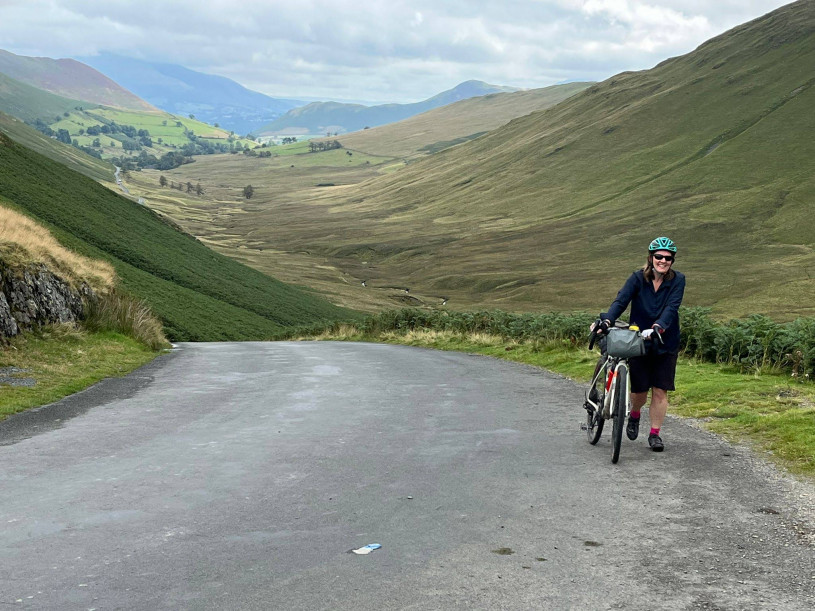 The pain was soon washed away in the blissful waters of Buttermere, Crummock Water and Loweswater. Being on the western side of the Lakes, these tend to be a bit quieter and we could easily have spent all day lolling about on their shorelines.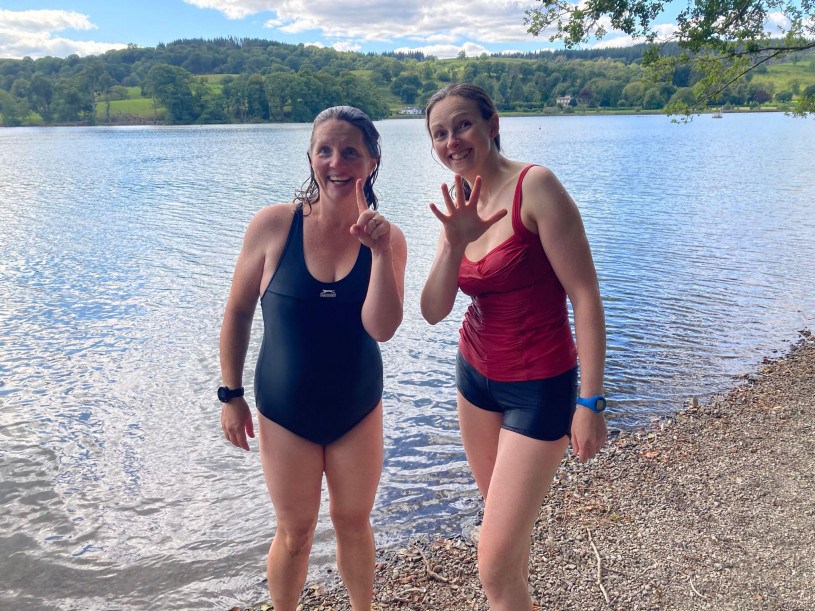 However, we had a long day ahead. Ennerdale gave us clear water and a superb Malteser cake from The Gather, before an unexpectedly stunning ride over Cold Fell. This provided one of the highlights of the trip, cycling on a quiet high road where the fells drop down suddenly to the coast.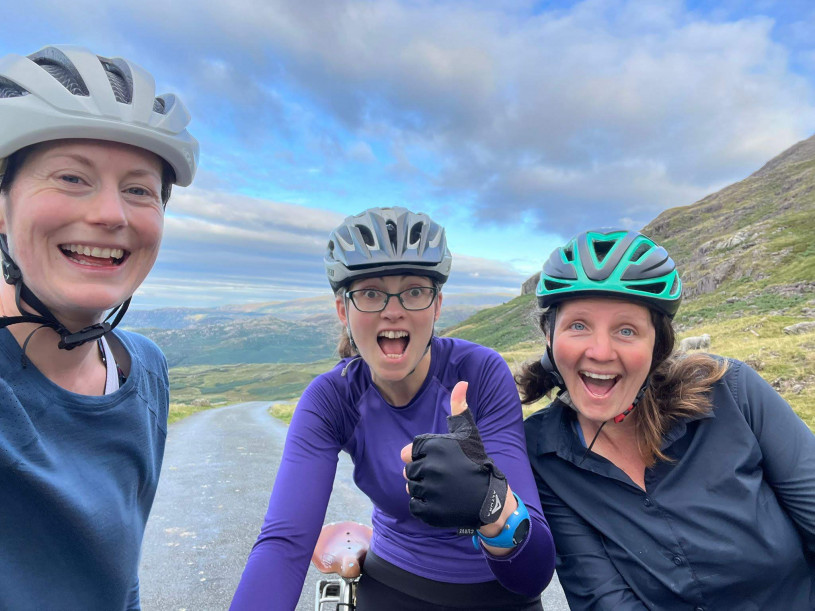 After a looong detour up Wasdale for dip number ten of the trip, we finally made it to Eskdale, where the YHA offered us all the comfort we needed (frankly, I could have slept in a bus stop).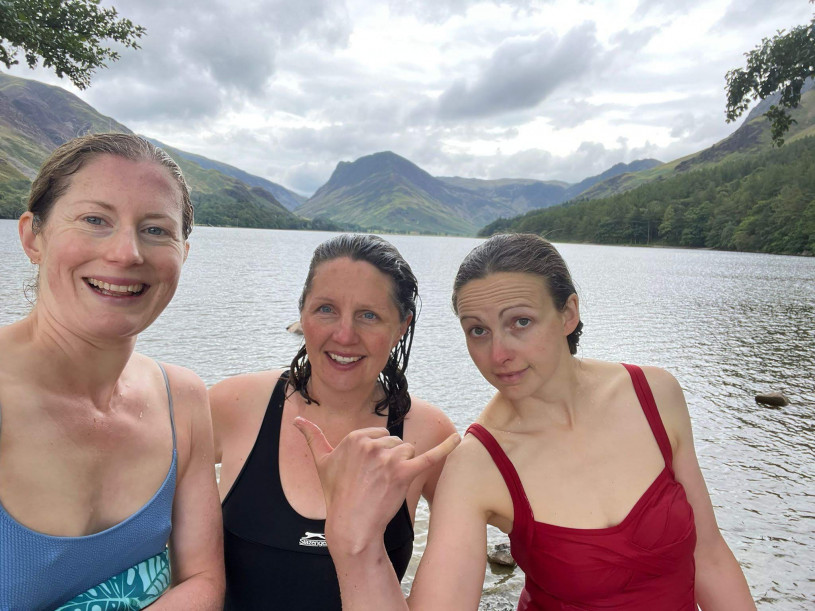 DAY 2 STATS:
Lakes: Bassenthwaite Lake, Buttermere, Crummock Water, Loweswater, Ennerdale, Wastwater
Distance: 93 km
Elevation gain: 1,453m
---
Day 3
Our final day was a daunting one. To reach our final six water bodies, the most direct route was over the infamous passes of Wrynose and Hardknott, and these would be straight out of the hostel without a warm up. They were a fairly alarming start to the day, but we pushed and cursed and eventually crossed them, in disbelief that Fred Whitton riders manage to do these without getting off to push (Tim managed this a few weeks later on his own cycling challenge, but in my defence I was almost three months pregnant at the time).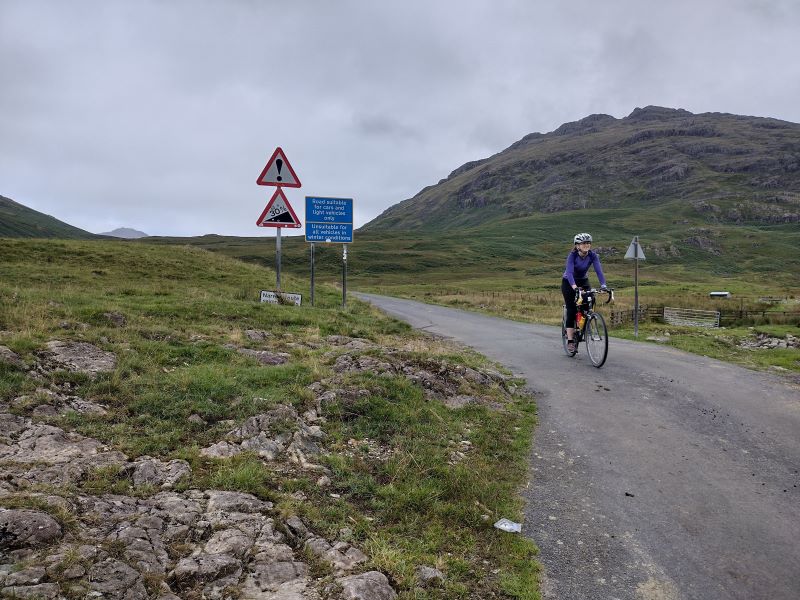 The final six water bodies were relatively close together, and were familiar territory. Grasmere and Rydal were beautiful but busy with it, and Elterwater was possibly the worst place we found for a dip. One of our few rules was that only total submersion counted as a dip, but with a reedy and shallow entry point, we ended up doing what we christened an Arctic Roll, wallowing around like hippos to try and achieve total submersion.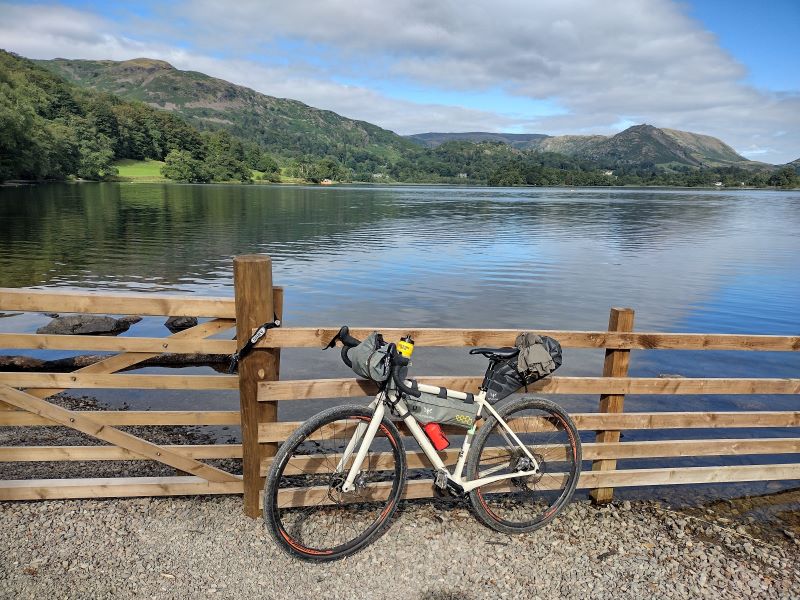 Coniston and Esthwaite finally led us to Windermere***, where we had our final swim among the paddle boarders and kayakers with a sense of satisfaction that a twenty-year old challenge had finally been completed. 
DAY 3 STATS:
Lakes: Grasmere, Rydal, Elterwater, Coniston, Esthwaite, Windermere
Distance: 70 km
Elevation gain: 1,427m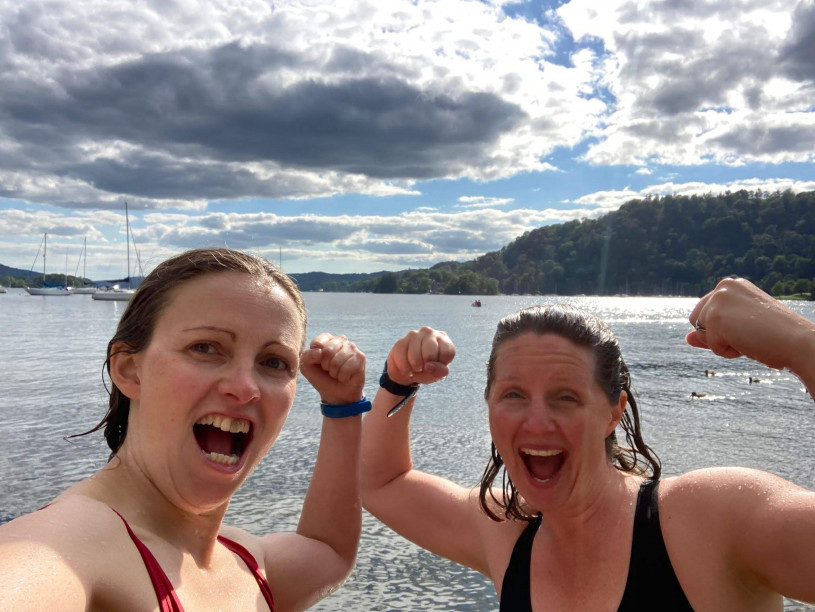 ---
*Yes, I know there is only one actual 'lake' in the Lake District (the rest are 'meres', 'waters' and the like), but such pedantry goes against the spirit of carefree freedom which this challenge encapsulated. To be more precise, the aim was to dip in the 16 largest water bodies in the Lake District, but I rather hope you don't care about such details.
**Since completing the adventure, we've come across this website where someone describes what they've also called the Frog Whitton Challenge. It's got proper rules and a roll of honour and EVERYTHING. Hats off to them. We won't change the name of what we did, but if you want to be added to an official Frog Whitton roll of honour, we're not your people.
*** There is a lot of concern about pollution levels in Windermere at the moment. To learn more, visit https://www.savewindermere.com/