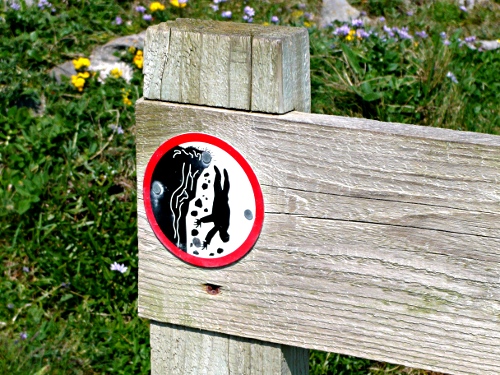 There is nothing I enjoy more than "ordinary people" do extraordinary things and thus you can imagine my joy when I came across She Who Dares.
They're a group of women of all ages and abilities who meet up midweek and do cool, adventurous stuff. I contacted Julie, their Chair, and she kindly wrote this Guest Blog for me…
There's a signpost along the coastal path at Penally that depicts a falling man among cascading rocks. The cliff edge is perilously close, but snaking our way along it are a group of women who's trust and stoic support of each other gives us no fear of falling, even as we approach the dark smudge on the green landscape freckled with spring flowers, a gaping hole leading to the depths of Hades. Peering over we spied a glimpse of silver sand below, a secret beach revealed by the withdrawing tide. Abseiling down to it was our next challenge. No problem. There was a moment, a wobble, when I went over the edge looking up at my rope looped through a rusty post in the ground and down to the sheer drop below, when I thought I should have stayed home, doing the shopping, or the ironing, or a hundred other domestic tasks… but it was only a moment.

My feet pushed away from the cliff edge, rock sliced away like giant slabs of chocolate cake as I fed the rope through my fingers and descended. Then there was nothing, just me and a long rope and a long free abseil. Watching me, lying belly down on the warm grass above, were three smiling faces. I knew they were looking out for me, and I knew there was someone below on the sand, waiting. 

She Who Dares are always waiting with a willing hand outstretched, to shove, pull or haul through many challenges, which is a good thing because I'm usually the one sliding backwards down a cliff face or dry ski slope, knocking others over like skittles. When sailing my helming skills lead to rapid re-enactments of the capsize drill, as we tumble into the silky water. They are very patient with me.

The group started over 20 years ago, the idea of a local sports development officer and outdoor pursuits centre, to encourage women to try something different. None of us are particularly sporty, or maybe we weren't in the past, but weekly challenges have inspired us to try a bigger variety of things. Some have gone on to sky dive, run marathons, complete outdoor swims or train up to become kayak or lifeguard instructors themselves, and are now teaching others. We're a group of ordinary women with some extraordinary pastimes; sumo wrestling to sand yachting, coasteering to climbing, cycling to kayaking, canoeing to caving, pole dancing to power walking, axe throwing to abseiling, trampoline to trail riding and just about everything in between, from 'safe' pursuits, to the downright dangerous. Trying these activities has brought back that sense of adventure and play we had as children.

Some SWD's are well travelled, and are inspired to find challenges wherever they go – windsurfing the Gibraltar straights, climbing waterfalls in Venezuela, or sea kayaking in Maui. But we can just as easily find a thrill bridge jumping in the local river, or cycling through town. We look for adventure wherever we are, and see a different side to our environment. On Wednesday mornings we become invincible superwomen, capable of any challenge, defined by what we do, not just a work colleague, mum, partner, wife, cook and cleaner. 

Drawing up our termly programme is like composing a fantasy league of adventures, we think about what we'd like to do, no matter how unusual or wild, and do our best to make it a possibility. The only limits are our imaginations, we can always train our bodies to rise to the challenge, or have somebody haul us up. After all, the life we've been given is for living, and many of us have faced worse personal challenges than hanging from the edge of a cliff or learning to control a speeding land yacht.

Over the years we've become more and more inventive, and built up a bank of different activity contacts, which I'm now including in a book about the group – She Who Dares, in the hope we can share our experiences and inspire others to do the same. As well as a personal account of our adventures it's about trying other sports from a female perspective, and will be a useful handbook for anyone willing to give something different a go. 

The beach we abseiled to that sunny day at Lydstep in South Wales was a challenge to reach, a secret place, and the group always been about finding the unexpected in the everyday, finding the next challenge. Get out there and do it for yourself, but not on your own, sisters!