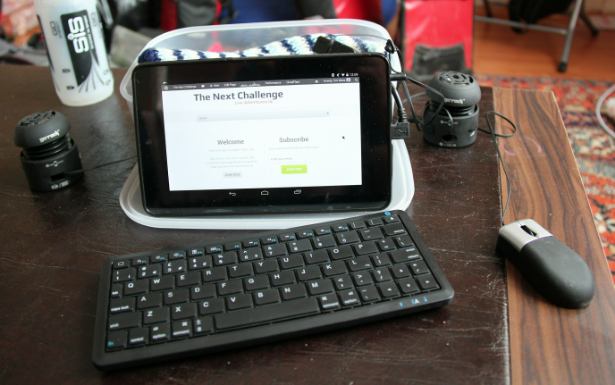 This is an article for anyone who is planning a cycle tour and/or a geek.
As you will either know or be able to tell by the end of this article, I very much enjoy expeditions and cycle tours in particular, I am fairly obsessed by kit and I was a reasonably nerdy teenager. As a result, I get an inordinate amount of pleasure from the efficient organisation of the electronics in our panniers.
Aside from generating mirth by skim reading the text below and realising what a saddo I am, there are many years of knowledge and experience that have gone into creating our technical kit list so hopefully it will be of some use to others.
Comments and questions are warmly welcomed so please don't by shy. Did I mention that I enjoy this stuff?
Tablet computers
We each have a Google Asus Nexus 7 tablet which we use to write blog posts, edit photos, compile videos, update Twitter/Facebook and reply to emails when we have wireless (e.g. at cafes or people's houses).
We have one tiny bluetooth keyboard and tiny USB travel mouse which make it much easier to write longer articles.
Laura's Nexus is 3G enabled and in some countries where wireless is less frequent and/or our Kindles don't have 3G (see below) we may invest in a local SIM for internet via mobile phone signal. This has not been at all necessary across Europe.
We can also use the Nexus' for navigation. The vast majority of navigating is done by paper maps but on the occasions that we are visiting a large city and/or need to reach a specific point then we pre-load Google maps and put the Nexus in the map case on my handlebar bag.
(N.B. After three months on the road I've come to the conclusion that although the tablets are fantastic in many ways – cheap, light, easily charged, free software – they also have some real limitations for this kind of trip. In particular, the tiny screen is very tiring over time and the restricted software/websites can make life difficult. If I did it again I would probably ditch the tablets in favour of two smartphones and a small netbook.)
Kindles
We each have Amazon Kindles with keyboards and 3G. Aside from giving us access to as many books as we want, instantly via Amazon, these devices have a basic web browser with unlimited, free 3G internet access. It is slow to use and doesn't work on all sites but allows us to update Twitter from our tents and check for emails on the road at no cost.
Unfortunately, it is no longer possible to buy this model of Kindle from Amazon and newer 3G models are very limited on what they can do (e.g. no Gmail or Twitter, just the Amazon website and Wikipedia).
Photos
Laura has a Canon DSLR. Images are transferred from the SD memory card to a Nexus using a card reader and USB cable (note to nerds: to make this work on a Nexus, you need an OTG cable and the Nexus Media Importer app, unless you've rooted your device).
They are edited occasionally with free apps (e.g. Photo Editor) then uploaded to Flickr. Laura's also made a couple of slideshows using Animoto.
Videos
We have a GoPro Hero 2 video camera which we can mount to our helmets (shaky), handlebars (blocked by handlebar bags), our heads or a tripod, or just hold in our hands. It also uses an SD card so files are transferred with the card reader.
Video editing is a labour and processor intensive process that we are not even pretending to do. Instead, we use the Magisto app. You just selected 10 or 20 clips and let it put them all together for you with some animations in time to music. There is a free trial version of the app available.
VPN
For security, to allow access to blocked sites in certain countries (e.g. Twitter and WordPress in China) and let us access UK content (e.g. the BBC), we use a VPN.
It stands for Virtual Private Network and it tricks the internet into thinking that you are somewhere else in the world; usually, in our case, the UK.
You usually have to pay for the service. We use Witopia (recommended by our geeky friend Jon Beardmore) although the Hola app provides some similar features for free.
Torches
We have two headtorches each which double as bike lights. The obscenely powerful Petzl Myo RXP is our front light, powered by 3 x AA batteries. The Petzl Militikka is a much smaller torch which can be set to shine red light, good for the back of the bikes but also more discreet, less damaging to night vision and invisible to most insects. They run on 3 x AAA.
Charging
Almost every single device and battery has been configured to charge by USB. This means that we are not carrying a single proprietary adaptor for any of our devices – a far cry from the expeditions I've organised in the past which are burdened by a complicated and heavy mess of different chargers.
Instead, we just have two international travel adaptors with USB ports. Mini- and micro-USB cables then charge our tablets, Kindles, phones, MP3 players, battery charger, keyboard and so forth.
The only thing that I didn't manage to find a way to charge by USB was the Canon camera battery (it may be possible, I just ran out of time). To cover this and as a back up for all other batteries, we have a
, a nifty little device on which you can adjust the positive and negative connections so that it will charge almost any size and shape of battery (in our case, as well as the camera battery, it does AA, AAA, GoPro and mobile phone batteries).
Finally, we also have a tiny plastic 4-port USB hub (from a Pound Shop) which allows us to charge up to four devices simultaneously from a single plug in the wall. The charge is divided between the devices so doesn't speed up the process but is useful, for example, for leaving several devices charging over night.
Please do add your comments below or fire away with any questions.