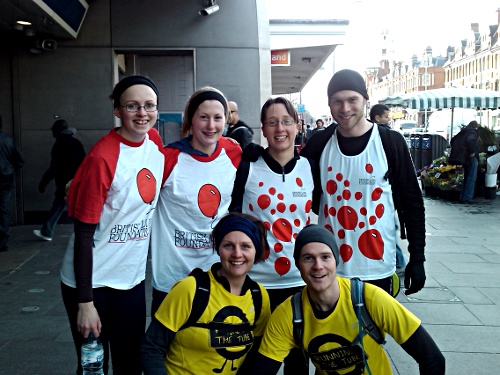 As you may know, myself and my friend Laura have been running the length of every Tube line in London over the course of the year. We've run 8 out of the 12 lines so far, covering 134 miles of track, 179 miles of actual running, passing 162 Tube stations and through 24 London Boroughs. On Saturday we ran 35 miles along the District Line from Upminster to Richmond and it took us 7.5 hours.
Our final run will be a 5km"victory lap" through Central London after work on Thursday September 9th. We'd like you to join us dressed as Tube station!
WHAT: 5km fun run in fancy dress – as a Tube station
WHERE: Starts and finishes on the green by the London Eye
WHEN: Thursday 9th September. Meet from 6pm, start jogging 7pm, festivities from 8pm onwards

COST: £10 donation here (includes a few refreshments and prizes; if you've donated already, you're in automatically)

FANCY DRESS THEME: Tube Stations
The Waterloo & City Line has only two stations: Waterloo and Bank. We're doing a loop of about 5km starting and finishing on the South Bank near Waterloo.
This is more about fun and charity than racing. You can run, jog, walk or whatever you want but please come out and show your support. We'll have run a long way by then.
And if you can't make the running part, just come along for the party afterwards – it's the end of a big challenge.