THIS ARTICLE: Details how to send updates home from the field. It covers how to update your blog, send Tweets or leave voicemail from remote places; what software and technology you might need; and why you might want to do any of this. There are also studies of recent expeditions.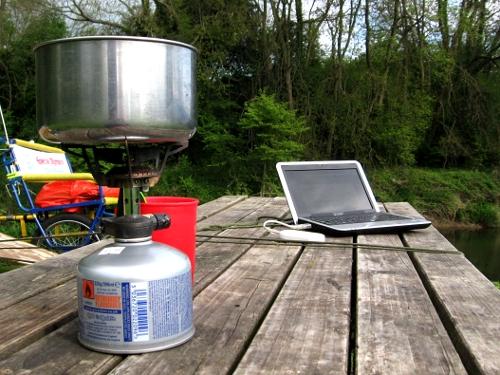 Introduction
What is communicating on expedition?
You can communicate your expedition before you go away, whilst you're going and after you get back. This article is about the communication that happens whilst you are away. It does not deal with emergency comms though feel free to email me about this.
Why would you want to do it?
There is no obligation to document your adventure live but there are plenty of reasons to do so. It is not necessarily any better or worse than post-hoc reporting but it is different and, I believe, has the potential to be more engaging, interesting and powerful.
I think it's a great shame when there is no way to follow an expedition's progress. And, people often lose their enthusiasm once they've returned and never bother producing a report so if you document it while you are still excited about it then it will make it easier when you get back.
Who are you doing it for?
Before diving in and blogging about your expedition willy nilly, consider who your audience is and why you are doing it. Is it for sponsors and the press to boost profile? For general followers to entertain and inspire? Or just for friends and family?
Give some thought as to the purpose of your communication and it should help you decide what your priorities are.
How will you present it?
And before you start writing or recording, give a little thought to style:
Technology is only a vehicle. It allows you to communicate from remote places  but it doesn't automatically make it interesting. That's down to you.
Be creative. Don't give us a blow-by-blow account of your day. It's boring.
Think about the balance between facts and feelings. You do not have to reel off how many hours/miles/calories you did today. Why not just tell us how you're feeling?
Consider what might be interesting to your readers, not just to you.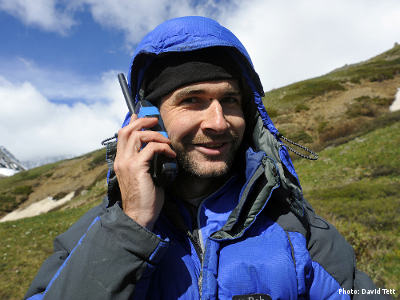 Methods
There are many different ways in which you can send updates home from your expedition and a few of them are discussed below.
For instructions on the following, please see my article How To Set Up An Expedition Blog:
Updating Twitter/Facebook by email and from a satellite phone
Linking Twitter with Facebook
Updating your blog by email, mobile or satellite phone
Displaying Twitter and Facebook updates on your blog
Why RSS is important and how to set it up
How to build a decent, free and very easy expedition website
Voice
Audio recordings, podcasts, phlogs or whatever you want to call them are a quick and easy way to leave updates from the field. A 45-second phone call can automatically update your position on a map, upload a podcast for people to listen to and (sort of) produce a written blog.
VoxSciences provided an automatic transcribing voicemail-to-text service which was great but they are no longer responding to emails. Google Voice looks to be an excellent alternative but is sadly not yet available in the UK. In the meantime, Ipadio doesn't offer voice-to-text but are set up for geolocating your recordings on a map and have experience of working with expeditions.
Email Newsletters
I wrote a little about email newsletters in my Expedition Blog Guide but would also now add that MailChimp is a really good piece of software that is free to use until you start sending thousands of emails. I use it for my monthly newsletter.
Maps & Trackers
Google Maps and Google Earth are both free and very good, and can easily be embedded into websites in a variety of different ways using the Google Maps API Family.
A recently launched piece of software which looks to have a lot of potential for expeditions is the smartphone application Punkt. It will take any social media post you make (e.g. blog, Facebook, Flickr, YouTube, Twitter) and update a map using your current coordinates with a link to that post. It links with a map program from Luxson called Mapology.
Rob Lilwall and Leon McCarron are using for their Walking Home from Mongolia expedition (see Case Studies below) but it's only just being released so best to email them for more info.
To find your GPS coordinates, you can use a tracker (such as SPOT or Yellow Brick), carry a handheld GPS, use a smartphone or get them using your internet connection. If you know where you are, use iTouch Map to get your coordinates. If not, use Google Maps and hit 'Get Directions'. 'My Location' should load your position if you allow it permission, then you can right click your location and select 'Directions to Here'. Your coordinates will appear on the left hand side.
Stockpile
If you are restricted in what you can send back or just want to limit the amount of work you do in the field, you can always stockpile some content before you go. For example, having a library of photographs during training or pre-departure preparations that someone in the UK can add to text-only blog posts you send back. Or perhaps you have people who helped with your preparations – training adviser, communications specialist, local guide – who could write an article or be interviewed in advance that can be uploaded during a quiet period.
Equally, if you find yourself with enough time to produce two or three updates at once then you can spread them out over time by scheduling them on the your blog a few days in advance when you know you won't have time or access again.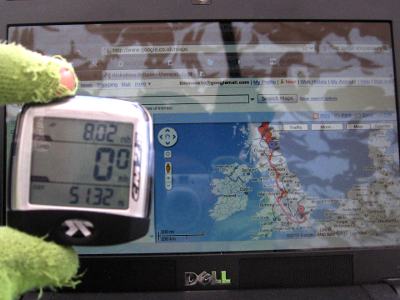 Technology
As technology improves it allows us to do more impressive things, like stream video from the summit of Everest, but it also makes it cheaper and more accessible for those of us who can't afford the latest gadgets.
An old mobile phone or cheap laptop off eBay can work wonders. Below is a quick overview of some options.
Mobile Phone
The simplest thing you can take is a mobile phone. Preferably an old one with a simple black and white screen so the battery lasts longer. You can use that to update Twitter by text, and thus Facebook etc and your website.
Smartphone
A smartphone with a local SIM card (£5+), global SIM or monthly data roaming allowance has huge potential: you have a portable computer with an internet connection that fits in your pocket and doesn't cost very much. If you are in deep, dark mountains or jungles then this won't be much use, but for less remote expeditions (e.g. cycling) and/or before and after you leave civilisation, this is well worth considering.
Satphone
Satellite phones can give coverage anywhere in the world. Thuraya and Inmarsat satellites cover most of the globe except the extreme north and south latitudes (see Thuraya and Inmarsat coverage maps); Iridium covers everywhere including the North and South Poles. To hire a satphone you are probably looking somewhere roughly around £100 a month plus calls. Purchasing is more likely £500 upwards.
BGAN
These are satellite broadband units. BGANs are big and heavy for a rucksack and require good line of sight to the sky but can provide fast internet connections in remote locations around the world, anywhere outside of the extreme latitudes. You are probably looking at around £1000 upwards to buy one and data charges are high.
Kindle 3G
The 3G version of the Amazon Kindle gives unlimited free internet in many countries around the world. It only works on its own very basic web browser which is limited in what it can do but for sending emails and updating Twitter it can be very useful. They cost around £150 at the moment.
Laptop
You can use any laptop you want for an expedition. However, if ruggedness is your priority you might consider Panasonic Toughbooks. If price or size and weight are more important then Netbooks are ideal. They are just small, basic laptops. Mine cost £180 new and is only 9-inches long. Hook a laptop up to your smartphone with Bluetooth or a USB cable and you have a mobile office. Satphones can usually send basic data by USB or with a special data kit.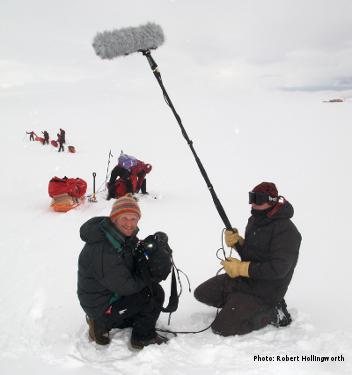 Case Studies
In my talk at the Royal Geographical Society's Explore conference in November 2011, I presented a number of examples of expeditions that have used various combinations of the above methods and technology to produce different results on their websites.
You can see the case studies by downloading the slides from my presentation.